ChapMoto Pro Works Part 1: Improving Power Delivery On A 2015 Yamaha YZ 450F
Chaparral Motorsports
|
January 13, 2015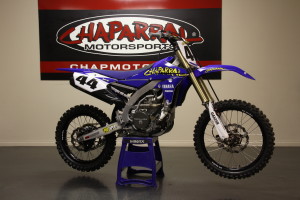 In a previous post we discussed our new Chaparral Pro Works Program in which Supercross/motocross industry veteran, Larry Brooks, will show the ins and outs of modding a stock dirt bike into a finely tuned machine ready for the race circuit. There are plenty of dirt bike parts to choose from that will help deliver more power and make a bike perform better. But when it comes to the track oriented bikes, tweaking their Electronic Fuel delivery systems and creating custom maps can not only help create more horsepower but improve throttle response and overall performance.

The first bike that went through the Chaparral Pro Works Program is a 2015 Yamaha YZ 450F. And in this first video Larry heads over to Bazzaz Performance where he meets up with Del and they discuss a few Bazzaz products that can help improve the performance of not only the YZ 450F but just about any fuel injected dirt bike.



Most fuel injected dirt bikes (pretty much all fuel injected cruisers and street bikes as well) come from the manufacturer with very mild fuel settings and in most cases are often running a lean air/fuel ratio in order to meet emission standards. While the stock settings are good for most riders and track scenarios, they typically don't produce optimum performance and therefore by adjusting the EFI settings or adding a new map you can achieve much better results. While the stock EFI system can adjust for slight changes such as elevation to maintain the factory specified air/fuel ratio, it works in very limited parameters and can only allow for minimal/rudimentary adjustments.


Bazzaz Performance offers a couple of products that lets you make adjustments to your bike's EFI settings on a broader spectrum achieving better throttle response, hp/tq gains, and setting up for specific riding styles and tacks. First off there's the [mageProductLink sku="312-7235" title=""]Bazzaz Z-Fi Fuel Controller[/mageProductLink] which stores fuel maps allowing you to change the factory settings. The Z-Fi is a plug-and-play module that piggy backs onto the stock ECU. The Z-Fi intercepts the stock signal sent to your fuel injectors and enables you to override the stock map with a pre-programmed or custom map delivering more or less fuel as specified by the selected map.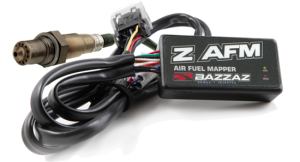 To coincide with the Z-Fi, Bazzaz offers its Air Fuel Mapper (Z AFM) which works as a data logger collecting info as you ride and then fine tunes a customized map based on your riding characteristics. The [mageProductLink sku="312-7527" title=""]Bazzaz Z-AFM[/mageProductLink] can create maps according to your desired air/fuel settings, and with this unit installed you can create custom maps for each and every track your ride. With a customized map setup for a specific track you can ensure that your bike will be delivering optimal power throughout the power band.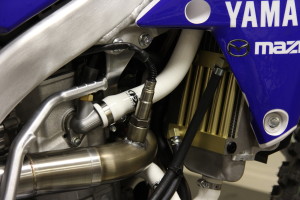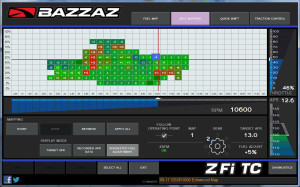 The key component to the Z AFM is the wide band O2 sensor that has to be threaded into the head pipe. With the sensor installed it is continually monitoring and logging the air/fuel ratio. The wide band sensor has much greater operating parameters allowing you to create very detailed and highly customized maps where you can add or subtract values for highly specific throttle and rpm settings within individual cells on the fuel map. The one thing to keep in mind with the Z AFM is that it requires that your head pipe be outfitted with a bung for the screw-in wide band O2 sensor. The proper bung can easily be welded in place be skilled welder.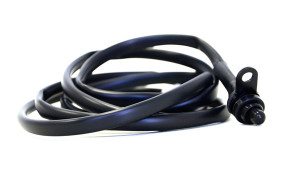 Lastly there's the [mageProductLink sku="312-7078" title=""]Bazzaz map select switch[/mageProductLink]. A simple handle-bar mounted push button device, this switch allows you to toggle through your maps and select the ideal map for the track or riding conditions. By combining all three of these products together you will notice a drastic improvement in throttle response, power delivery, horsepower and torque gains, and smoother throttle transitions. Not only will these components wake your bike up and make it feel like a totally new machine, but they will also give you a more competitive edge on the track.