2015 AMA Supercross Phoenix Race Results
Chaparral Motorsports
|
January 12, 2015
Tomac Highlights Night of First-Time Supercross Winners In Phoenix With 450SX Class Victory
Cooper Webb Breaks Through for 250SX Class Triumph
[caption id="attachment_35562" align="alignright" width="300"]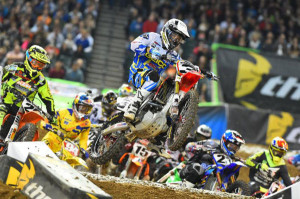 Photo: Simon Cudby[/caption]

The journey to determine #WhosNext in the 2015 Monster Energy AMA Supercross, an FIM World Championship, took another turn in the second race of the season from Chase Field on Saturday. A thrilling battle between two of the sport's rising stars led to the first ever 450SX Class Main Event win for GEICO Honda's Eli Tomac in front of a crowd of 49,672 fans. In the Western Regional 250SX Class, Yamalube/Star Racing Yamaha's Cooper Webb made it a night of firsts with his maiden victory, giving that division back-to-back first-time winners to start the season.

The key to Tomac's triumphant effort was his start, grabbing the SupercrossLive.com Holeshot Award just ahead of Red Bull KTM's Ryan Dungey and RCH Soaring Eagle/Jimmy John's Factory Suzuki's Ken Roczen, last week's opening race winner and 450SX Class points leader. Roczen seized the opportunity to take over the lead early on the opening lap and established a multiple bike-length lead over Tomac. After biding his time searching for faster lines, Tomac began to close in and pressure Roczen, making his first pass for the lead on Lap 6 and setting off an exchange at the front of the field that brought the Chase Field crowd to its feet. Both second-year riders traded the lead several times over the course of two laps before Tomac made it stick on Lap 8. Once he assumed control of the position, Tomac was able to extend his advantage and win comfortably in his 15th start in the 450SX Class. Tomac also became the 58th different 450SX Class winner in Monster Energy Supercross history.

"That was one of the [most fun] races of my life and to come away with a win is a cherry on top," exclaimed Tomac, who crashed twice in last weekend's Main Event en route to a 20th-place finish. "To beat a guy like Ken [Roczen]; we respect each other and race each other hard. It's just great. We definitely put our biggest effort into this [after last weekend's misfortunes], and this is what he came out here to do."

[caption id="attachment_35563" align="alignleft" width="300"]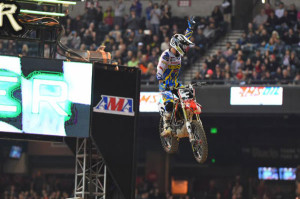 Photo: Simon Cudby[/caption]

Roczen easily brought home the runner-up finish, giving him 1-2 results to start the season.

"I got off to a fast start but overall I didn't feel the greatest tonight," said Roczen. "I put it down the first 10 laps [or so], but then Eli got me. He rode better than me tonight, but I'm very happy to finish on the podium. We'll do some work this week and come out next weekend looking to get a good start, ride smart and come away with another good result."

The battle for third lasted nearly the entirety of the Main Event between Dungey and Autotrader.com/Toyota/Yamaha's Weston Peick. Despite starting up front with Roczen and Tomac, Dungey lost the position to Peick early and was unable to make up any significant ground until the closing laps, when he made the pass to finish on the podium on Lap 17 of 20. It was Dungey's first podium result of the season, while Peick's fourth place finish was the best of his career.

Other notable finishers were Monster Energy Kawasaki's Davi Millsaps in fifth, following a 19th-place finish last weekend, Rockstar Energy Husqvarna Factory Racing's Jason Anderson in sixth, Team Honda's Trey Canard in eighth, Discount Tire Racing/TwoTwo Motorsports' Chad Reed in 10th and Autotrader.com/Toyota/Yamaha's Justin Barcia in 11th.

Roczen maintains control of the 450SX Class championship standings, holding a nine-point lead over Dungey, who moved into second. Anderson sits third, 10 points behind. Tomac's victory vaulted him from 20th to seventh, 21 points out of the lead.

[caption id="attachment_35561" align="alignright" width="300"]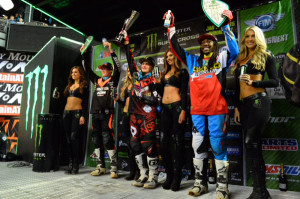 Photo: Simon Cudby[/caption]

In the Western Regional 250SX Class Main Event, Rockstar Energy Husqvarna Factory Racing's Zach Osborne captured the SupercrossLive.com Holeshot Award in front of Webb and GEICO Honda's Malcolm Stewart. As the three riders jockeyed for position, Stewart was able to take over the lead and open a gap while Webb battled with Osborne for second. With Stewart well out front, Webb made his way by Osborne by Lap 2 and methodically closed down the deficit to the leader. On Lap 4, Webb made his move on Stewart and checked out on the field, leading the final 11 laps to become the 98th different 250SX Class winner in the history of the sport.

"I got an awesome start and that helped a lot," said Webb, who won in his 11th career start. "Phoenix was one of my favorite races last year."

Stewart maintained the runner-up spot to earn the best finish of his career, while opening race winner and current points leader Jessy Nelson put his Troy Lee Designs/Lucas Oil/Red Bull/KTM on the podium for the second consecutive week in third.

"It was great tonight getting my second [career] supercross podium and two [podiums] in a row to start the season," said Nelson. "I feel great, I just had to battle there for six or seven laps. I'll just need to work on some things for next week. We have a six-point lead and still have the red plate [as the points leader], so all in all it's a good night."

[caption id="attachment_35531" align="alignleft" width="300"]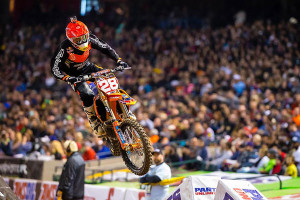 Photo: Jeff Kardas[/caption]

Nelson sits six points ahead of Webb, who moved from seventh to second with his victory, in the Western Regional 250SX Class

Monster Energy Supercross continues next weekend with its third stop of the 17-race season from Anaheim, California. It marks the second of three visits to Angel Stadium. Live broadcast coverage on FOX Sports 1 begins at 7 p.m. PT / 10 p.m. ET on Saturday, January 17.

Headlining the 2015 Monster Energy Supercross television package will be the first-ever live FOX network broadcast from MetLife Stadium in East Rutherford, N.J., on Saturday, April 25 at 3pm E.T. FOX Sports 1 will broadcast 12 races live and FOX Sports 2 will broadcast 3 races live. Each race will include a next-day re-air on FOX Sports 1. In addition, the authenticated FOX Sports Go app will live stream each race.

As a precursor to the live television, don't forget to catch all of the pre-race coverage with Supercross Race Day Live, which will stream on www.SupercrossLive.com from 12:50 - 4:30 p.m. local race time each Saturday during the season. Practice, qualifying, behind the scenes features, and key rider interviews will all be highlighted on the Supercross Race Day Live webcast.

Source: Monster Energy Supercross

https://www.youtube.com/watch?feature=player_embedded&v=w0xgE9eU2jE

Cooper Webb Takes His First Win In Phoenix
[caption id="attachment_35560" align="alignright" width="300"]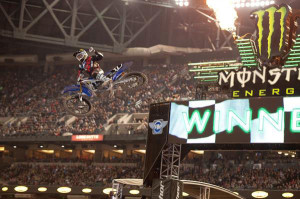 Photo: Steve Cox[/caption]

Yamalube/Star Racing/Yamaha's Cooper Webb won the first 250 Supercross race of his career with a commanding victory in Phoenix, Ariz. on Saturday night, Jan. 10. The victory brings the YZ250F bLU cRU rider up to second in points as the eight-round West series gathers steam. Teammate Aaron Plessinger rounded out the top five on another YZ250F.

Nearly 50,000 fans packed Chase Field for the evening program. In the 250 West division, Webb was fast from the very first practice laps, setting the quickest time in qualifying for the second event in a row. He then finished third in his heat to transfer directly to the 250SX final, with Plessinger also finishing third in his heat. In the 15-lap final, Webb started third behind Malcolm Stewart and Zach Osborne before moving into second place on lap one. He then took the lead from Stewart on lap five and clicked off steady laps to win by a comfortable 5.4 seconds. "Phoenix was one of my favorite races last year, so to get it done here feels awesome," Webb said. "It feels good to take second in points, but I'll feel better to get that red plate!"

[caption id="attachment_35557" align="alignleft" width="300"]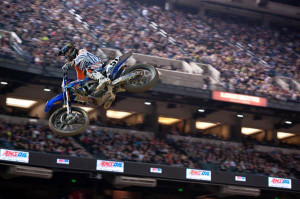 Photo: Steve Cox[/caption]

AutoTrader.com/JGR/Yamaha's Weston Peick was the top Yamaha rider, finishing fourth aboard his YZ450F in a competitive 22-bike field, with teammate Justin Barcia finishing just outside the top 10 after rebounding from a poor start. Peick is now fifth in points in the 450SX class after two of 17 rounds.

In the 450SX class, Barcia finished third in the first heat to transfer to the main event, although Peick had to qualify through one of the semis, which he won. Then in the 20-lap main event, Peick made a terrific start, getting through the first corner behind Ken Roczen, Eli Tomac and Ryan Dungey. He then moved into third on the second lap and maintained a podium position until he rolled an ankle casing a jump on lap 17, which ultimately allowed Dungey to pass. Despite the injury, Peick finished his best-ever fourth place. However Barcia didn't fare as well, pulling a wheelie at the start and then battling forward from the back of the pack to finish 11th. "I have been working really hard during the off season and was stoked to get such an awesome start," Peick said. "After passing Dungey early I just rode my own race and stayed consistent. If it wasn't for rolling my ankle I think I would have had a podium finish."

Source: Yamaha Racing

Ken Roczen Increases SX Lead At Phoenix
[caption id="attachment_35551" align="alignright" width="300"]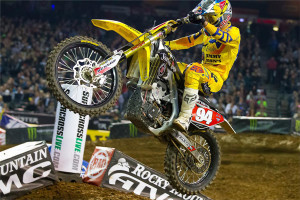 Photo: SMAI[/caption]

RCH Suzuki Factory Racing's Ken Roczen increased his lead in the AMA/ FIM World Supercross series after finishing second in Saturday night's Phoenix race at Chase Field in Arizona.

Fresh from his opening-round win last weekend in Anaheim, Roczen and the RCH Soaring Eagle/ Jimmy Johns/ Suzuki Factory Racing Team knew that a strong finish at Chase Field would be a key building-block in its mission to lay claim to the 2015 AMA Monster Energy Supercross Series 450 Supercross title.

Roczen didn't disappoint, riding his Suzuki RM-Z450 to a runner-up finish in the second event of the season to stretch his points-lead to nine, as team-mate Broc Tickle overcame a dicey start and a mid-race miscue to finish 12th.

[caption id="attachment_35552" align="alignleft" width="200"]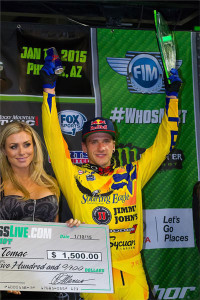 Photo: SMAI[/caption]

"We had a great night," said Roczen. "The track was a lot trickier than it was last weekend. I got off to a great start and that definitely helped. I wasn't feeling it before the Main Event and the track was definitely not the easiest. The first 10 laps was good racing and I just tried to play it safe. Eli (Tomac) beat me straight up, but that's ok. We finished with a second place so I think we're all good for the championship. It's all about being consistent."

The 20-year-old German rider took over the lead during the Main Event from eventual winner Eli Tomac on the first lap and held down the top-spot until Lap 6. Roczen and Tomac traded the lead for the next two laps before Tomac made it stick for good on Lap 8.

Roczen's mechanic, Kelly Lumgair, was pleased with his rider's effort despite being forced to race his way into the Main, via the first of two 450 SX Semi Finals.

"I'm happy with a second," explained Lumgair. "Ken wasn't feeling great, so finishing second on a bad night is pretty good when you look at the big picture."

Tickle was understandably disappointed following the event and wondered what could have been if not for a bad jump-out of the starting gate.

[caption id="attachment_35553" align="alignright" width="300"]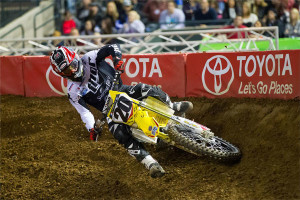 Photo: SMAI[/caption]

"The Main Event was a cluster for me," commented Tickle following the race. "I didn't get a good start. I ended up with a bunch of guys in the beginning and just had to ride around for the first five laps. I made a mistake around Lap 6 and ended up doubling a triple so that cost me a position. I was creeping-up there and getting faster as the Main Event went on, which was good, but I needed to be a little better at the beginning of the race. There was a group of guys in front of me at the end and if I would have had a better start, I think I could have been in front of them."

Still, the 2011 Supercross West Coast Lites Champion came away from Round 2 with a plan and a checklist heading into this week's training regimen.

"I just need to keep riding my Suzuki during the week and getting seat-time," continued Tickle. "I need to practice starts, do the basic run-through of everything and just keep building. I'm frustrated because I was right there with (Jake) Weimer tonight so I could have been right in there if I hadn't made that mistake."

[caption id="attachment_35550" align="alignleft" width="300"]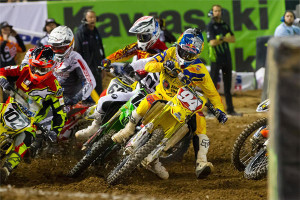 Photo: SMAI[/caption]

RCH co-owner Carey Hart was noticeably pleased with his team's performance but was eager to move on from Phoenix to Round 3, and return to the friendly-confines of the season-opener in Anaheim, California.

"Ken had a great start to the Main Event," said Hart. "He got a great jump and set a good pace for the first five laps. It must have just been Tomac's night. Broc had some trouble out of the gate and it took him a little while to get sorted out but, once he did, he made forward progress. This series is a marathon, not a sprint. I'm definitely happy for Ken with that second-place finish and we know Broc will be fine. RCH will regroup this week and come out swinging at A2. "

The 2015 Monster Energy AMA Supercross rolls on this weekend when the RCH contingent returns for the second of three visits to Angel Stadium of Anaheim.

Source: Team Suzuki

Ryan Dungey Finishes 3rd At Monster Energy Phoenix Supercross
[caption id="attachment_35556" align="alignright" width="199"]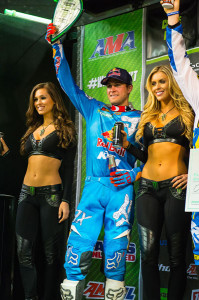 Photo: Simon Cudby[/caption]

Red Bull KTM Factory rider Ryan Dungey earned his first podium finish of the season at the second round of the Monster Energy AMA 450 Supercross Championship held at Chase Field.

Ryan Dungey was placed in the first 450SX heat where he got a great jump off the start and came around the first corner in 2nd place. Dungey was able to maintain that position throughout the duration of the six lap heat race to finish in the runner-up spot and earn a transfer spot and a great gate pick for the main event.

His Red Bull KTM Factory Racing teammate, Dean Wilson, was placed in heat number two. Wilson earned a top five start out of the gate and held the 5th place spot for the first two laps of the heat race. Unfortunately, he collided with another rider with two laps to go causing both riders to crash and he finished 7th in that heat unable to make the main event.

Wilson was sent to the semi race for another chance to qualify to the main event. He led the first lap of the semi race before falling back one position to 2nd. He remained in that spot to collect a transfer position to the main event.

[caption id="attachment_35554" align="alignleft" width="300"]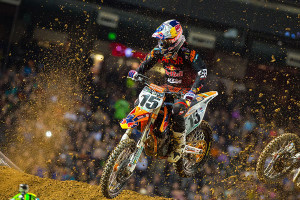 Photo: Simon Cudby[/caption]

When the gate dropped for the main event, Dungey leaped off the line to another good start on his KTM 450 SX-F and nearly grabbed the holeshot over Eli Tomac. Dungey made a few mistakes early on the first lap that dropped him from 2nd place to 4th place. Once in that position, he settled in for the first half of the race before he began to apply pressure to the 3rd place ride of Weston Peick.

With three laps to go, Dungey closed in on Peick and made a pass stick for the podium position. Once he had 3rd place secured he was able to pull away and began to close in on the 2nd place rider. Unfortunately, there were not enough laps left for him to make up enough ground to battle for the position and he finished in the 3rd place position. His podium at the Phoenix Supercross was his first podium of the season. Now two rounds into the series, Dungey sits 2nd in the overall point standings.

"This wasn't a bad result," stated Dungey. "But I definitely want better. I'm glad to be on the podium and am looking to keep this momentum going into the race next weekend."

Meanwhile, Wilson had earned a top ten start in the main event. Near the halfway point he had actually moved up as high as 6th position. Unfortunately, Wilson suffered from arm pump after the mid-point of the race which caused him to fall back a few positions. He finished the main event in 17th place.

Next Round: January 17, 2015 - Anaheim, CA

Source: KTM North America

Podium Finish Helps Jessy Nelson Retain Red Plate
[caption id="attachment_35530" align="alignright" width="300"]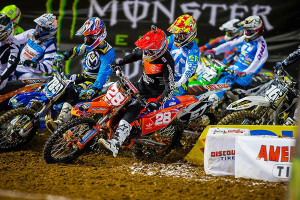 Photo: Jeff Kardas[/caption]

Troy Lee Designs/Lucas Oil/Red Bull/KTM's Jessy Nelson held onto the coveted red plate as he retained the Western Regional 250SX Class points lead in front of a packed Chase Field in Phoenix. Nelson's third-place finish stretched his points lead to six after a solid first two rounds of the season. Teammate Shane McElrath had to work through the pack following a tough start, eventually breaking into the top-10 for eighth.

After qualifying third, Nelson's night started on a high note with his first heat race win of the season. The power behind his Troy Lee Designs/Lucas Oil/Red Bull/KTM 250 SX-F launched him to a fourth-place start in the Main Event, quickly moving into third on the third lap, ending the night on the podium for the second-straight week.

"The race tonight was pretty good," said Nelson. "It wasn't my best race, but I'll take what I can because I felt like I rode a little tight there at the end. I'm definitely super happy to get on the box and still have the points lead."

Nelson's teammate McElrath also started his night out showing speed, taking second behind Nelson in the heat race. In the Main Event, McElrath came into the first turn near the back of the pack, but used the entire race to charge to the front. He would make up an impressive 10 spots before finishing a hard-fought eighth.

[caption id="attachment_35529" align="alignleft" width="300"]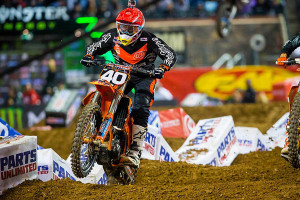 Photo: Jeff Kardas[/caption]

Not appearing on the track in Phoenix was Troy Lee Designs/Lucas Oil/Red Bull/KTM rider Darryn Durham. He suffered a wrist injury in Anaheim during Round 1 and is sidelined for the time being.

As the series continues onto Round 3, the Troy Lee Designs/Lucas Oil/Red Bull/KTM team will return to Angel Stadium in Anaheim, California looking to capture another victory in the Big A on Saturday, January 17.

The Team TLD riders wore the new [mageProductLink sku="tl0715-0208" title="Troy Lee Designs SE Corse Jersey"]2015 SE Corse Black gear[/mageProductLink], along with the 2015 SE3 Helmet One Shot Rocket Red at Chase Field in Phoenix, Arizona. See more of the 2015 gear sets and the 2015 Moto Helmets online and at your local TLD retailer.

https://www.youtube.com/watch?v=Id6mg69dwic&feature=player_embedded

Source: Troy Lee Designs

Weston Peick Makes Career Best Finish
[caption id="attachment_35558" align="alignright" width="300"]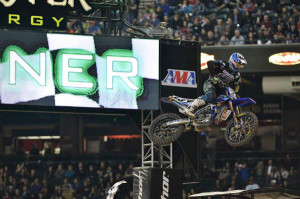 Photo: Steve Cox[/caption]

Chase Field in Phoenix, Ariz. was host to the second round of 2015 Monster Energy AMA Supercross Championship. 49,672 fans were on hand and the entire event aired live on Fox Sports One.

Justin Barcia transferred directly to the main event from Heat One. Weston Peick earned a gate for the main by winning Semi Two. When the gate dropped for the main event Barcia inadvertently wheelied causing him to back off the throttle to get the front wheel back down equating to a last place start. Peick began the race in fourth place. On lap two Peick passed the third place rider (Ryan Dungey) driving so hard into a turn that his rear wheel was in the air because of how hard he was on the front brake. Peick settled into the pace and rode comfortably in third until lap 17 when he cased a triple tweaking his ankle which broke his rhythm allowing the former multi-time champion Dungey to close up and pass him with just two laps remaining. Barcia meanwhile had methodically passed half the field earning 11th at the checkers.

Peick's fourth place performance garnered him unprecedented attention from the broadcast crew and Fox Sports One cameras. It was his career best finish, besting a pair of fifths in 2014. Although post-race interviews are typically for the top-three podium riders, Fox Sports One had Jenny Taft, the pit reporter interview Peick about the race. "I was super stoked to get such an awesome start, the JGR Yamaha bike and Pirelli tires really hooked up," said an elated Peick. "I made a pass on Dungey early in the race and then just rode my own race and stayed consistent. I have been working really hard during the off-season with my trainer Buddy Antunez and my whole team. I can't believe I held a podium position the whole like 17 or 18 laps and then I came up short on a triple and rolled my ankle really bad and literally could not stand on it and that's how Dungey passed me back. If it wasn't for that I think I would have had a solid podium finish. I would like to thank AutoTrader.com, Toyota, Yamaha, Wienerschnitzel, FMF, Fly Racing, my mom and dad, my whole family, my trainer Buddy Antunez, my mechanic Patrick, everyone who is helping me out, I'm stoked," added Peick.

Angel Stadium will host the series for the second time this season on Jan. 17 in Anaheim, Calif. Fox Sports One will broadcast the race live at 10:00 p.m. (EST).

Source: Joe Gibbs Racing

Fly Racing Riders Battle For Podium Spot In Phoenix
[caption id="attachment_35528" align="alignright" width="300"]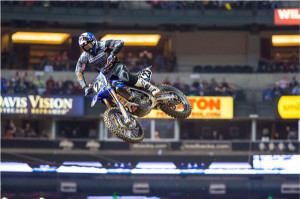 Photo: Fly Racing[/caption]

Round 2 of the Monster Energy SX took place Saturday night in Phoenix, AZ at chase field. Weston Peick aboard his AutoTrader.com/JGR/Yamaha led the FLY team in the 450 class, winning his semi race and carrying the momentum into the main event finishing a stellar fourth place in the premier class. Fellow FLY riders Andrew Short and Trey Canard followed close behind finishing 7th and 8th place. Justin Brayton and Jimmy Albertson rounded out the main event for FLY Racing finishing 15th and 20th.

In the Lites class it was Zach Osborne on his Rockstar Racing Husqvarna riding his way to a seventh place in the main event followed by teammate Zach Bell in 9th place. Fly riders Landon Powell and Alex Martin also in the main even finished the evening in 19th and 20th place after suffering some difficulties on the start.

Source: Fly Racing

Monster Energy Kawasaki Barely Misses The Podium In Phoenix
[caption id="attachment_35548" align="alignright" width="300"]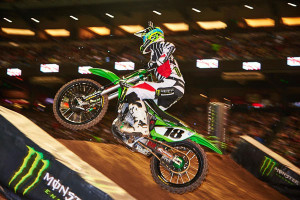 Photo: Kawasaki Racing[/caption]

Round 2 of the Monster Energy AMA Supercross, an FIM Championship brought Monster Energy Kawasaki to Chase Field in Phoenix, where Kawasaki flirted with the podium all evening. Monster Energy/Pro Circuit/Kawasaki's Tyler Bowers continued to show he's a championship contender as he finished runner-up in his heat race and recovered from a bad start in the main event to finish fourth. Josh Hansen finished 13th and Chris Alldredge rebounded from an off night last week at Anaheim to make his first 250SX main event. In the 450SX class, Monster Energy Kawasaki's Davi Millsaps also made improvements after last week and scored his first top-five of the season in fifth. Team Tedder Kawasaki's Jake Weimer broke into the top-10 with ninth place and Discount Tire/TwoTwo Motorsports Kawasaki's Chad Reed finished 10th for the second consecutive weekend.

Consistency


[caption id="attachment_35549" align="alignright" width="300"]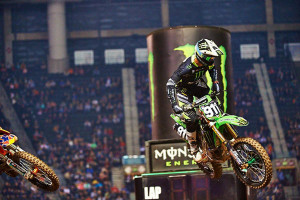 Photo: Kawasaki Racing[/caption]

Starting off the season with a podium in Anaheim left Bowers wanting more in Phoenix. He got a great start in his heat race and quickly took the lead. Bowers battled intensely, trading places back and forth and ultimately finished a close second. In the main event, Bowers was buried in the pack around the first turn and crossed the line in 10th on lap one. Striving for the podium, he picked off riders each lap to finish with an impressive fourth place result. Bowers sits third in the points standings, just one point out of second and seven points out of the lead.

"I wasted my good start in my heat race," joked Bowers. "The first couple laps were pretty hectic, and I was just trying to stay out of trouble and keep moving forward. With a good start I know I can win races, so I'll continue to work on those this week and we'll be ready for A2."

Progress


[caption id="attachment_35547" align="alignright" width="300"]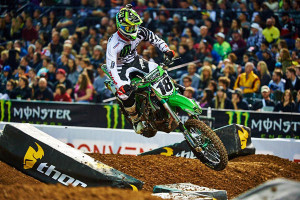 Photo: Kawasaki Racing[/caption]

Phoenix went much better for Millsaps than one week ago. He finished runner-up in his heat race and was ready for the main event. He got off to a top-10 start on his KX450F and quickly moved into the top-five. Once there, Millsaps paced the leaders, but difficult track conditions did not allow him to close the gap and he scored his first top-five finish of the season.

"We made some good headway this weekend," said Millsaps. "But we've still got work to do. This week I felt better than last week, and I hope to feel even better next week and continue to progress. It's a long season, which after our result last week, plays in our favor."

Stacked Field


[caption id="attachment_35545" align="alignright" width="300"]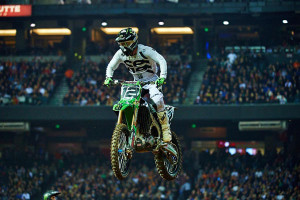 Photo: Kawasaki Racing[/caption]

The competition in this year's 450SX class is unlike years past. Just making the main event is a difficult task and mistakes are hard to recover from. In Phoenix, more Kawasaki's finished in the top-10 then any other manufacturer. Behind Millsaps' fifth place were Jake Weimer and Chad Reed who both battled forward from outside the top-10. Reed finished 10th for the second consecutive round and Weimer finished just ahead of Reed in ninth place.

Learning Curve


[caption id="attachment_35544" align="alignright" width="300"]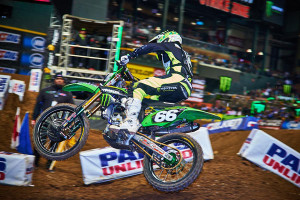 Photo: Kawasaki Racing[/caption]

A disappointing start for Alldredge last week left him anxious to prove himself in Phoenix. He did just that by qualifying eighth despite being in the B practice group. He got off to a good start behind his teammate Bowers in the heat race and finished seventh, putting him into his first main event. He got a great top-5 start in the main event and rode strong in the top-10 until three laps to go when a small tip over dropped him back to cross the line in 15th.

"I'm happy with how today went," said Alldredge. "Getting the first round out of the way was good. Despite my crash, I felt good in the main event. I was pumped to get the start and be near the front and get a sense for the pace. I know what to expect now and will be ready for it."

Not Your Typical PHX


[caption id="attachment_35542" align="alignright" width="300"]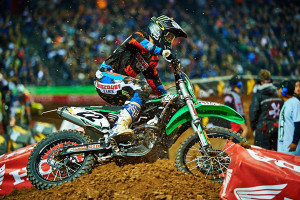 Photo: Kawasaki Racing[/caption]

Typically the track at Chase Field features very dry and slick desert soil where throttle control and traction are the keys. This year however, the dirt had much more moisture in it, due to the weather in Phoenix, which provided soft and rutted conditions.

Fitness


[caption id="attachment_35543" align="alignright" width="300"]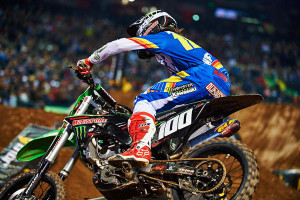 Photo: Kawasaki Racing[/caption]

The softer dirt resulted in a course that continued to develop and change all the way to the last checkered flag of the night. As the track changed, it became extremely technical and was both physically and mentally demanding.

Anaheim, Again


[caption id="attachment_35546" align="alignright" width="300"]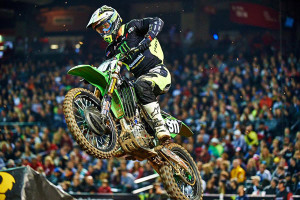 Photo: Kawasaki Racing[/caption]

With two rounds complete, Monster Energy Supercross heads back to Angel Stadium for Round 3 on January 17th. The opening round didn't go as planned for riders like Millsaps and Alldredge and they will look to turn that around and build off their finish in Phoenix.

Source: Kawasaki Racing

Jason Anderson Finishes 6th In The 450 Class At Phoenix For Rockstar Energy Husqvarna Factory Racing!
Zach Osborne And Zach Bell Finish Top Ten In The 250 Class
[caption id="attachment_35540" align="alignright" width="300"]
Photo: Simon Cudby[/caption]

After an exciting opening round in Anaheim, Calif., Supercross trekked to Phoenix, Ariz., for its second round of the 2015 season. A sticky, rutted track and a couple tight passing areas made for a different experience than the boys are used to at Chase Field, but that didn't stop the Rockstar Energy Husqvarna Factory Racing team from putting in three solid rides in The Grand Canyon State.

Jason Anderson turned heads with his phenomenal opening round in Anaheim just one week ago, and he knew he had to keep the momentum going in Phoenix. After a late-race incident in his heat, he displayed an impressive drive in his semi by finishing second and transferring to the 450 Main Event. In the main, Anderson survived a crowded first turn, made smart passes, and charged through the crowd to finish sixth. He and his Husqvarna FC 450 currently sit third in 450 championship point standings.

"My weekend was alright," said Anderson. "I managed a bad start and ended up with a six. I'm still up there in points so that's good. It was tough to pass on this track but you just have to force your moves every lap, which I think I did pretty well. I'm looking forward to next week - hopefully I'll get a better start and be in the race."

[caption id="attachment_35539" align="alignleft" width="300"]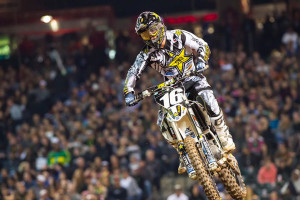 Photo: Simon Cudby[/caption]

Phoenix was all about overcoming adversity for Zach Osborne after suffering from a broken thumb at the season opener in Anaheim. He rode hard in his heat race and, after an early-race incident that had him remounting near the back of the pack, he forged ahead and finished eighth to transfer to the 250 Main Event. Osborne pulled the holeshot in the main and kept his Rockstar Energy Husqvarna Factory Racing FC 250 steady as he finished seventh at the checkered flag.

"Overall it was an ok day," said Osborne. "It's tough with the injury, but I'm trying my best to ride through it. My start was good, but I should have done a little better. I'm only nine points out of the lead and I'm ready to move on to next week's race at Anaheim."

[caption id="attachment_35538" align="alignright" width="300"]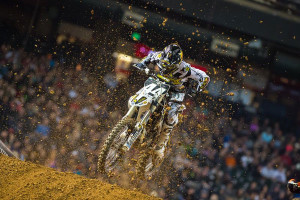 Photo: Simon Cudby[/caption]

Zach Bell displayed a consistent ride in his heat race as he moved through the pack and earned a fifth-place transfer spot to the 250 Main Event. In the main, Bell charged into the top 10 after a mid-pack start and crossed the finish line in ninth on his Husqvarna FC 250.

"Today was ok," said Bell. "I had a good heat race and finished fifth. I was riding really well in the main and, after getting caught up in the start, I went from the back all the way up to ninth. Overall I felt good on the bike and I feel strong. I'm getting better and better each week I'm and looking forward to getting on the podium."

Source: Husqvarna Motorcycles

Justin Hill Earns 6th At Phoenix Supercross
[caption id="attachment_35536" align="alignright" width="300"]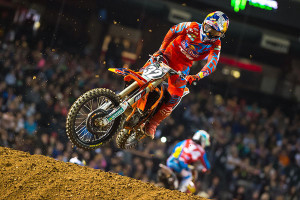 Photo: Simon Cudby[/caption]

Red Bull KTM Factory rider Justin Hill finished 6th overall at the second round of the Monster Energy AMA Supercross Championship held at Chase Field.

Justin Hill had a great start to the evening's event when he got a 2nd place start in his heat and began a battle for the lead spot that would last the entire race. Hill and Tyler Bowers swapped the lead position multiple times before Hill was able to make the pass stick on the final lap to secure the heat win and top gate position in the main event.

In the main event, Hill had a bad jump off the line and came around the first corner in 17th position. On his KTM 250 SX-F he passed a few riders and moved up to 13th by the end of the first lap. He continued to increase his pace and pick-off riders throughout the next few laps and was sitting in 7th at the halfway point. With two laps to go, Hill was able to close in on the 6th place ride of Zach Osborne and moments later made a pass stick to take over the position. Hill went on to finish the race in 6th place.

"Overall, I was hoping to be in podium contention tonight," stated Hill. "I struggled with a head cold earlier this week and it affected my riding tonight. I am hoping to feel 100% this next week and come back stronger for the next Anaheim event."

Next Round: January 17, 2015 - Anaheim, CA

Source: KTM North America

Trey Canard Finishes In Top Ten
[caption id="attachment_35535" align="alignright" width="232"]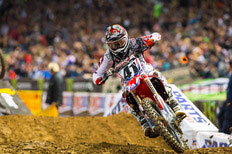 Photo: Honda Racing[/caption]

While Team Honda staff and riders Trey Canard and Cole Seely had hoped for a better showing at the Phoenix Supercross than ultimately proved possible, the squad's spirits were buoyed by the inspiring debut premier-class victory of GEICO Honda's Eli Tomac, who also rides a factory CRF450R.

Canard's bid for a top finish was complicated by a poor start, but he worked his way through a pack that was deep with talent, eventually crossing the checkered flag in eighth place. Seely had trouble in the main and ended in fourteenth position, but he was encouraged by the fact that he had ridden to his career-first 450 heat-race win earlier the same evening.

THE FOCUS: Red Riders
During the live television coverage of the Phoenix Supercross, Fox Sports 1 aired a short feature called "Passion to Persevere: Trey Canard on a Balanced Life." The emotional piece was filmed at Canard's home in Edmond, Oklahoma, during the off-season, and covered his faith, his recoveries from injuries and how he and wife Hannah met during a mission in Africa.
In the AMA Supercross pits, the Team Honda and GEICO Honda semi trucks are invariably parked adjacent to one another, and that's not just because birds of a feather tend to flock together. GEICO Honda rider Eli Tomac's mechanic Brian Kranz works out of the Team Honda truck, and he, Trey Canard and Cole Seely all enjoy the same technical support from HRC. That being the case, the feeling of contentment following Tomac's debut premier-class victory permeated the entire Honda pit area, with both Team Honda riders congratulating the Coloradoan.

"I'm really happy with the communication that all three riders have right now," said Team Honda Manager Dan Betley. "They all watch film together, and they share information about lines on the track. I couldn't be happier with the camaraderie this year, among both the staff and the riders. Everybody helps each other, which is great. Obviously, Trey and Cole are bummed for their results at Phoenix, but they're happy to see that the equipment and the staff are capable. They know we can give them what they need while we all work to also get them on top of the box."

Trey Canard
"It was a good night in that I left healthy and ready for next weekend. I'm not happy with the result, but I believe that over the course of the season, all the top riders will have a night like I had here at Phoenix. I'm really excited for my fellow Honda rider on his win, and for all of HRC. Hopefully we can continue the success for them as we go forward."
Cole Seely
"The heat race was good - I felt like I was flowing and riding well - but the main event just kind of unraveled on me. My start was okay, but I got into it with Chad Reed and a couple other riders. I started going backward and got arm pump, so it was tough. I'll just take the heat-race win, build off of that and keep plugging away. The bike felt good all night."
Keisuke Inomoto, Representative Director, Team HRC Motocross
"I'm pleased with Honda rider Eli Tomac's win in the main at Phoenix! He did a great job to win his heat race, and then he managed the main very well. Trey Canard finished eighth, as his start was not so good; nevertheless, he did a good job charging forward, and things will come together for him in the coming races. Cole Seely was 14th, but he took his first heat win and started strongly in the main. I think he could get a victory if he continues on this path. I feel that Eli's win shows our ability, which we have been cultivating. We'll analyze what to revise so that we'll be able to get more good results. Please continue your support of Team Honda and HRC!"
Dan Betley, Team Manager
"Eli had a great night. I'm so happy for him and so proud of the team, because everybody has pulled together this year. All the testing we've done has been awesome, and I can't say enough about the team. I'm a little bummed for Trey and Cole. Trey rode a little stiff all night long, but he thinks he knows what was up, which is good. Cole had a great heat-race win and rode great, but he kind of got knocked around in the main. It was tough for those guys, but it was nice to see Honda on top of the box."
Brent Presnell, Mechanic (Trey Canard)
"Trey had decent times in practice, and we're coming away healthy, but he just didn't have the same aggression that he did last week; some nights you have it and some nights you don't. I guess eighth place isn't bad when you start 18th. It looked like his reaction was a little off on the start; Kenny Roczen and those guys got a handlebar on him right out of the gate, and then he was just closed off at that point. We'll look for a good result at Anaheim 2."
Rich Simmons, Mechanic (Cole Seely)
"I think we should have gone further outside on our gate pick, but that's hindsight. The first turn was really tight on the inside, so if you didn't get the jump, you were stuck waiting for everybody to clear out. We just need to work on being more aggressive. Cole was too patient, and he got pushed around by some other guys and had to work his way back through them. The heat race was awesome though - he got a great start and was really consistent. We just need to work on duplicating that in the main event."
Source: Honda Racing

Blake Baggett Fights Back At Phoenix Supercross
[caption id="attachment_35533" align="alignright" width="300"]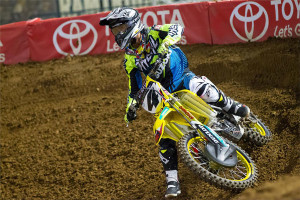 Photo: Team Suzuki[/caption]

Yoshimura Suzuki Factory Racing's Blake Baggett continued to show resilience in the face of adversity in Saturday night's second round of the AMA/ FIM World Supercross Championship in Phoenix, Arizona.

Baggett overcame a hard fall in his Heat race, a tough gate-pick and getting caught-up in a first-turn log-jam that caused him to drop to the back of the pack. In spite of it all, he regained his bearings and used his powerful Yoshimura Suzuki RM-Z450 to methodically make his way around a half-dozen riders by the chequered flag to end up 13th; second among the highly-touted rookies in the premier class.

"There's definitely been a big learning curve," admitted Baggett, who leaves Phoenix 13th in the standings, just five points from being inside the top-10. "In the Heat race I went down in the first turn. It was just a mistake I made."

Baggett was not alone. The first turn at Phoenix funneled riders who had inside gate-picks slightly towards the middle of the track and it resulted in multiple crashes similar to Baggett's, where the inside riders were pinched-off with nowhere to go. The first-turn crash put Baggett into a Semi and he said being forced to come through that race actually helped him.

"The Semi went decent," he explained. "I ended up third. I worked my way up and started figuring out some lines and got a little bit better."

[caption id="attachment_35534" align="alignleft" width="300"]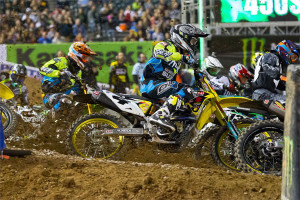 Photo: Team Suzuki[/caption]

At the start of the Main, Baggett started towards the outside. Again the funnel effect caused a major traffic jam in the first turn and Baggett got totally boxed-out and was left near the back of the pack. A few mistakes caused him to lose a few more positions and by lap four of the 20-lap final Baggett had fallen all the way back to 19th.

It was starting to look like a very tough night, but as he'd done at Anaheim 1, Baggett shook-off bad luck and errors and got to the task at hand. He steadily made passes the rest of the night, including on fellow rookies Cole Seely and Dean Wilson, and worked his way up to 13th at the finish.

After playing it smart and gradually getting his feet wet in his first two Supercross Mains, Baggett indicated he might be looking for a bit more next weekend in Anaheim. "I definitely need to pull the trigger and make something happen," he concluded.

Yoshimura Suzuki Factory Racing's next event is Anaheim II, the third round of 17-race AMA/ FIM World Supercross Championship this Saturday, January 17th, at Angel Stadium in Anaheim, California.

Source: Team Suzuki

Phoenix Overview And Point Standings
2015 AMA Supercross Phoenix Image Gallery
(Click for full size images)
Overall Results - Supercross Class
| Pos. | # | Rider | Bike | Interval | Best Time |
| --- | --- | --- | --- | --- | --- |
| 1 | 3 | Eli Tomac | Honda CRF450 | 20 Laps | 55.346 |
| 2 | 94 | Ken Roczen | Suzuki RM-Z450 | +06.424 | 55.605 |
| 3 | 5 | Ryan Dungey | KTM 450 SX-F Factory Edition | +10.596 | 55.923 |
| 4 | 23 | Weston Peick | Yamaha YZ450F | +23.538 | 55.762 |
| 5 | 18 | David Millsaps | Kawasaki KX450F | +24.718 | 56.587 |
| 6 | 21 | Jason Anderson | Husqvarna FC450 | +28.490 | 56.802 |
| 7 | 29 | Andrew Short | KTM 450 SX-F Factory Edition | +29.610 | 57.377 |
| 8 | 41 | Trey Canard | Honda CRF450 | +32.097 | 56.978 |
| 9 | 12 | Jacob Weimer | Kawasaki KX450F | +33.946 | 57.263 |
| 10 | 22 | Chad Reed | Kawasaki KX450F | +37.249 | 57.181 |
| 11 | 51 | Justin Barcia | Yamaha YZ450F | +37.558 | 56.961 |
| 12 | 20 | Broc Tickle | Suzuki RM-Z450 | +38.441 | 57.063 |
| 13 | 4 | Blake Baggett | Suzuki RM-Z450 | +39.822 | 57.318 |
| 14 | 14 | Cole Seely | Honda CRF450 | +49.448 | 56.735 |
| 15 | 10 | Justin Brayton | KTM 450 SX-F Factory Edition | +53.195 | 57.464 |
| 16 | 24 | Brett Metcalfe | Suzuki RM-Z450 | +56.430 | 58.448 |
| 17 | 15 | Dean Wilson | KTM 450 SX-F Factory Edition | +1:05.771 | 57.091 |
| 18 | 800 | Mike Alessi | Suzuki RM-Z450 | 19 Laps | 58.896 |
| 19 | 33 | Joshua Grant | Kawasaki KX450F | +14.617 | 57.261 |
| 20 | 53 | Jimmy Albertson | Yamaha YZ450F | +30.867 | 59.125 |
| 21 | 199 | Kyle Partridge | Honda CRF450 | 18 Laps | 1:00.067 |
| 22 | 64 | A J Catanzaro | Suzuki RM-Z450 | 11 Laps | 1:01.324 |
Rider Point Standings - Supercross Class
Statistics




Race Time: 18:57.075

Margin of Victory: 06.424

Winner's Avg. Laptime: 56.853

2nd Place Avg. Laptime: 57.174

Best Qualifier: #3 - Eli Tomac

Holeshot: #3 - Eli Tomac




( Race 2 of 17 )


Ken Roczen - 47

Ryan Dungey - 38

Jason Anderson - 37

Trey Canard - 33

Weston Peick - 32

Andrew Short - 30

Eli Tomac - 26

Justin Barcia - 25

Broc Tickle - 22

Jacob Weimer - 22

Manufacturer Point Standings - Supercross Class
( Race 2 of 17 )


Suzuki - 47

Honda - 45

KTM - 38

Husqvarna - 37

Yamaha - 33

Kawasaki - 27

Overall Results - Supercross Lites West Class
| Pos. | # | Rider | Bike | Interval | Best Time |
| --- | --- | --- | --- | --- | --- |
| 1 | 17 | Cooper Webb | Yamaha YZ250F | 15 Laps | 56.076 |
| 2 | 34 | Malcolm Stewart | Honda CRF250 | +05.447 | 56.869 |
| 3 | 28 | Jessy Nelson | KTM 250 SX-F | +07.618 | 56.859 |
| 4 | 911 | Tyler Bowers | Kawasaki KX250F | +09.813 | 57.006 |
| 5 | 157 | Aaron Plessinger | Yamaha YZ250F | +11.286 | 57.004 |
| 6 | 32 | Justin Hill | KTM 250 SX-F | +18.966 | 56.979 |
| 7 | 16 | Zach Osborne | Husqvarna FC250 | +26.552 | 57.487 |
| 8 | 40 | Shane McElrath | KTM 250 SX-F | +27.851 | 57.496 |
| 9 | 44 | Zachary Bell | Husqvarna FC250 | +30.643 | 57.531 |
| 10 | 130 | Thomas Hahn | Honda CRF250 | +32.000 | 58.557 |
| 11 | 38 | Matthew Bisceglia | Honda CRF250 | +34.915 | 57.828 |
| 12 | 61 | Michael Leib | Honda CRF250 | +41.544 | 58.237 |
| 13 | 100 | Joshua Hansen | Kawasaki KX250F | +48.191 | 59.474 |
| 14 | 71 | Cole Martinez | Yamaha YZ250 | +54.438 | 59.001 |
| 15 | 66 | Chris Alldredge | Kawasaki KX250F | +58.076 | 57.463 |
| 16 | 65 | Scott Champion | Yamaha YZ250 | +59.460 | 1:00.530 |
| 17 | 86 | Zackery Freeberg | Yamaha YZ250 | 14 Laps | 1:00.087 |
| 18 | 57 | Jackson Richardson | Honda CRF250 | +06.343 | 1:00.250 |
| 19 | 85 | Landen Powell | KTM 250 SX-F | +12.565 | 1:01.248 |
| 20 | 31 | Alex Martin | Yamaha YZ250F | +14.608 | 58.706 |
| 21 | 341 | Nico Izzi | Yamaha YZ250F | +49.207 | 1:00.681 |
| 22 | 981 | Austin Politelli | Yamaha YZ250F | 6 Laps | 59.421 |
Rider Point Standings - Supercross Lites West Class
Statistics




Race Time: 14:22.452

Margin of Victory: 05.447

Winner's Avg. Laptime: 57.496

2nd Place Avg. Laptime: 57.860

Best Qualifier: #32 - Justin Hill

Holeshot: #16 - Zach Osborne




( Race 2 of 9 )


Jessy Nelson - 45

Cooper Webb - 39

Tyler Bowers - 38

Zach Osborne - 36

Justin Hill - 33

Aaron Plessinger - 32

Shane McElrath - 28

Malcolm Stewart - 23

Zachary Bell - 22

Joshua Hansen - 20

Manufacturer Point Standings - Supercross Lites Class
( Race 2 of 17 )


KTM - 45

Yamaha - 41

Kawasaki - 38

Husqvarna - 36

Honda - 33