First Look: 2015 Polaris RZR 4 900 EPS
Chaparral Motorsports
|
January 9, 2015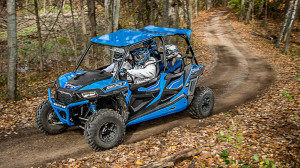 This past July, Polaris introduced one of the biggest RZR line-ups ever and continued to fuel the RZR lifestyle by offering the widest variety of vehicles for every type of sport riding. With the introduction of the new RZR 900 and RZR S 900, Polaris redefined the first two RZR products ever built by providing the vehicles with unequaled power, highly-capable suspensions, unmatched agility, and revolutionary ergonomics and styling.

To continue RZR's tradition of offering the most-complete line-up of sport side-by-sides, Polaris is introducing the new RZR 4 900 EPS, one of the most versatile, multi-passenger side-by-sides available.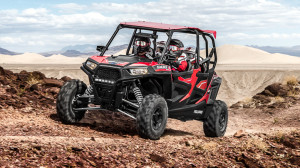 Whether you ride in the trail or desert, the RZR 4 900 EPS delivers a multi-passenger option that can tackle a wide variety of terrains at a lower price than a premium model. The vehicle shares many of the same attributes as the RZR S 900; 75 horsepower, ProStar 900 EFI engine, Dual A-Arm Front and Rear Suspension, High-Performance All Wheel Drive (AWD), 60 in/152.4 cm width, revolutionary ergonomics and styling, and accessory integration; with a 106.5 in/270.5 cm wheelbase that accommodates two more passengers so more family and friends can experience the RZR lifestyle. Available in Voodoo Blue and Havasu Red.

Highlights of the RZR 4 900 EPS include:
75 HP ProStar Engine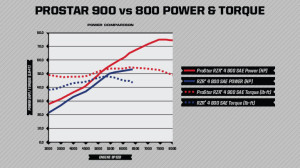 New 75 HP ProStar® Engine delivers the power & acceleration with hallmark ProStar® features like dual overhead cams, 4 valves per cylinder and electronic fuel injection. Polaris upped the torque 14% and increased HP by 40% over the RZR 4 800.

High Flow Clutch Intake System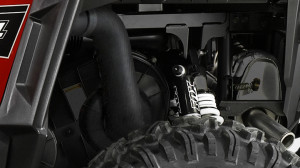 New High Flow Clutch Intake System is the most durable clutch system ever for multi-passenger performance. Featuring a re-designed clutch cover, and ducting system that provides more airflow and decreases belt temperature by close to 50 degrees.

Trail Friendly Low Gear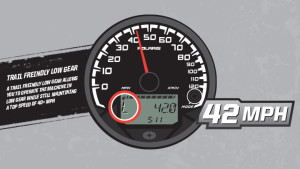 A trail friendly low gear allows you to operate the machine in low gear while still maintaining a top speed of 40+ MPH

Performance Suspension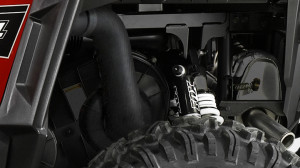 12.25" of front suspension travel and 13.2" in the rear, and FOX Performance Series 2.0 Podium X Shocks, the RZR 4 900 Suspension can be tuned for exactly the way you ride. New geometry designed for specific types of terrain gives you a performance based machine that's ready to tackle the trail.

Long Wheelbase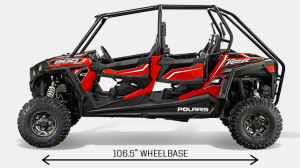 The RZR 4 900 features a 106.5" long wheelbase paired with front and rear Dual A-Arm suspension for the ultimate in trail performance.

Tubular Frame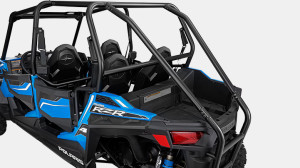 Tubular frame and D-pillars increase frame rigidity allowing the suspension to absorb shock instead of the chassis resulting in more consistent suspension performance.

GBC Tires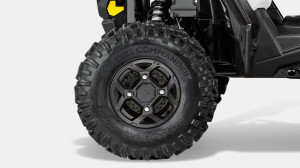 New 27" GBC Dirt Commander 8-ply UTV tires offer better side bite, stiffer sidewalls, better tracking through corners and increased durability.

Optimized Track Width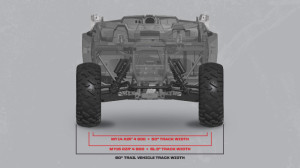 The RZR 4 900 inspires confidence through corners thanks to an additional 1.3 inches of rear track width compared to 2014 RZR 4 800 all while maintaining an overall vehicle width of just 60".

Drystar Seats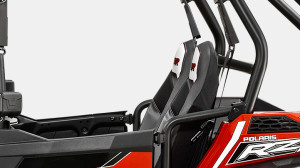 New Bolstered bucket seats feature a standard driver and passenger seat slider and Dryseat technology keeps you dry and comfortable for those long days behind the wheel

Improved Ergonomics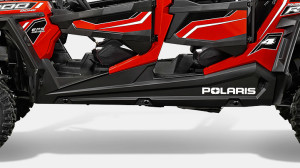 The new body style on the RZR 4 900 gives you plenty of room to get in and get out and an additional 1" of leg room for all day comfort when piloting it down the trail.

Removable Floor Drains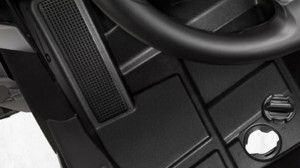 Keep your new RZR 4 900 clean with these new driver and passenger side removable floor drains. The design allows you to simply washout debris and mud quickly and easily.

Source: Polaris Industries