MV Agusta Updates Touring Line-up With 2015 Stradale 800
Chaparral Motorsports
|
January 8, 2015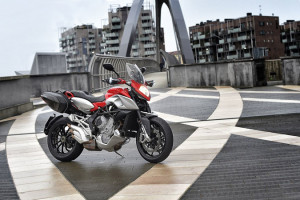 While some heads are still spinning from all of the new motorcycles released at the 2015 EICMA expo in Milan, some may have overlooked the quietly released MV Agusta Stradale 800, Motorcycle.com reported.

The Stradale closely resembles the Rivale, which has a very sporty appeal to it, but the newly released bike from MV Agusta changes the athletic look to a more touring-based motorcycle. Some of the touring aspects include a mini-windscreen that is adjustable with a single hand. According to the source, the Rivale desperately needed some sort of windscreen, and the Stradale will give riders that protection and comfort.

Additionally, the overall seat height from the Rivale to the Stradale was slightly lowered to 34.2 inches from the ground. For a touring bike, the seat height is still a little tall for some riders, but the motorcycle manufacturer built a narrower seat and fuel tank to allow riders to reach the ground more easily.

Less Power, More Range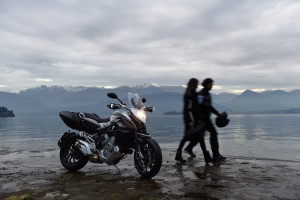 While the three-cylinder 798cc engine on the Stradale is similar to the engine MV Agusta produced for the Rivale 800, the power in the Stradale's engine was decreased from the Rivale model to equal 115 hp at 11,000 rpm; however overall fuel capacity increased to 4.2 gallons, Sport Rider reported. The bike's chassis is crafted much like the long-travel suspension of the Rivale. According to Auto Evolution, the torque is 57.8 pound-feet, and the same ABS supplied by Bosch featured on the other model.

"Breathtaking braking, awesome acceleration," MV Agusta's press release stated. "City streets. Country roads. Motorways. Different situations that used to require different bikes - but not anymore. The Stradale 800 rewrites the rules. Because it's the right bike every time, whatever the road."

Electronic Controls Built For Touring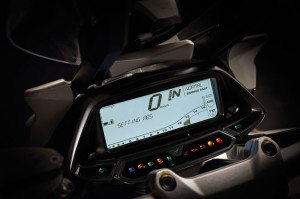 The Motor and Vehicle Integrated Control System (MVICS) is electronic with four different engine maps available including: the Sport map, the Normal map, Rain and Custom. The MVICS also controls a full ride-by-wire Mikuni system with 47​-millameter throttle bodies. Also, the MV EAS 2.0 electronic shift assist and the eight-level traction control will make the Stradale a smooth ride on a number of terrains.

The MV Agusta Stradale is a close model of what it would be like if the company built a full adventure motorcycle, with many touring accessories included in the base model. However, the newest release is still a little bit away from meeting that mark because the 2015 Stradale is a lot like a Ducati Hyperstrada, Auto Evolution reported.

2015 MV Agusta Stradale 800 Image Gallery
(Click for full size images)


https://www.youtube.com/watch?feature=player_embedded&v=UCyy4Jbpt1c