Akrapovic Showcases Futuristic Full Moon Concept Motorcycle
Chaparral Motorsports
|
January 8, 2015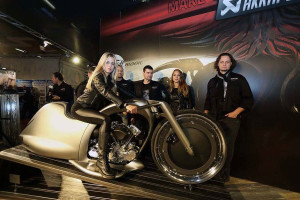 One of the most outrageous motorcycles designs ever seen, which is called the Full Moon, was recently announced by Akrapovič. The extremely futuristic motorcycle design by the Slovenian manufacturer is like nothing ever seen before. According to Auto Blog, the motorcycle manufacturer is known for making motorcycle exhaust systems, as well as exhaust systems for the Volkswagen Gulf and the Audi R18 E-Tron Quattro racer, but the company recently got involved with custom motorcycles.

Three years ago, Akrapovič released the Morsus motorcycle, which is a very fluidly crafted carbon fiber and steel bike with two excessively large wheels at both ends. The new Full Moon keeps Akrapovič's original concept alive, with a massive front wheel on the motorcycle.

Full Moon Custom Design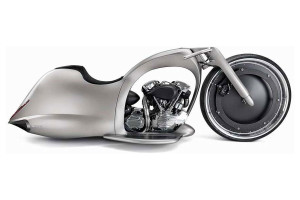 The motorcycle's front wheel measures out to 30 inches in diameter, which is 13 inches larger than the Ducati 1299 Panigale's front wheel. Even the Harley-Davidson Road Glide, known for its large diameter front wheel, is dwarfed in comparison, by a full 11 inches. With such a large wheel on the front, it is easy to see how the Full Moon got its name.

The proportions may not be easy to grasp through the limited pictures released by the company, but it is clear that you couldn't ride it like a regular motorcycle, as the two gargantuan foot rests and the back exhaust system sit just inches from the ground. Without the ability to lean into corners you would be required to turn solely using the steering, much like a car. With that in mind, the Full Moon was built with fully automated steering that allows a minimalist steering rod and removes any visible cables on the bike, Design Boom reported.

Also, the Full Moon has a hydraulic suspension that allows the motorcycle to sit upright when it's parked.

Custom Rear-End Exhaust System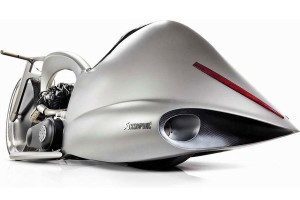 What stands out most on the new motorcycle is the rear exhaust system that looks much like a vehicle used in the movie Tron. The motorcycle has two small sets of runway strip LED lights for its brake lights and headlights, and a custom dual exhaust system, which is all built into one. The frame and bodywork are made of aluminum and carbon, and function as part of the exhaust.

The engine is located in the frame's bodywork, and Akrapovič said the engine used for the Full Moon is a 1,524-cc S&S Knucklehead.

"This is an extremely technically advanced motorcycle, full of unique elements that were carefully chosen to make the bike totally exclusive, and the shape hides completely new solutions used on a custom bike for the first time," Akrapovič said in an official statement. "The Full Moon is like no other bike out there now, and Akrapovič is very proud of it."