Action Begins In Argentina As 2015 Dakar Kicks Off
Chaparral Motorsports
|
January 4, 2015
[caption id="attachment_35341" align="alignright" width="300"]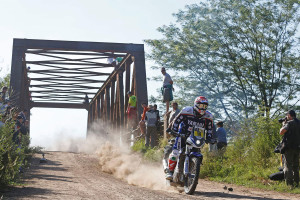 Alessandro Botturi[/caption]

The Yamaha Factory Racing Rally Team Yamalube riders have made a positive start to the grueling Dakar 2015 challenge. Starting from Buenos Aires, the first stage existed of a 144km ride through the Argentinean countryside before reaching the 175km special stage, followed by a long liaison section to the first bivouac in Villa Carlos Paz.

Not taking any unnecessary risks, the Yamaha riders made a cautious start. Olivier Pain was the first rider of the team to ride his WR450F Rally into the bivouac (13th at 03'34), followed by Michael Metge (19th at 05'40) and Alessandro Botturi (25th at 06'35), who were forced to slow their pace due to visibility issues.

Quad rider Ignacio Casale had a different strategy as he took on the first stage. After securing his first Dakar crown one year ago, the Chilean gave his all to show that he still has what it takes. He was the first quad to start the first stage and rode his Yamaha Raptor 700 to a solid one-minute lead. Last year's runner-up, Rafal Sonik, completed the all Yamaha provisional podium together with Sergio Lafuente.

The riders now look forward to tomorrow's stage, which will include the longest special of this year's Dakar rally.

Olivier Pain - 13th / 03'34
"I didn't take any risks today. The track had some deep and very hard ruts in it and a lot of them were hidden in the grass or under the shade of the trees where you couldn't see them. In conditions like that the best thing is to take it easy and make sure you get to the end. Apart from that there was no drama. The bike went well and I was particularly happy with the top speed. Tomorrow is going to be a big day. The longest special of the rally and I reckon I'm well placed this evening to make the best of it."
Michael Metge - 19th / 05'40
"After only about 14 kilometers I caught up with the rider who started in front of me and got stuck in his dust. Obviously in such poor visibility you have to choose your moment to overtake and in the end I had to wait over 60 kilometers before I could get past. It's frustrating, as you know you're losing time, but that's part of the rally. Hopefully tomorrow I will have a clearer run."
Alessandro Botturi - 25th / 06'35
"I had the same problem as Michael, getting stuck in other peoples' dust. Unfortunately it meant I didn't see a sharp right hand corner until it was too late. I didn't go far off track, but far enough to get some loose fence wire stuck in my front wheel, which took me a while to untangle."
2015 Dakar Stage 1 Image Gallery
(Click for full size images)
Dakar Rally 2015 Stage 01 Results
Buenos Aires to Villa Carlos Paz


Sam Sunderland, GBR (KTM) 1:18:57

Paulo Gonçalves, PRT (Honda) 1:19:02

Marc Coma, ESP (KTM) 1:20:09

Joan Barreda Bort, ESP (Honda) 1:20:38

Alain Duclos, FRA (Sherco TVS) 1:21:05

Jeremias Israel Esquerre, CHL (Honda) 1:21:13

David Casteu, FRA (KTM) 1:21:33

Matthias Walkner, AUT (KTM) 1:21:39

Pablo Quintanilla, CHL (KTM) 1:21:55

Ruben Faria, PRT (KTM) 1:21:59

Toby Prince, AUS (KTM) 1:22:28

Pablo Rodrigues, PRT (Honda) 1:22:29

Oliver Pain, FRA (Yamaha) 1:22:31

Jordi Viladoms, ESP (KTM) 1:22:42

Juan Pedrero Garcia, ESP (Yamaha) 1:23:27



Michael Metge, FRA (Yamaha) 1:24:37



Alessandro Botturi, ITA (Yamaha) 1:25:32

Source: Yamaha Racing