Ken Roczen To Debut For RCH Suzuki At Anaheim
Chaparral Motorsports
|
January 2, 2015
[caption id="attachment_35355" align="alignright" width="300"]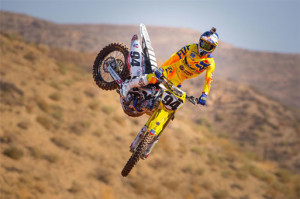 Ken Roczen[/caption]

RCH Suzuki Factory Racing's new team rider Ken Roczen lines-up for his first competitive outing on the 2015 RM-Z450 at this weekend's opening round of the AMA/ FIM World Supercross Championship at Angel Stadium in Anaheim, California.

After signing Roczen over the off season and bringing back veteran Broc Tickle to ride the RCH Soaring Eagle/Jimmy Johns/Suzuki Factory Racing Suzuki RM-Z450s, the 2015 season holds the most promise to date for the team co-owned by Carey Hart and Ricky Carmichael to compete for the highly-coveted Supercross Championship that kicks-off on January 3rd.

"I'm so excited the season is finally here," said 2014 Anaheim 1 winner Roczen. "Carey and Ricky have put together an awesome team with incredible resources. Having Broc as a team-mate is obviously a huge plus. We've been good friends so I'm very happy that now we have the opportunity to work together. I'm looking forward to the new season with a new bike and team."

[caption id="attachment_35354" align="alignright" width="300"]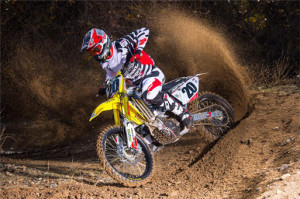 Broc Tickle[/caption]

Roczen stormed the 450 scene last season by grabbing the holeshot on 2014 with the win at A1. Seven races later, he was back on top of the box in Atlanta. By year end, the German-born rider complemented his two wins with eight podium finishes to claim third position in the series. In three 450 Supercross starts at Anaheim, Roczen has notched a podium every time and hasn't finished worse than third.

For his part, Tickle was on track for a breakout performance last season until injuries sustained in March following a practice crash at the Toronto Supercross, left him side-lined for the remainder of 2014. Since then, the Michigan rider has fully recovered from his injuries, making an easy decision for Hart and Carmichael to include Tickle as part of their organization's 2015 rider line-up.

Broc Tickle:
"This is an exciting time for everyone at RCH and I'm really looking forward to 2015. I had a great off-season, both on and off the bike. I'm up to speed on the track and I'm getting stronger every day. I feel more mentally and physically prepared than I have in years and to have Ken onboard is a testament to where this team is heading. We've got a lot of good stuff happening. Now it's time to get going and make the most of the opportunity."
[caption id="attachment_35353" align="alignright" width="300"]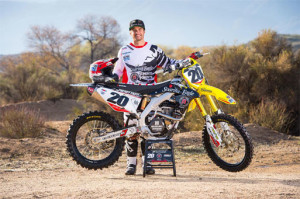 Broc Tickle[/caption]

With a reputation that stands alone, Carmichael made his mark on the sport with five Supercross championships and 48 wins. He knows what success looks and feels like. When Carmichael and Hart partnered prior to the 2013 season, they knew the end result would be a product of focused planning and a forward-thinking competitive approach. With their shared philosophy in gear, what was once Hart & Huntington has evolved into a factory-backed Supercross powerhouse with championships in its sights.

"I'm extremely excited for the season to kick-off this weekend," said Carmichael. "When I look back at RCH and the progress the team has made, it's very humbling. When Carey and I first talked about the idea, the best thing we did was make a plan. We knew that it would take two years to get everything pointed in the right direction and by year three, we'd have a shot at contending for a championship. I think that's exactly where we're at heading into 2015. Now, we have a championship caliber rider with Ken and feel like Broc is going to be racing for podiums all season too. It's worked-out better than what I anticipated. Everything is set. Now it's up to us to execute and that's not going to be easy with the depth of competition. We've got great riders, great sponsors and a great team. We're ready."

Carey Hart:
"All the work the team has put in, not just over the off season, but over the last several years continues to produce results, on and off the track. Personally, I'm really looking forward to seeing RCH compete for wins. We're all expecting a very successful season."
Source: Team Suzuki