Offroad Essentials: 10 Items Every Offroader Should Consider Carrying
Chaparral Motorsports
|
December 30, 2014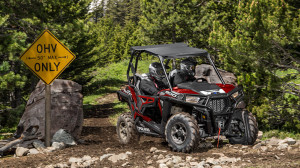 Offroading is a great activity for the motorsports enthusiasts' family to get away from the hustle and busy of daily life and enjoy some outdoor adventures. However, no matter if you're a family who prefers two-wheeled fun or likes to pack together in the family wagon, AKA a four-seater UTV, there are some essentials that every offroader should consider packing along. Below is a list of 10 items that can come in very handy and possibly save a disastrous off road trip and possibly save someone's life. Most of the items on this list are applicable to all types of vehicles (dirt bike/ATV/UTV) while a couple may be vehicle specific, depending on your year/make/model etc.

1) Backpack/Hydration Pack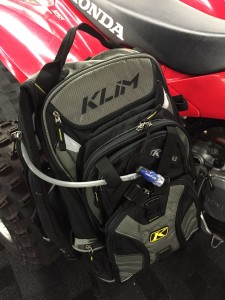 While most UTVs and even some ATVs have some room/space for storage, the space is often very small, limiting the amount of stuff you can carry. A backpack, especially one with a [mageProductLink sku="261-4012-000-000" title=""]hydration pack[/mageProductLink], should be the first item on anyone's offroad essentials list. Starting with a good backpack will provide a way to carry all the items on this list in one convenient and easy to use/get to location. A backpack is especially useful on those rare occasions when you have to abandon your vehicle and trek back to camp. The addition of a hydration bladder means that if you get stranded somewhere you'll have water/fluid on hand to help keep your hydrated.

2) First Aid Kit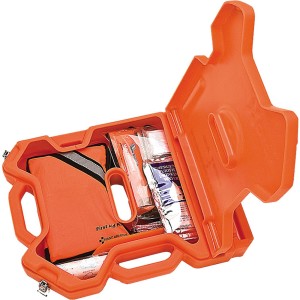 A basic first aid kit could be a life saver. You can buy kits already assembled like the [mageProductLink sku="049-451-2112f" title=""]2 Gallon First Aid Pack[/mageProductLink] offered by Rotopax which comes with everything from knuckle bandages to insect sting relief pads, and can be secured to almost any vehicle via the Rotopax mount system. But if you want to keep it light and build your own kit a few key items to pack along are: bandages of assorted sizes, a roll of gauze, antiseptic wipes, antibiotic ointment, hydrocortisone, aspirin, and tweezers.

3) Tow Strap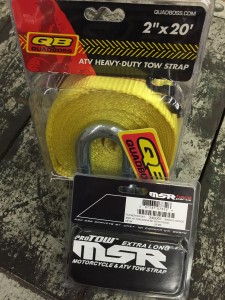 A tow strap can come in very handy for dislodging an ATV from a mud pit, pulling a UTV out of a ditch, or towing a broke down dirt bike back to camp for repairs. Available in various lengths and breaking strengths there are plenty of options when choosing a tow strap. If you're going to be riding motorcycles then something like the [mageProductLink sku="334-0001" title=""]MSR Pro Tow Strap[/mageProductLink] is perfectly fine with its 1,500 pound capacity. However, if you're going to be running around on heavier machines then something like the [mageProductLink sku="315-6652" title=""]Quad Boss Heavy Duty 2" Tow Strap[/mageProductLink] would be more useful with its 2,500 pound working limit.

4) Cell Phone Charger/Power Supply Device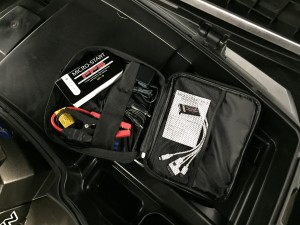 While you don't have control over your cell phone reception when out in the back country, what you do have control over is your phone's battery. Nothing is worse than being stranded or in an emergency situation and you phone doesn't have enough juice to place a call or stay on the line long enough to explain the situation or give your location. While your dirt bike might not have a battery that you can hook up a USB power port/outlet to, carrying around the [mageProductLink sku="321-3003" title=""]Antigravity Batteries Micro Start XP-3 Personal Power Supply[/mageProductLink] can get you out of a lot of situations. Weighing in at only 12 ounces and measuring only 5" L x 2.8" W x 1" H, this little thing packs quite the punch. Aside from coming with a 4-into-1 USB charger cable for charging most mobile devices, the XP-3 also includes a built-in flashlight and, jumper cables to help jump start just about any vehicle with a 12 volt battery. Even when you're not offroading, you find planet of reasons to carry the XP-3 around with you to charge or power a wide assortment of electronics, like a laptop.

5) Tire Repair Kit/Air Compressor/CO2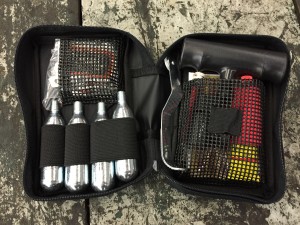 Chances are at some point in your adventures either you or someone in your group will end up with a flat tire. If you ride dirt bikes then carrying a spare tube is a smart idea. However, if you're going to be riding with a mix of dirt bikes and ATVs/UTVS, which run tubeless tires, then [mageProductLink sku="315-1507" title=""]Bikemaster's Tube and Tire Kit[/mageProductLink] will be more applicable. Offering a mix of patches for tubes and plugs for tubeless tires the kit comes with everything you need to get a tire fixed. While the kit does include individual CO2 canisters for inflating tires, depending on the size, some tires could require multiple canisters. Therefore the [mageProductLink sku="353-018117" title=""]Slime Tire Compressor kit[/mageProductLink] is another option to consider. The mini air compressor in this kit is small and light enough to easily fit/carry in a backpack (it measures 6"H x 6"W x 2 1/4"D) and comes with several accessories like fuse alligator clips, a lighter adapter, and a direct pre-wire lead, which means you can plug it into the 12v adapter outlet found on most utility ATVs and UTVs, or just connect it directly to the battery.

6) Tool Kit/Additional Screwdrivers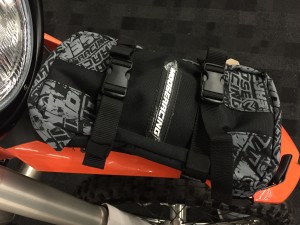 Just as important as having a first aid kit to handle your injuries is packing a tool kit to handle your vehicle's injuries and ailments. Tools can get heavy real quick; therefore its best to carry just the bare essentials that you know will fit with the most common fasteners on your vehicle. CruzTools offers a variety of tool kits outfitted with a great assortment of tools. For dirt bike riders a fender mount tool bag is a smart buy as it frees up space in your backpack by securing the tools to your fender. One thing many people often overlook with their tool kit is dealing with tire repairs. If you have to replace or patch a tube then you'll need to pull the tire from the rim and that's why it's important to carry a couple of mini tire irons like the [mageProductLink sku="334-0490" title=""]Fanny Pack size tire iron[/mageProductLink] from MSR.

7) Spare Belt
A broken drive belt on your UTV can leave you dead in the water. While drive belts are consumable products that need to be replaced over time, with care and following your owner's manual on how to properly drive your UTV, the belt will last much longer. But to ensure you don't get stranded it's not a bad idea to carry a spare belt or two-you never know when your belt is going to give.

8) Zip Ties/Safety Wire/Duct Tape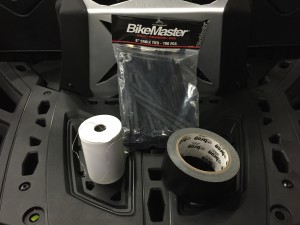 Any offroad MacGyver worth his weight in dirt knows the limitless capabilities of these three simple items: zip ties, [mageProductLink sku="l200-0201lb" title=""]safety wire[/mageProductLink], and duct tape. From securing a broken muffler to taping up a splintered fender, having these three things in your tool bag can help you get out of a pretty much any jam. Here's a helpful tip, instead of carrying around a big roll of duct tape, pull a section of tape off the roll and wrap it around the shaft of screwdriver. You could even split the duct tape lengthwise in two strips, that way you'll have plenty of tape to help you get out of any sticky situations.

9) Clear/Tinted Lenses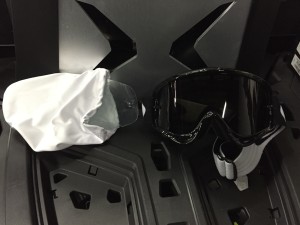 If you do find yourself broke down, depending on the severity of the repair or situation it could be hours before you're back on the trail, which can mean the loss of daylight. Nothing is more miserable than riding/driving with poor visibility. And if you only have tinted goggles or lenses for daytime riding you could be in for a very long trip back to camp, squinting as you try to make your way along a poorly lit trail. Not only is it dangerous to try to operate an offroad vehicle without proper eye protection, in some states it's illegal. Having both clear and tinted glasses or goggles will ensure you'll be able to safely see in all light conditions and will protect your eyes from flying debris.

10) Spark Plug(s)/Spark Plug Wrench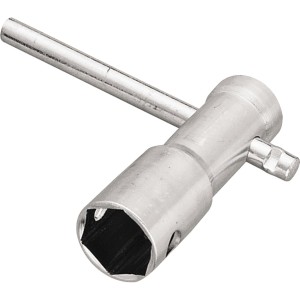 Spark plugs can foul pretty easily depending on the riding conditions and the type of vehicle you're on. The great thing about spark plugs is that they are compact and carrying two or three extra doesn't require much space. Just be sure you have a [mageProductLink sku="315-0335" title=""]spark plug wrench[/mageProductLink] in your tool kit so you can easily remove and install the plugs.