Norton Domiracer Brings A New Breed To The Streets
Chaparral Motorsports
|
December 26, 2014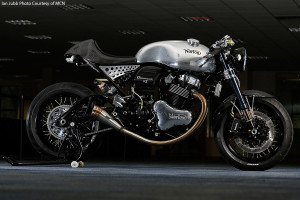 For those looking for the classic feel of the old-school café racer motorcycles, but wanting the updates of new Norton parts, the Domiracer could be the ticket - if you can find someone willing to part with it, that is.

The Norton Domiracer features an 80-horsepower pushrod twin engine that comes with nothing up its sleeve. The motorcycle is bare with no crafty electronic features or digital gauges, Motorcycle News reported. The body has the simplest features of most café racers, with the aluminum-alloy toaster tank and the ear-splitting open exhaust. The featherbed frame has an extremely distinct curve to the end of the bike that somewhat matches sport and street together.

The bike is not necessary classic or retro, but instead, a café racer built for the 21 century, MCN reported. The Spondon swingarm and the monoshock build are classic elements distinctively cutting-edge with the carbon-fiber body.

Mix Of Old And New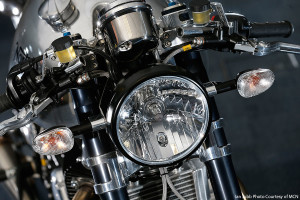 Simon Skinner, the designer of the Norton Domiracer, explained the bike had been his "pet project" since 2011, the source stated. Skinner said the creation was a very personal labor-intensive project that took many revisions on its stance and aggressive position.

"We tried to make it look more 'butch,' more aggressive, like a British bulldog if you like," Skinner told MCN. "That's why the front is pushed down, with the headlamp back and down, the rear raised up."

Skinner's second priority was blending the café racer style bike with the new build of motorcycles currently on the market.

"It's not a retro bike," said Skinner. "The mix of old and new is very intentional and trying to get the balance of those two right was very important."

Unreal Sound And Take-Off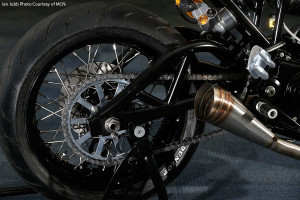 To add to its new style, the Domi will give riders a sound like nothing they've ever heard before, MCN reported. The bike is able to give out distinctive and heavy tones even at low revs, which changes at takeoff to a much louder, but great-sounding exhaust.

The air-cooled, pushrod, four-valve parallel twin engine has a displacement of 961cc, and 80hp at approximately 7,700 rpm. The five-speed transmission and chain drive go along with its low seat height at 32 inches to give that retro appeal. The bike weighs a mere 386 pounds and will be a sure delight to whoever gets their hand on the Norton Domiracer.

One More To Dream About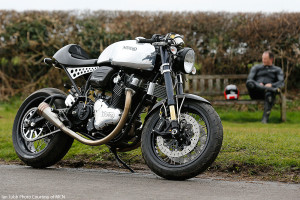 Norton
is selling two versions of the bike and one is street legal, while the cheaper version is not. However, to say this bike is cheap at all is a bit comical since this starting price for the non-street legal version is a mere $37,700, the source reported. If you were interested in Norton's street-legal version of the Domiracer, you'll have to fork up an extra $3,100 to enjoy this bike on the road.

While the bike has a hefty price tag, it hasn't stopped Norton fanatics from getting their hands on the new Domiracer. The company only released a limited run of 50 motorcycles and all of them have already been purchased.

Even though this bike is unavailable, it's still a gorgeous piece of machinery that will catch everyone's eye - so for everyone but those lucky few, we are left with just a video and dream.

https://www.youtube.com/watch?feature=player_embedded&v=pjLNFlYxu4g

Norton Domiracer Image Gallery
Photo: Ian Jubb / MCN (Click for full size images)