Highway-Ready 2015 Yamaha SMAX Scooter Released
Chaparral Motorsports
|
December 24, 2014
[caption id="attachment_35253" align="alignright" width="300"]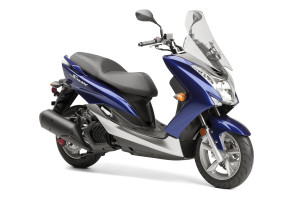 2015 Yamaha SMAX[/caption]

Yamaha recently added to its U.S. scooter lineup by releasing the new 2015 SMAX, Motorcyclist Online reported. The Yamaha SMAX is a 155cc scooter that can actually be taken out on the freeway. The scooter has enough power to match some of the 250cc model motorcycles out there and it actually rides at a comfortable 65 mph while on the highway.

According to the source, test riders were able to bring the speed up to 70 mph with the SMAX before doubters could even question its ability. Yamaha has a range of scooters that go from the 49cc Vino Classic - which is priced at $2,290 - to the 395cc Majesty and its $6,850 price tag.

Some of the reasoning behind the new 155cc SMAX is from several state laws that prohibit scooters on the highway under a certain engine level. According to the source, the California state law has the cut-off limit at anything below 149cc.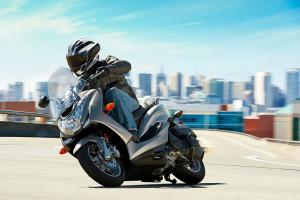 Yamaha immediately wanted to take advantage of that by offering a scooter that could last on the highway, but under $6,000 as well. The SMAX will be sold for $3,690. Some of the Yamaha SMAX scooter competitors, such as the Suzuki Burgman that starts at $4,999, are more expensive, while the Honda PCX150 is only a few hundred dollars cheaper.

The SMAX has a liquid-cooled, four-stroke, SOHC fuel-injection engine, which powers the scooter through freeway traffic and has enough power to take on any city street, Motorcycle.com reported. There's no worry about shifting with the SMAX since it has a variable transmission.

Sporty Handling And Extra Storage Space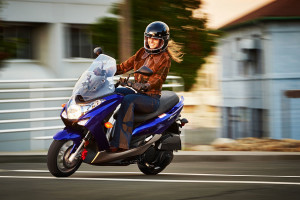 According to the source, Yamaha said the design was geared toward its "sporty handling," which might be a surprise for some scooter riders trying out the SMAX. Additionally, one of the biggest benefits to the small but quick scooter is its massive nearly 8.5-gallon storage space that can hold a full-face helmet and some other gear as well.

Yamaha also has the option of adding a top case and a center console bag. The scooter has 13-inch wheels and disc brakes on both the front and rear to give better stopping power. As of right now, Yamaha will release the SMAX in two different color schemes, including Ultramarine Blue and Matte Titan, Motorcyle.com reported.

The SMAX is 31 pounds lighter than the Burgman and comes in at 328 pounds, Motorcycle Daily stated. The only downfall of the SMAX is its lack of ABS, which is often standard with the more expensive scooter models.