Limited Edition Triumph Rocket X Blasts Off
Chaparral Motorsports
|
December 23, 2014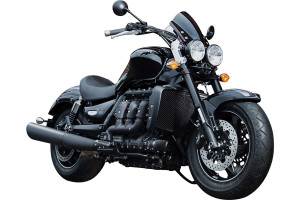 The 2014 EICMA event in Milan was a whirlwind of new motorcycles being released to the public, and it give them the first look at rides like the Triumph Rocket X LE, Visor Down reported.

According to Motorcycle USA, the name of the newest motorcycle from Triumph might be more appropriate than most riders think. The massive 2,294cc Triumph Rocket III engine supposedly has 163 pound-feet of torque while only reaching 2,750 rpm. If that's the case, you'd better make sure your helmet is fastened extra tight because that's serious pick-up.

"Launched in 2004, and continually developed since, the Rocket III has gained iconic status as the bike that every rider has on their wish list of 'must do' rides," Triumph stated in its official press release. "And now, born from the biggest, baddest and meanest bike out there, the Limited Edition Rocket X offers the ultimate ride and status."

Custom Paint Job Crucial On Limited Edition Model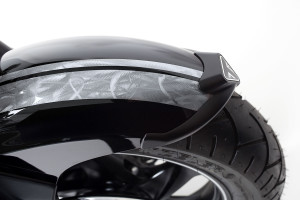 Even with its enormous size, the Triumph Rocket X can ride with the biggest cruisers on the market such as the Rune, V-Max and the Ducati Diavel, Motorcycle USA reported. Since the Rocket is coming up on its 10th anniversary, Triumph will be releasing a limited edition called the Rocket X. There will only be 500 motorcycles made and each will be labeled with an aluminum "Rocket X" badge on the fuel tank. There's a custom race stripe that runs down the tank and from the front to the back fender.

The silver race stripe will contrast the glossy black paint job and the chrome and black components on the motorcycle as well, the source reported. Some of the other additions on the limited edition version include black levers and black five-spoke wheels with a slight pinstripe around the wheel that is hand-painted on the bike.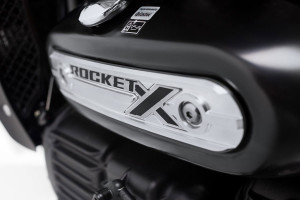 The Rocket X's dual exhausts are large and finished with a high temperature-resistant paint to match the rest of the bike's black colored theme.

"It's not a cliché, it's a truism," Triumph stated. "Triumph's Rocket X is a unique motorcycle with the most unmistakable presence on two wheels. There is nothing else like it on the road, and no other motorcycling experience even gets close to the sense of the awesome potency of a Rocket III Roadster making progress."

The bike will be available to the public in the beginning of March 2015 for $17,099; just $1,600 above the base price of the 2015 Triumph Rocket III Roadster.

2015 Triumph Rocket X Image Gallery
(Click for full size images)