FIM Bans James Stewart From Racing For One Year
Chaparral Motorsports
|
December 17, 2014
As competitors, teams, and the highly dedicated fans of Supercross eagerly anticipate the start of the 2015 season, the industry has been rocked with the announcement by the Federation of International Motorcycling (FIM) that James Stewart has been banned from racing anywhere for an entire year after failing a drug test during the 2014 SX season.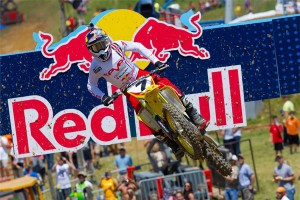 It was quite a shocking announcement as many didn't expect the punishment to be so severe and last so long, especially since the drug Stewart tested positive for was Adderal and prescribed by his doctor. When the initial announcement was made most assumed it would be only for the Supercross season and he would be able to compete later in the year in the Lucas Oil Pro Motorcross Series. Apparently that's not the case.

With support from his Yoshimura Suzuki Team, Stewart plans on appealing the decision and even if he can't compete in the season opener in Anaheim on January 3, he plans on attending the event and supporting he teammate Blake Baggett

Here's the full press release from Suzuki:

CHINO, CA - Yoshimura Suzuki Racing is reporting that James Stewart has received notification from the FIM with a penalty regarding his anti-doping violation. The news came eight months to the day from the test at this years' Seattle Supercross event where he tested positive for amphetamines from his prescribed Adderall. The ruling lays out a punishment that severely affects the entire 2015 season for James and the Yoshimura Suzuki team. Suzuki Motor of America and Yoshimura Racing will continue their unwavering support for Stewart during this difficult period and like all the fans hope to see him line up at the gate as soon as his ineligibility is lifted.

"I'm extremely disappointed to say the least," said Stewart. "We plan to appeal as I personally feel that the punishment far outweighs the situation; especially since I received both WADA and USADA approvals that prove I'm not cheating. I'm bummed for everyone involved: my family, my team, my sponsors, the promoters and most of all the fans. Unfortunately, I've had to be very quiet in regards to this situation but I'll be telling the full story in the next couple weeks so everyone can understand what we've been going through. Thank you all for your continued support."

Yoshimura Suzuki Racing's James Stewart has announced plans to be at the season-opening round of the 2015 AMA Supercross Championships on Saturday, January 3 at Angel Stadium in Anaheim to support his team, teammate, sponsors and fans.