New Magni Filo Rosso Mirrors Vintage MV Agusta 350/500 Triple Sportsbike
Chaparral Motorsports
|
December 11, 2014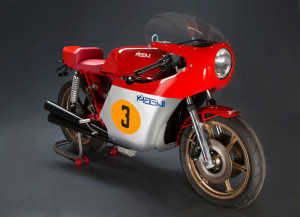 One of the most intriguing motorcycles that were on display at the EICMA 2014 conference in Milan was the Magni Filo Rosso, an absolute blast from the past in 1960's sportsbikes. The newest motorcycle creation from the Italian manufacturer pays serious homage to the classic three-cylinder MV Agusta 350/500 racers, Cycle World reported. The name, Filo Rosso or "Red Thread" when translated from Italian, refers to the guiding principles, design, and esthetic that links all the Magni motorcycles together - from the days of Arturo Magni to today.

The early style toaster tank on the Magni Filo Rosso is nearly identical to the 1960's MV Agusta, with the same red paint as well. When MV Agusta disbanded their racing division in 1976, their former director, Arturo Magni, went on his own new path and started creating legendary racing bikes on his own. However, he didn't stray far from his MV Agusta past, Ask Men reported.

Arturo's son Giovanni Magni took over the design of the classic bike and powered it with some of the best and latest engine parts and technology. According to Cycle World, the Magni Filo Rosso uses a three-cylinder MV Agusta Brutale 800 engine that gives the bike an enormous amount of power.

However, according to Ask Men, the bike weighs a mere 320 pounds. Magni created a vintage steel-tube frame and a double-loop formation that claims a 125 horsepower peak, which would make it keep up with the newest street bikes on the market.

Choose Your Style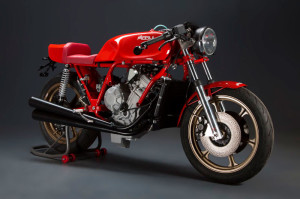 The Filo Rosso was designed with dual purposes in mind. There is a fairing for those who prefer the retro sport bike look. The faring style keeps the classic and futuristic appeal with the smooth and tight ride, the source reported. However, underneath it keeps the nearly "naked look" of the vintage café racer motorcycles. When the fairing is removed the café racer shines through without the heavy fairing that made the MV Agusta so popular and recognizable. The Magni comes with twin-disc Brembo brakes, 18-inch magnesium alloy wheels and Dunlop motorcycle tires. The motorcycle keeps its modern edge by including a push-button start.

The motorcycle has yet to be given a set price, but many experts believe it will not come cheap. However, this vintage-looking ride will turn heads of new- and old-school MotoGP fans while zipping down the street.

Magni Filo Rosso Image Gallery
(Click for full size images)
- Photos: Riccardo Necchi