CBS Sports Network Announces TV Deal With MotoAmerica
Chaparral Motorsports
|
December 9, 2014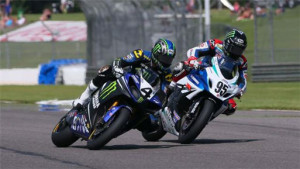 On Dec. 5, MotoAmerica, the new face of the AMA Superbike series, announced a major and extensive multimedia contract to cover the series in 2015, Motorcycle.com reported. In 2014, the sport did not receive any television coverage, which makes the 2015 announcement all the more special.

CBS Sports Network will carry out the 2015 coverage of the AMA sponsored Superbike series, which will be a multi-year agreement between Torque.TV and CBS Sports Network, the MotoAmerica press release stated. Additionally, CBS Sports Network will cover the sport bike series during weekend afternoons and in primetime. The schedule is still pending from both sides but will be announced in the near future.

"Having television and online coverage of our MotoAmerica series is key," said Wayne Rainey, president of MotoAmerica. "It's important to our fans, our teams, our racers and the entire industry. We're happy to report that we've been able to finalize these arrangements, ensuring fans around the country will be able to watch and enjoy the on- and off-track action our series will provide."

As a plus, the series will have additional coverage featuring highlights, race updates and other extensive digital content featured on Torque.TV, Motorcycle.com reported.

Currently, the 2015 MotoAmerica Series schedule includes:



Circuit of the Americas in Austin, Texas, from April 10-12

Road Atlanta in Braselton, Georgia, from April 17-19

Virginia International Raceway in Alton, Virginia, from May 15-17

Road America in Elkhart Lake, Wisconsin, from May 29-31

Barber Motorsports Park in Birmingham, Alabama, from June 12-14

Mazda Raceway Laguna Seca in Monterey, California, from July 17-19

Indianapolis Motor Speedway in Indianapolis, Indiana, from Aug. 7-9

New Jersey Motorsports Park in Millville, New Jersey, from Sept. 11-13

The in-depth coverage will bring more attention to the sport as it crosses through the nation for the next couple of years.