10 Holiday Gift Ideas Under $50 For Motorsports Enthusiasts
Chaparral Motorsports
|
December 9, 2014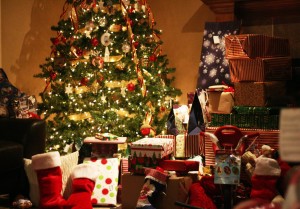 So you've made it through Black Friday and hopefully treated yourself to some awesome early Christmas presents. Now it's time to start thinking about all those other people you should buy gifts for. If your boyfriend, girlfriend, dad, sister, or BFF is into motorsports then you are in luck, we've put together a great group of gifts ideas that would make excellent presents for the moto junkie in your life. Best of all we've set a budget of only $50 for this list.

American Kargo Tool Pack $30
Like a good Boy Scout it's best practice to always be prepared. That means carrying along some basic tools whenever you wonder off in the back country, desert, or two-wheeled road trip. This compact [mageProductLink sku="254-3812-0050" title=""]tool bag[/mageProductLink] (tools not included) from American Kargo is perfect for any rider allowing them to put together their own carry along tool kit. The tool bag features a full 270 degree main zipper, strong dual-layer webbing for secure tool placement, and a large pocket. Toss it into a storage compartment or secure it to your frame or roll cage with the Velcro straps.

Super Smart Battery Tender Plus $49.97 (sale price)
A battery maintenance device is by far one of the most valuable items you can give any motorsports enthusiast. The [mageProductLink sku="321-2100" title=""]Super Smart Battery Tender Plus[/mageProductLink] will keep just about any motorcycle, ATV, UTV, boat, car, or truck battery fully charged and ready to go at a moment's notice. Just connect the Tender to a battery, plug the Tender into a power outlet and you're done. Leave it for a day, a week, or a season, you don't have to worry about overheating or overcharging, the Battery Tender will automatically switch to Float Mode when the battery is fully charged to keep the battery safe and properly maintained.

EVS Youth RC2 Race Collar $37.00
Off roading with your children creates great family memories. The problem is, often times their helmets can be too heavy or cumbersome making them look like bobbleheads as they motor down the trial. A neck brace like [mageProductLink sku="110-724091" title=""]EVS' Youth RCS Race Collar[/mageProductLink] can make a huge difference, filling the space between the shoulders and bottom of the helmet, thus keeping the child's head from wobbling around and potentially causing injury. This collar is easy to get on and off and the front secures together with a combination of Velcro and a clip. It also has connection loops to attach to chest protectors and has a removable/washable liner.

Factory Effex Standard Trim Kit $49.99
Believe it or not, but teenage and adult dirt bike riders can get just as much enjoyment out of some new stickers as a young kid can. The difference is, rather than placing the stickers all over your refrigerator, the "elders" like to affix new stickers to their dirt bikes. Factory Effex has a wide assortment of [mageProductLink sku="fx17-50204" title=""]sticker kits[/mageProductLink] for just about all dirt bike makes and models. A sticker kit can help a tired and beat up motorcycle look fresh and clean a gain.




Supercross Tickets $39-$50
You could make someone's year just buy giving them a simply piece of paper. Attending a Supercross event is an awesome experience, and with reigning SX Champ Ryan Villopoto heading overseas this season to compete it will make the race for a new champ all that more exciting. Tickets can be had for as little as $39 for events like the San Diego race while you can pick up a ticket for one of the three highly popular Anaheim races starting at $50.

KTM Kids Backpack $39.99
This kid's KTM backpack is the space shuttle of backpacks. It features a larger main pack with a smaller detachable bag connected to it. Actually, the secondary bag is a lunchbox. The backpack/lunch bag combination makes it easy for kids to keep up with their school work and nutrition regimen.


Ocelot Gear Bag $39.99 (in store price)
Speaking of bags, this [mageProductLink sku="124-5005" title=""]Ocelot gear bag[/mageProductLink] is perfect for hauling riding gear from track to track or taking on long trips. This bag measures 28"W x 18"L x 16"H, is constructed of 420 denier nylon and has a large easy-to-access main compartment to store your helmet, jersey, and riding pants. There's a separate compartment to store your boots and two large exterior pockets for items like your gloves, wallet, keys and phone.

Tour Master Select Lid Pack $28.99 (sale price)
This [mageProductLink sku="03-8211-1305-00" title=""]helmet bag[/mageProductLink] can come in very handy in those sketchy areas where it's not really safe to leave a motorcycle helmet behind on the motorcycle. It can also be useful for students who commute to school on two wheels or motorcycle riders who travel a lot and need to take their helmet with them. The bag has a messenger style strap to make for easy hands free carrying with a large main compartment big enough for most street helmets. The inside has a soft liner so it won't scratch the helmet and there's also a pocket to carry an extra face shield.

Troy Lee Designs Skyline Jersey $50.00
Bicycle riding is low impact and quickly gets the heart pumping, therefor more and more dirt bike riders and fitness enthusiast are taking to pedal power to supplement their training and exercise program. This [mageProductLink sku="tl1754-0808" title=""]Skyline bicycle Jersey[/mageProductLink] from Troy Lee Designs is ideal for hardcore cyclists because it's extremely lightweight, form fitting without being restrictive, and made from a highly breathable moisture wicking material to keep the rider cool and dry. This jersey is available in an assortment of colors and there are versions to fit both men and women.

Slime Tire Compressor $36.99
You could actually save someone's life by gifting them this [mageProductLink sku="353-018116" title=""]mini air compressor[/mageProductLink]. Okay maybe it's not that drastic, but this little puffer could really get someone out of jam if they end up with a flat out in the middle of nowhere. It comes with a sturdy carrying case which measures only 6"H x 6"W x 2 1/4"D and holds the compressor along with several accessories like fuse alligator clips, a lighter adapter, and a direct pre-wire lead. Best of all the 8-foot main harness power cord will allow the user to get the compressor to most tires on their vehicle.