2015 Yamaha FJ-09 Debuts At 2014 EICMA
Chaparral Motorsports
|
December 2, 2014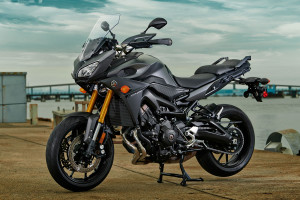 The 2014 EICMA motorcycle expo has given riders from across the world a look at the newest bikes for 2015 and another one added to list was the 2015 Yamaha FJ-09, Motocycle.com reported.

While it goes by the MT-09 Tracer in Europe, the newest sport-touring motorcycle was officially announced at EICMA in Milan. The Yamaha motorcycle is designed with layered fairing to provide more protection from the wind and increase its aerodynamic ride without creating too much wind noise, the source reported.

Additionally, the wind screen is adjustable at three different heights to give all different-sized riders a chance to limit wind noise while riding. The seat is adjustable as well, which can reach heights from 33.3 inches to 33.9 inches off the ground. The handlebars are adjustable within a 10mm range.

At the EICMA event, most of the attention given to Yamaha was around its new YZF-R1 sportbike, but the FJ-09 made a splash as well. The FJ-09 120-degree crankshaft, which the motorcycle manufacturer said is a cross-plane and an active powerband on the 847cc triple engine, Cycle World reported.

Yamaha claims the bike has 113 horsepower at 10,000 rpm and 64.5 pound-feet of torque at 8,500 rpm. The motorcycle has three variable ride modes that can give riders a different experience in each mode. The bike also comes with a switchable traction control system.

The FJ-09 has a large multi-function dot matrix display that has two different screens. One shows the positioned gear, odometer, trip meter and fuel consumption, while the other screen is larger and shows the speedometer and tachometer.

Bigger Tank And Newly Redesigned Saddle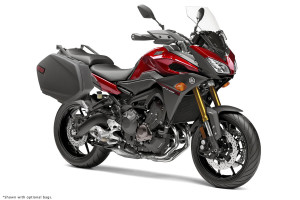 Some of the other details include a 12-volt power outlet for a GPS or other electronic device, the source reported. The FJ-09 has LED lighting and a new increased fuel tank capacity of 4.8 gallons, which is 1.1 gallons more than the Yamaha FZ-09 model it is based on. The passenger seat has also been redesigned to give those in the back a more comfortable ride.

The bike comes with side bags, a newly customizable tail windscreen, a top case, handlebar grip heaters and a reinvented and larger saddle design. The motorcycle will have two different color schemes with Matte Gray or Candy Red. The FJ-09 has a starting price of $10,490.

2015 Yamaha FJ-09 Image Gallery
(Click for full size images)