Honda Reaches 300-Millionth Manufactured Motorcycle Milestone
Chaparral Motorsports
|
December 1, 2014
[caption id="attachment_34964" align="alignright" width="300"]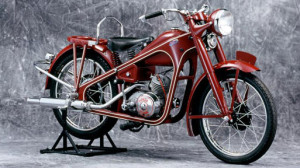 Honda Model D - "Dream" Moped[/caption]

Honda has been a proud and widely praised motorcycle manufacturer for decades and the company just achieved one of the biggest milestones at its assembly line in Kumamoto, Japan. According to Auto Week, the freshly made 2015 Honda Gold Wing that was just assembled in the factory made it the 300-millionth motorcycle ever produced by the company.

The massive touring motorcycle has been a staple for years, so it's only fitting to have it as the milestone bike for Honda. The Japanese motorcycle company has been the largest bike manufacturer for several decades and has made motorcycles since the 1940s, the source reported.

The first purpose-built motorcycle released by Honda was the Model D, which was issued in 1949. The bike had a pressed-steel frame with a peanut tank and a two-stroke 98cc engine. According to the source, the Cub F clip-on motorcycle power unit built in 1952 truly helped Japan mobilize, which in turn increased Honda's bottom line. However, the Super Cub moped, which was released in 1958, was the bike that made Honda the motorcycle champion for its innovative design.

The Cub Series sold more than 87 million scooters, which makes it by far the most popular selling motorcycle of all time

Coming A Long Way In Motorcycle Manufacturing
[caption id="attachment_34963" align="alignright" width="300"]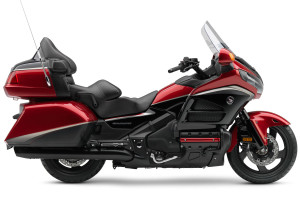 2015 Honda Gold Wing Airbag[/caption]

Honda has turned into one of the largest producers of off-road vehicles and ATVs as well, Bikeland reported. Bob Gurga, vice president and manager of the motorcycle division for America said the success of the company certainly is due in part to the popularity of Honda in the U.S.

"This incredible milestone is the result of the millions of customers who have placed their trust in Honda and we would like to thank all of our customers, associates, dealers and community partners in North America for helping make it possible," said Gurga, according to Bikeland. "Now, we are focused on the future and the ways that we can harness the challenging spirit of Honda associates to create new joy for Honda customers."

Honda's first motorcycle plant in the U.S. was built in Marysville, Ohio, which was constructed in 1979. The facility manufactured Honda motorcycles and ATVs until 2009 when the company shifted operations to Timmonsville, South Carolina.

Now, Honda has 17 major manufacturing facilities in North America that produce both Honda and Acura automobiles and the latest motorcycles.