New Motorcycle Helmet Tech: Welcome To The Future
Chaparral Motorsports
|
November 24, 2014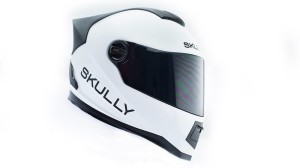 We've come a long way in head protection since the first "motorcycle helmet" was created nearly 100 years ago by Dr. Eric Gardner. That rudimentary helmet was crafted out of canvas and covered in shellac to help withstand hard blows to the head. As motorcycles got faster and manufacturing processes and materials evolved, so did the motorcycle helmet. These days they made of super-lightweight and strong materials such as carbon fiber, feature strict safety and testing standards, and are available in a myriad of shell shapes and styles shapes from full face helmets, half helmets, and modular helmets to ¾ helmets and beanie-style. Along with improved safety features, motorcycle helmets are evolving with highly practical convenience features as well like Bluetooth connectivity to connect to smart phones for hands free calling and music streaming and integrated sun shields that deploy or retract in an instant.

Who knows where motorcycle helmet technology will take us in the next 20 years or even the next two years (seeing how fast new technology seems to be emerging) for that matter. But for now we've scoped the Internet to bring you some new motorcycle helmets and gadgetry that is already available or soon to be at our fingertips.

Heads up Display, or HUD for short, is exactly what we saw in old movies and TV shows like Terminator and Air Wolf when information would pop up on the character's eyewear/face shield. With a HUD incorporated into a motorcycle helmet data is displayed across a transparent screen that allows the user to read pertinent information without having to look away at another screen, their handlebar-mounted [mageProductLink sku="391-0010" title=""]GPS[/mageProductLink], or motorcycle gauges. Heads up display technology was originally developed for military pilots and has slowly been integrated into other industries and is by far the most exciting technology to be geared towards motorcycle helmets.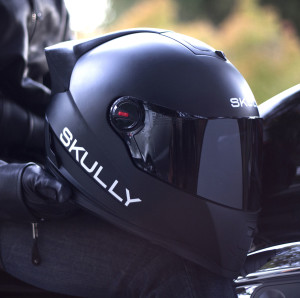 Skully
It seems it's been well over a year or more since we first heard of Skully and its promise to deliver HUD helmets to the motorcycle industry. As of this writing the latest info states Skully just finished a record-breaking pre-order campaign for the Skully AR-1 helmet on Indiegogo, raising an astonishing $250,000 in in under eight minutes, helping push their funding to more than $2.8 million. So obviously the demand is there from customers, now it's just a matter of units arriving to market. Projected delivery is sometime in the spring of 2105.
Billing itself as "The Worlds Smartest Helmet," the Skully AR-1 full face helmet is outfitted with a rear facing camera that projects a 180 degree view of what's going on behind the rider in a perceptual distance of 10 feet in front of the rider.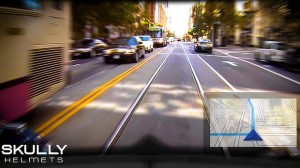 The display can be seen by looking through the lower right side corner of the face shield. In addition to providing a rearward view, the display will also provide audio/visual turn-by-turn GPS directions, Bluetooth connectivity to your smart phone for making/receiving phone calls and streaming music, and an E-tint windshield that quickly changes from clear to tinted with the push of a button. The software behind the helmet technology will offer over-the-air updates enabling users to stay up to speed with the newest features from the Skully team. At the 2014 EICMA show Skully and Aprilia exhibited the helmet's ability to connect rider to bike by offering insight into the mechanics of the motorcycles' performance displaying information such as vehicle speed, engine speed, gear position, fuel consumption, and more.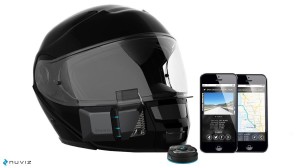 Nuviz
Unlike Skully which is an all-in-one HUD helmet design, the creators of Nuviz are striving to deliver HUD technology to a wide range of riders at a more affordable price by allowing them to incorporate the stand alone Nuviz Ride: HUD system to any full face helmet. The Ride:HUD unit is similar to the helmet cameras and audio systems many riders are familiar with in the way that it simply mounts to the outside of the helmet with a mount that has a very strong adhesive film. The mounting system allows the rider to quickly and easily install or remove the Ride:HUD as needed. The Ride:HUD projects a small display in the lower right corner of the wearer's field of view and provides everything from navigation, weather, and incoming/outgoing calls, to music and motorcycle telemetry.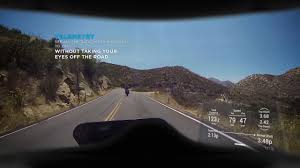 While the Ride:HUD doesn't have a rear view camera it does have a forward-facing H-D camera capable of recording 1080P/30fps video and snapping 8mb pictures. When combined with the Nuviz Ride:Cloud app users can control which information they want displayed and upload/ share their videos, maps, photos, and much more. The system works with Bluetooth and Wi-Fi and the rider has all the controls and functions at his/her finger tips via a Bluetooth control module that mounts to the motorcycle handlebars. The developers are currently working to get CAN-to-Bluetooth and J1850-to-Bluetooth compatibility with a variety of motorcycle manufacturers so that their device will be able to provide riders with a host of on bike information no matter what motorcycle they are riding. The Ride:Hud system and Ride:Cloud app will work with iOS and Android based devices and while the unit can only be mounted on full face (will work with modular helmets), Nuviz is working on compatibility with other types of helmets as well. According to their Kickstarter, units were supposed to start shipping back in September of this year but a check of their Facebook page looks like early backers are still waiting on their units to arrive.

If you are easily distracted or feel you'd be overwhelmed with the wealth of information that can be provided by a HUD smart helmet, but still wan the safety and convenience of quickly knowing what's going on behind you, then a rear view system integrated into a motorcycle helmet may be just what you're looking for.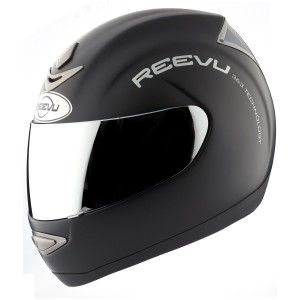 Reevu
Reevu has been around for quite some time but didn't finally start offering its rear view helmets until a couple years ago. At the back of the helmet is a reflective polycarbonate plate which is part of the patented Reevu Vision system that bends light around the inside of the outer casing of the helmet to a small mirror mounted in the middle of the upper eye port. The view is displayed in the mirror across the top of the helmet's eye port similar to a rearview mirror you would find in an automobile. The Reevu helmet not only helps eliminate blind spots but is also very useful when sitting at a stop sign/stop light or waiting in traffic by allowing the user to see if a vehicle is approaching too quickly and therefore allow them to maneuver out of the way rather than getting rear ended.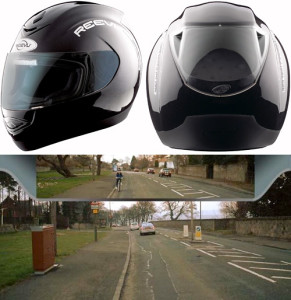 Now we know what you are thinking, "what about when you ride with a passenger, doesn't the passenger's helmet block the mirror system?" We thought the same thing, but then realized that most of the time passengers don't like staring into the back of the rider's head so they will typically lean their head slightly to the left or right to peer over the rider's shoulder. To help reduce the sun and headlights glaring onto the back of the system and affecting the riders view there are a series of reflective surfaces that limit the intensity of light hitting the front reflective surface. The rear mirror system also has a tinted rear visor which helps reduce sun and headlight glare. Reevu currently offers one helmet, the RV MSX1 in a variety of size ranges and the helmets are DOT and ECE approved.

Protecting your eyes while on a motorcycle is priority number one. If you can't see where you are going you won't get far! But there's more to eye protection than just keeping dirt and debris from reaching your orbitals. Proper vison involves clarity in lowlight situations or nighttime riding and blocking the glaring sun during bright sunny days. Many helmet companies have started offering full face and ¾ helmets with integrated sun screens that flip down with the push of a button and retract into the helmet when not in use. There are also transitioning face shields similar to the eyeglasses that go from clear to tint depending on lighting conditions. These offer great versatility for riding in all types of situations but one company has taken things a step further.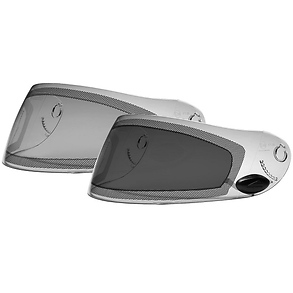 AMI Powersports
AMI Powersports originally developed its technology to be used by the Air Force but now the company offers its Akari AX.11 e-tint face shield inserts for the motorcycle crowd. According to Aim Powersports they are the first to offer a liquid-crystal visor insert with electronic on-demand tint for motorcycle use. The inserts fit inside the eye port up against the helmet's face shield. An external button mounts to the outside of the left side of the helmet and by simply pushing the button the insert will change from clear to tinted or tinted to clear in less than 1/10th of a second. You have the option to operate the insert with the push-button or let it change automatically with the lighting conditions via the light sensing photo cell. The e-tint LCD screen is powered by a USB rechargeable Lithium-ion battery and the screen features an anti-fog coating to provide clear viewing in all weather. Aim Powersports' e-tint insert shields are easy to install (no tools required) and are currently available to fit a variety of popular helmets from major manufactures such as Arai, Bell, Schuberth, AGV, HJC and many more.

Secondly important to seeing when riding a motorcycle, is being seen when riding a motorcycle. This is especially true when riding at night with motorists behind you. Several companies have created lights that mount to the back of helmets and sync up with the motorcycle's lighting system to operate as brake lights. If you really want to catch the attention of motorists at night then lighting up your motorcycle helmet is a great idea and there are several options for doing jus that.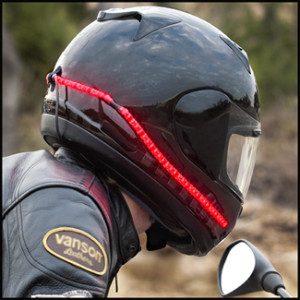 LightRider
The LightRider LEDs offered by Lumenflex will fit anything from a full face to a half or beanie style helmet. The LightRider is a strand of LEDs that mount to the exterior helmet surface with high-strength adhesive. The LED strip features a center section with flexible joints at the ends that are connected to longer strips. This design allows the user to route the LED strips just about any way they want around the helmet. LightRider is available in either all red LEDs, Red center section with yellow end strips, or red center section with white end strips. You also have the option of powering the strips off of the motorcycle's battery via a connected power cord or you can run them off a Lithium-ion battery. The strips are super bright allowing for daytime visibility as well as extending your presence to others on the road when riding at night. The LightRider LEDs are weather proof, lightweight (only adding 37 grams of weight to the motorcycle helmet), and offer a low profile fitment that doesn't interfere or compromise the structure or safety of the helmet.

LightMode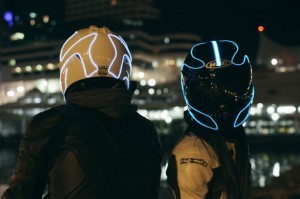 If you're a futurist and want to look like you just rolled out of a Tron video game then a LightMode kit is for you. LightMode offers two kits, the Electron Kit and the Proton Kit. Both feature electroluminescent (EL) material that can be applied to any motorcycle helmet and provides ultra-bright illumination. The unique thing about LightMode is that it allows you to crate unique designs on your helmet for a highly custom and individual look. Each kit is powered by a small controller that has three modes: glow, blink, and off. The controller is powered by two AA batteries which can provide 13 hours of illumination when using 2000 mAh NiMH rechargeable batteries.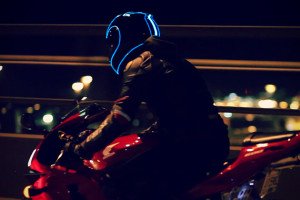 The difference between the Electron and Proton kits is that the Electron kit comes with 3 meters of EL wire and 50cm of tape and offers five color options: aqua, red, white, green, and blue. The Proton kit doesn't come with any EL tape but instead comes with extra EL wire and has two extra colors to choose from yellow and pink. The kits come with an installation video and design string to help you plan out your layout. An adhesive mount is also included for the controller and can be mounted to either side of the helmet so you can still use your helmet comms system or helmet camera.

It seems no matter where you are, at the track, on the streets, or riding the trails, everyone has some kind of camera mounted to their helmet. Helmet cams can be very useful for training purposes if you're working on your riding techniques. They can also be used as evidence if you are caught up in some unfortunate accident. However, most people like to use them to record and share their motorcycle antics. The most popular cameras people use are the GoPro, Drift, or Contour but now you can add another player to the game.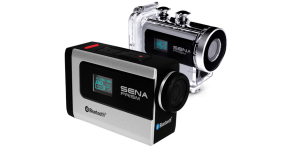 Sena Prism Action Cam
Sena has become widely popular amongst motorcycle riders for its Bluetooth helmet communication systems. Offering features like rider-to-passenger/rider-to-rider communication, turn-by-turn directions, music streaming, and making/receiving calls from your smart phone, Sena is one of the leaders in motorcycle [mageProductLink sku="690-20s-01d" title=""]helmet communication systems[/mageProductLink]. Now they have added yet another feature to their offerings with the announcement about its new Prism action camera. The camera is a stand-alone unit that can be mounted to the side of the helmet and paired with your Sena headset or just about any other Bluetooth enabled headsets you may use. The Prism camera comes with a highly durable, waterproof case and offers the ability to record audio and video of your ride.
If you pair the Sena Prism with your headset Sena's built-in Bluetooth features allow you to use the jog dial functions on the headsets to start, stop, communicate and share every second of your adventure. You can even narrate your videos as you record. In addition, the Sena Prism provides voice prompting to keep you up to speed with information such as, time elapsed since last video capture, video captured, battery low, and Bluetooth paired. If you don't want to mount the camera to your motorcycle helmet or you want to be able to capture multiple angles and views the Sena Quick Release Mount System enables you to mount your camera just about anywhere or to anything. Lastly, by downloading the Sena app you can connect your phone and manipulate the device settings for your Sena comms system as well as the Sena Prism Camera.