Suzuki Boulevard C90T Gives Riders Unique Japanese Cruiser With An American Style
Chaparral Motorsports
|
November 19, 2014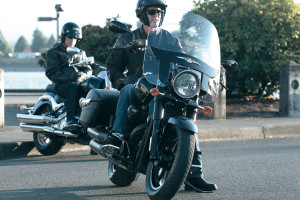 Earlier this year, Suzuki released its unique Japanese cruiser, the 2015 Suzuki Boulevard C90T and the special blacked out version, the B.O.S.S. to the market.

The Boulevard C90T sports an air-cooled engine that rides like a classic V-Twin, similar to those found on the Harley-Davidson Road King and the Ducati Monster. Ducati was one of the first foreign manufacturers to try its hands on the prototypical American style.

However, the new Suzuki cruiser has a tasteful and similar design to most American motorcycles and even has a "blacked-out" model that uses black pipes, engine covers, front fork and wheels instead of the typical chrome and silver-painted bits, Motorcycle USA reported. The touring model, the C90T, has a much larger widescreen windshield and lockable hard-shell saddlebags.

According to the source, the Suzuki Boulevard C90T gives riders a smooth ride and the seat, footpegs and handlebar are all well-positioned and comfortable for quick rides around the city. The massive windshield is wide enough to block just about any debris from the rider, but it does run a little short for a rider over six feet tall.

Heavy Cruiser With Easy Handling
[caption id="attachment_34798" align="alignright" width="300"]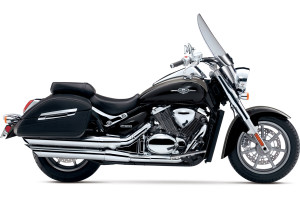 2015 Suzuki Boulevard C90T[/caption]

C90T has a large 1,462cc liquid-cooled SOHC 54-degree V-Twin engine with a Suzuki fuel-injection system and is a five-speed constant mesh transmission. One of the concerns with the motorcycle was its enormous weight, at 800 pounds.

Most bikes that large with only one disc brake are dangerous and can lead to constant wear and tear on the discs. However, the C90T has great handling for an 800-pound bike and its stopping power is exceptional from both the rear and front break, Motorcycle USA reported.

Additionally, there is a radiator behind the front wheel, which is difficult to locate, but it keeps the engine running at a stable temperature. One of the problems was the fan noise that occurs while idling in traffic, but shouldn't be enough to drive anyone away from considering the CT90.

Muffled Exhaust Sounds
[caption id="attachment_34797" align="alignright" width="300"]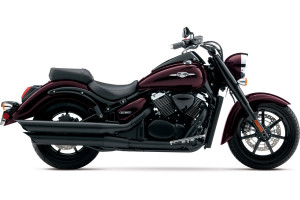 2015 Suzuki Boulevard C90 BOSS[/caption]

According to the source, the harmonics of the exhaust sound muffled, as if something was clogged in the muffler. However, the bike can deliver quick short bursts of speed and give riders a sporty feel without going overboard with speed sensitivity.

Some of the downfalls include the bike's lack of a stereo and cruise control, which might be unimportant for some riders. However, the bike is built with superior quality and looks the part as well.

The Suzuki Boulevard C90T has a 12-month unlimited mileage limited-time warranty and has a starting price of $12,899.