2015 KTM 1290 Super Adventure Is Here
Chaparral Motorsports
|
November 17, 2014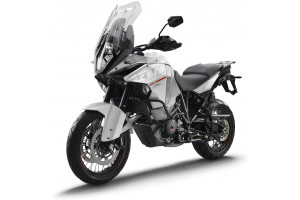 In August, KTM motorcycles hinted that it would release the 2015 KTM 1290 Super Adventure, but it wasn't until October until the company announced its newest model, Motorcycle USA reported. Built upon the know how from the previous Adventure and Super Adventure lines, the new 1290 Super Adventure has some similarities to the smaller 1050 Adventure and 1190 Adventure, as well as the new 2015 KTM 1290 Super Duke R.

Similar Features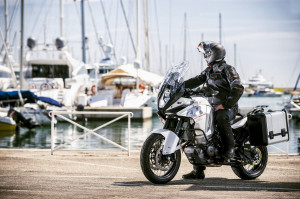 The KTM 1290 has a 1,301cc 75-degree V-Twin engine on the 2015 model and has very similar specs to the previously released Super Duke model, the source reported. The 1290 comes with a 108mm bore and 71mm stroke, but the new bike does have a redesigned crankshaft and cylinder heads to give power more smoothly. The 1290 Super Adventure's main difference from the Super Duke is the increased flywheel mass and the new motorcycle has 160 horsepower with a 8750 rpm. The 1290 also includes 103 pound-feet of torque at 6750 rpm.

KTM decided to keep the same transmission as the older model with a six-speed transmission and a hydraulically-operated slipper clutch that makes upshifting and downshifting absolutely fluid, the source reported.

According to Zig Wheels, KTM built another luxury touring bike that has plenty of equipment and cornering lights. The 1290 Super Adventure also has a redesigned windshield that can be manually adjusted for any rider size and need. Additionally, the motorcycle has hill hold control and cruise control functions.

Safer Ride With New Technology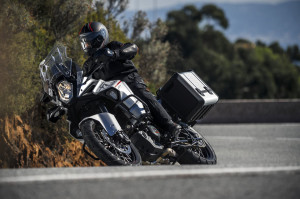 The bike is completely adjustable for all riders with manual adjusting footpegs, seat height and handlebar positioning, Zig Wheels reported. The high-end bike has state-of-the-art traction control and C-ABS with Motorcycle Stability Control (MSC).

"MSC [is] a revolutionary technique which celebrates its debut in the KTM 1190 ADVENTURE and ADVENTURE R in 2014," the previous press release by KTM stated. "Developed in cooperation with BOSCH, the system regulates ABS and traction control and makes them work even in tilted position. Simply put, the MSC system works like a cornering ABS; it prevent the wheels from slipping when braking while leaning over."

With this system also included on the KTM 1290 Super Adventure, the company claims the bike is the safest motorcycle in the world because of its extensive additional equipment and features, Zig Wheels reported.

The motorcycle weighs 549 pounds and has a 7.9-gallon tank. The 1290 Super Adventure also has a ground clearance of 8.7 inches and its adjustable seat can move from 33.8 inches to 34.5 inches off the ground, Motorcycle USA reported.

While KTM released the information and spec on the bike, it still has yet to name a price on the 2015 model.

2015 KTM 1290 Super Adventure Image Gallery
(Click for full size images)