AXO Releases New Waterproof Road And Way Boots
Chaparral Motorsports
|
November 16, 2014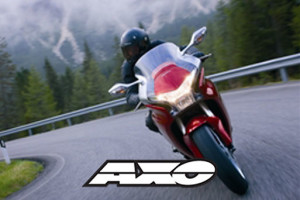 For motorcycle riders, their riding boots can mean everything. This is especially true when riders go on long tours and face numerous different weather scenarios. No matter what the situation, riders need a boot that can last as long they do on the road.

AXO recently announced its new line of motorcycle boots called the AXO Road Boot and the AXO Way Boot, the company stated. The motorcycle gear is constructed with the same premium material AXO has used for years.

Features Of The AXO Road And Way Boots
[caption id="attachment_34759" align="alignright" width="150"]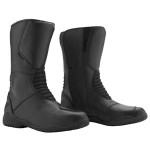 AXO Road Boots[/caption]

The AXO Road and Way boots have water-resistant leather and leather shift gear. The internal plastic shin guard and ankle guard give riders extra protection from the asphalt and anything else that gets in the way.

Both versions have excellent waterproof protection and the Road version of the boot has a full-length design to ensure your feet will stay dry.

The Way version is made to be a mid-calf sized boot and has the exact same material that is used on all of their boots. Both boot versions are made to last through the harshest weather conditions for motorcycle riders, from riding in the rain to sleet and hail, the source reported.

[caption id="attachment_34758" align="alignright" width="150"]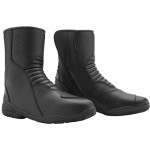 AXO Way Boots[/caption]

The Road and Way boots are crafted with an anti-sweat mesh lining and a waterproof membrane that will prevent any water logs. The mesh lining is also anti-bacterial so no matter how much water gets on the boot, it will not linger. According to the source, the Road and Way boots also have synthetic leather front and back bellows with an anatomical removable anti-bacterial foot bed.

The boot's anti-slide rubber sole and material is perfect for motorcyclists putting their feet down on wet surfaces while riding or stopped at a light to keep balance. The boots material grips firmly on slippery footpegs and on the ground while walking around.