Indian Reveals Its Luxury Touring Motorcycle: The 2015 Roadmaster
Chaparral Motorsports
|
November 12, 2014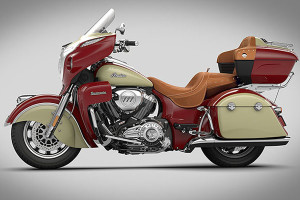 Indian Motorcycle recently added to its collection of road touring bikes with the new 2015 Roadmaster. The newest addition is very similar to Indian's other touring bike, the Chieftain. According to Forbes, the Chieftain and the Roadmaster both share the same frame, engine, wheels, saddlebags fairing and some other components.

However, the Roadmaster sets itself apart as a truly comfortable touring motorcycle with all the features ever needed. The newest model added a top box trunk, a passenger backrest, fairing lowers, and more unique components that are only found on the Roadmaster.

In the early stages of the bike's creation, Indian had set out to build a motorcycle that would compete with Harley-Davidson's Ultra Limited touring bike, the source reported. Indian released the Chieftain to battle the motorcycle giant, but actually, Indian crafters wanted their first touring bike to be more like the Roadmaster.

Now, Indian has released its true touring bike that has the extra carriage and luggage capabilities, formed with the luxury equipment found on Indian motorcycles.

According to Indian, the Roadmaster has the Thunder Stroke 111 engine, which can deliver 119 feet-pounds of torque while keeping the traditional look associated with their most classic V-Twin motorcycle engines. The motorcycle has a 1,811cc transmission with an electronic closed-loop fuel injection system with a 54mm bore.

Plenty Of Luxury Features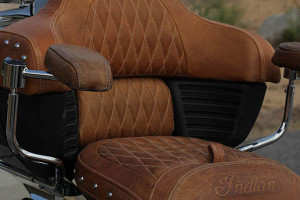 Some of the standard equipment on the Roadmaster includes cruise control, keyless start, a power windshield that can adjust to different heights, genuine leather seats, remote-locking saddle bags and trunk, 200-watt stereo with AM/FM Bluetooth and a smartphone input, Motorcycle USA reported.

Additionally, the motorcycle comes with heated rider and passenger seats, heated grips and adjustable passenger floorboards, Indian stated. The bike has roughly 38 gallons of storage with 17.2 gallons in saddle bags, 17 gallons in the trunk, 2.4 gallons in the lower fairing glove box and 1 gallon in the upper fairing storage.

The motorcycle weighs less than 900 pounds without any fuel or liquids in the bike and has a split dual exhaust with a cross-over exhaust system. According to Forbes, the only time the bike feels heavy is when riders pull it upright off its kickstand. However, once the bike is moving, it has a low center of gravity, which makes the motorcycle very easy to control on the road.

The Indian Roadmaster comes in Thunder Black ($26,999), Indian Motorcycle Red ($27,599) or Indian Motorcycle Red and Ivory Cream ($28,199).

2015 Indian Roadmaster Image Gallery
(Click for full size images)