Scorpion EXO Releases New EXO-R710 And EXO-T1200 Helmets
Chaparral Motorsports
|
November 9, 2014
The 2014 American International Motorcycle Expo (AIME) in Orlando, Florida, has been a hub for new motorcycle equipment releases and Scorpion EXO was showcasing its two newest products. According to Motorcycle.com, the company released both the EXO-R710 and the EXO-T1200 to add to its ongoing T and R-line helmet series.

EXO-R710
[caption id="attachment_34691" align="alignright" width="300"]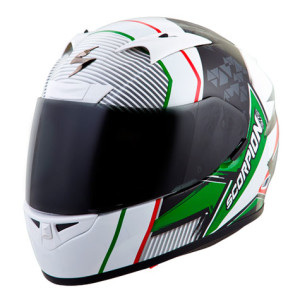 EXO-R710 Crystal Full Face Helmet[/caption]

Scorpion released its new EXO-R710 for the entry gloss black model, which has a sticker price of $189.95. However, the company does offer several other color options with the choice of two different graphics for the helmet as well. The EXO-R710 has a KwikFit cheekpads, an EverClear no-fog face shield and an emergency release system.

What's new about the EXO-R710 is that it comes with the exact same Ellip-Tec ratchet system, which comes standard on Scorpion's most elite motorcycle helmets, the source reported. Additionally, the helmet includes a fiberglass and Aramid Matrix shell to give the most protection for riders while having a truly lightweight build for a helmet that comes in less than $200.

According to Scorpion's press release, the EXO-R710 is Snell certified, which means it's perfect for at home, the daily commute or on the race track. Some of the other performance features include an advanced dual-density EPS liner and a face shield lock and vent system.

EXO-T1200
[caption id="attachment_34692" align="alignright" width="300"]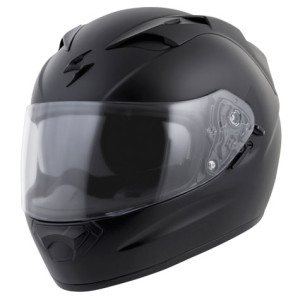 EXO-T1200 Full Face Helmet[/caption]

Scorpion also released another high-end helmet with the EXO-T1200, which has four solid colors to choose from and two different graphics options starting at $329.95, Motorcycle.com reported. The newest helmet a part of the T-Series is crafted with premium features to exceed the standards of a leisure touring motorcycle rider for even the most die-hard racer.

The EXO-T1200 is aerodynamic and aggressive with its TCT composite shell and 3-Step Speed View, which allows the rider to choose three different guard settings to a drop-down sun visor. The VSV ventilation system gives the rider a lightweight helmet that is custom-fit and allows a better riding experience with more dynamic control and air ventilation. Also, the VSV system has four ram air intakes and four exhaust vents on top of the helmet.

Additionally, the EXO-T1200 has a first-class Ellip-Tec Ratchet System, an emergency release system, face shield lock and vent, KwikWick 3 Liner and Face Shield Air Fit liner inflation system.

According to the press release, the new EXO-R710 and the EXO-T1200 will be in stores and available online later in November 2014.