Kawasaki Announces 2015 Versys 650 And 1000
Chaparral Motorsports
|
November 8, 2014
[caption id="attachment_34684" align="alignright" width="300"]
2015 Kawasaki Versys 650 LT[/caption]

Another major announcement was released from Kawasaki about the 2015 Versys 650, which will come with ABS on the standard version, and the LT model will include hand guards as well as hard rear saddlebags, Sport Rider reported.

The motorcycle company will also release the Versys 1000 and both will include twin headlights that are next to each other on the front frame and a bigger windscreen that has three different levels for adjustment, the source reported.

The Versys will have a one-piece exhaust unit and the header pipes are joined together beneath the engine, which will supposedly give the motorcycle an additional boost in top-end power. The overall peak power in the Versys went from 68.3 to 69 HP, which isn't a major change, but enough to make a difference with altered exhausts.

According to Ride Apart, some of the new features include the foot pegs dropping 15mm and moving forward 20mm to provide more leg room and greater overall mid-mount control. The seat has also been adjusted for shorter riders with a tapered seat, but custom aftermarket seat options are not yet available on the new models.

[caption id="attachment_34681" align="alignright" width="300"]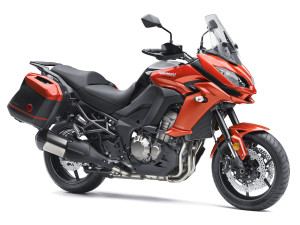 2015 Kawasaki Versys 1000 LT[/caption]

"It still has the comfortable, upright riding position that allows you to stay on-board all day when touring, as well as long-travel suspension that helps ensure it can soak up the bumps on the road less traveled," Kawasaki said in an official press release for the Versys.

The seat's angle tends to move some of the taller riders toward the tank, but could be altered afterwards to fix the problem, the source reported. According to Cycle News, the new version will have a 5.5-gallon tank, which is larger than previous models.

Additionally, the bike has an aggressive front fairing styling and a 1,043cc inline four-cylinder engine on the Versys 1000. Some technological features include assist and slipper clutch, three-mode KTRC traction control and engine power modes.

The Versys models have been around since 2012 and have the same engine as the Z1000 streetfighter and the Ninja 1000, but the 2015 version comes with ignition- and injection-system upgrades to increase overall HP, Motorcyclist Online reported. The longer 41mm fork on the 2015 model will increase the suspension of the bike and it has a new rear shock with a remote adjuster.

2015 Kawasaki Versys Image Gallery
(Click for full size images)