Suzuki Rejoining MotoGP In Valencia For Final Stop Of The Year
Chaparral Motorsports
|
November 7, 2014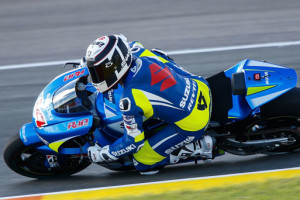 In Valencia, the MotoGP world will see Suzuki return to the competition as it attempts to challenge some of the more competitive teams in the sport, Auto Sport reported. Davide Brivio, team leader for Suzuki, explained that it's a huge chance for Suzuki at MotoGP and the group is excited to enter Randy de Puniet in the Valencian Grand Prix with the new Suzuki GSX-RR.

However, the entry is only as a wildcard appearance, but Suzuki is making its first debut since it dropped out of MotoGP at the end of 2011. Additionally, it will be the first look from de Puniet before he returns in 2015 as a full-time rider, the source reported.

"It is only a wildcard appearance and it is the last race of the year but I'm happy to be going to Valencia and I think it is a reward for Randy for the big job he has done on this project," said Brivio, according to the source. "This is where the new adventure really starts. I'm aware we have a big job to do, and during the weekend we will take a lot of notes for the work we need to do through the winter."

Suzuki Looking To Become A Force Again
According to Motorcycle USA, Suzuki collected seven constructor's titles and its championships through a 24-year period between 1976 and 2000, but the company is looking for a second victory in the four-stroke era of the MotoGP. Suzuki's last appearance on the podium came in 2008 from Loris Capirossi during the Red Bull U.S. Grand Prix.

"Suzuki has a long racing history and it is exciting to be part of the comeback," said Brivio, according to Motorcycle USA. "I am aware that the competition [is] very strong and they have kept racing while Suzuki stepped away for almost three seasons, so we need to catch-up and recover the gap and also learn as much as possible to get to their level. The target is to be in a position to challenge our competitors as soon as we can. Let's start the challenge!"

The race in Valencia is the final stop for the year-long MotoGP tour and Suzuki has had some formidable challengers in the last decade, MotoGP reported.

Brivio said the GSX-RR will be the same for the race and the test, according to the source. Also, the team lead explained Suzuki will be working diligently this winter to prepare for the 2015 season.