Icon 1000 Hood Jacket Adds Protection And Style
Chaparral Motorsports
|
November 7, 2014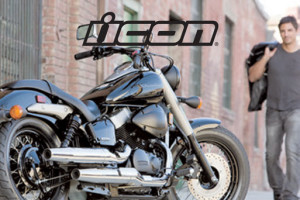 Icon recently released its 2014 Fall Gear collection for motorcyclists of all kinds and one of the standout pieces is the new [mageProductLink sku="038-2810-2547" title="Icon 1000 Hood Leather Jacket"]Icon 1000 Hood Jacket[/mageProductLink]. The jacket brings together both a modern trend in motorcycle apparel and a classic look that gives urban riders a new piece of iconic equipment for rides around town.

The "Urban Assault" culture is certainly in mind with the new design of the Icon jacket because of the hooded sweatshirt style that fuses into a premium leather jacket. For riders, hoods on sweatshirts or jackets often don't provide enough protection and usually aren't comfortable enough or able to remain up even in slower city riding.

However, the Icon 1000 Hood Jacket is most notorious for its hood - hence the name of the jacket - which is made out of 1.1-1.3mm select grain Brazilian cowhide that chassis are typically constructed with. Most leather hooded jackets use a different material for their hoods, but Icon brings the full leather concept to the entire jacket.

Additionally, the jacket includes hand-warmer pockets and huge shoestring pulls on the hood to give a tighter fit for those extra chilly rides. With the heavier leather material used for the hood, it tends to stay up even at higher speeds, but it also has the option to be fully removed from the jacket if riders are concerned with the extra material flapping in the wind.

Protection A Major Aspect Of The Jacket
[mageProductLink sku="038-2810-2547" title=""]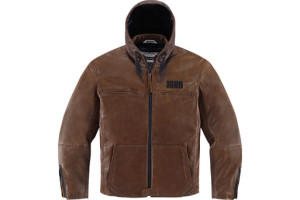 [/mageProductLink]The jacket's internal armor is made out of premium D3O material that will protect the rider's elbows, back and shoulders. The material is not too bulky and has a standard motorcycle jacket feel. The liner of the jacket includes an insulated SatinCore Best Liner that is also removable, which is ideal for riders who need something lighter during the day and heavier for cooler nights.

The jacket is a part of the revolutionary top-shelf gear that stylishly protects riders, Motorcycle USA reported. The thickness of the jacket will surprise riders, but its ability to breathe while riding on warmer days will keep them comfortable and protect riders' skin from the asphalt.

The jacket comes in brown or black and has a slightly distressed appearance to the leather, but is still a great-looking piece of gear that keeps its ruggedness and style, the source reported. The Icon 1000 Hood Jacket comes in sizes ranging from extra-small to five-extra-large and goes for $600.