MV Agusta Brutale 800 RR Information Released Before EICMA
Chaparral Motorsports
|
November 1, 2014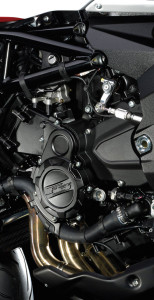 New information recently surfaced on the new MV Agusta Brutale 800 RR and the Brutale 800 Dragster RR just a week before its planned released date during the 2015 Esposizione Internazionale Ciclo Motociclo e Accessori (EICMA) motorcycle show in Milan, Motorcycle USA reported.

For MV Agusta, these two new models are the first non-four-cylinder versions to get the "RR" label, the source added. The two new models are expected to offer higher performance and get more out of the electronic features on the bike.

According to Ultimate Motorcycling, the Brutale Dragster has a 798cc triple engine with 140 horsepower and it comes with a steering damper for standard equipment on the bike. The motorcycle has much more torque even though it has the same figures on its previous model. The lower rev range gives the Dragster a better feel while riding around in the city.

The name follows the design since the motorcycle is crafted to give the dragster look with its racebike style in the chassis. However, the bike is not perfectly designed for longer commutes and is made for shorter quick-speed rides.

The Dragster RR has premium electronic features and a brand-new downshift quickshifter, which will make it easy getting back to first gear after getting to high gears in quick spurts. Additionally, the quickshifter provides riders with full-throttle upshifts and downshifts, Sport Rider reported.

Lighter Weight And New Wheels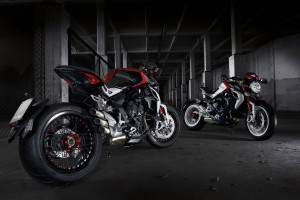 Both models have a lighter Mazocchi fork with 43mm tubes and a diamond-like carbon (DLC) coating, the source reported. The Brutale 800 RR has cast-aluminum wheels, but the Dragster RR will come with white or black spoked wheels.

"The RR badge, until now reserved for only the best 4-cylinder MV bikes, now takes the in-line 3-cylinder range by storm," the MV Agusta press release stated. "And it does so with the Brutale 800 Dragster RR, a combination of power, style, superb chassis design and sheer brute force. In a class of its own, it lies beyond both comparison and competitors. Because it is, even with its painstakingly crafted details, emblematic of a return to the essential."

Its dry weight without fluids or fuel comes in with a super lightweight body of 370 pounds with an in-line three-cylinder engine. The more advanced exhaust system and altered airbox give the motorcycle a higher horsepower and rpm limit.

http://www.youtube.com/watch?v=Mb0YZKXKvOI

2015 MV Agusta Brutale 800 RR Image Gallery
(Click for full size images)