Election Day Brings The Opportunity To Vote Like A Motorcyclist
Chaparral Motorsports
|
October 31, 2014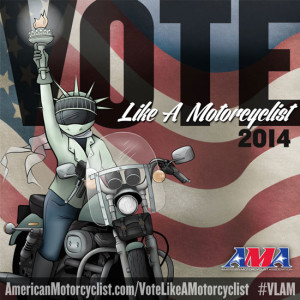 With Election Day less than a week away, the American Motorcyclist Association is urging everyone to "Vote Like A Motorcyclist" this year.

"Elections are the voting public's opportunity to select their leaders -- leaders who will make laws that may expand or limit the riding community's freedoms for years to come," said Wayne Allard, AMA vice president of government relations. "It is critical for motorcyclists to identify motorcycle-friendly candidates, assist their run for office, and vote for them on Nov. 4."

The American Motorcyclist Association is a nonpartisan organization and does not endorse political candidates. However, the AMA encourages everyone to vote and urges riders to cast their ballots based on candidates' positions on motorcycling-related issues, as well as other issues of importance to them.

The AMA Vote Like A Motorcyclist campaign offers useful tools for all voters at www.americanmotorcyclist.com/Rights/GetInvolved/ElectMotorcycleFriendlyCandidates.aspx.

Not Yet Registered To Vote?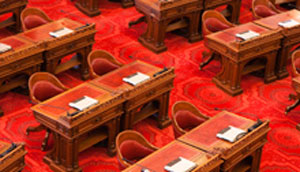 Check www.canivote.org to see if your state is still accepting voter registration forms and register.

If you have any questions about getting involved, please contact the AMA's grassroots team.

AMA members can access the AMA 2014 Voter Guide, which offers a voting scorecard for candidates and rates their responses to the AMA candidate questionnaire. The guide can be found at www.americanmotorcyclist.com/Membership/Members_Only/VoterGuide.aspx.

Not An AMA Member?
Join the AMA now at www.americanmotorcyclist.com/membership/join or by calling (800) AMA-JOIN.

All motorcyclists are encouraged to help spread the word with an AMA Vote Like A Motorcyclist t-shirt, available in the AMA online gift shop at http://ebiz.americanmotorcyclist.com/Gear/Apparel/tabid/156/Default.aspx.

About the American Motorcyclist Association
Founded in 1924, the AMA is a not-for-profit member-based association whose mission is to promote the motorcycle lifestyle and protect the future of motorcycling. As the world's largest motorcycling rights and event sanctioning organization, the AMA advocates for riders' interests at all levels of government and sanctions thousands of competition and recreational events every year. The AMA also provides money-saving discounts on products and services for its members. Through the AMA Motorcycle Hall of Fame in Pickerington, Ohio, the AMA honors the heroes and heritage of motorcycling. For more information, visit www.americanmotorcyclist.com.