Suzuki Recalls GSX-R Motorcycles For Faulty Drive Chain Adjuster
Chaparral Motorsports
|
October 29, 2014
[caption id="attachment_34434" align="alignright" width="300"]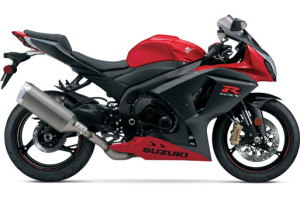 2015 Suzuki GSX-R1000[/caption]

The National Highway Traffic Safety Administration made a major announcement on the Suzuki GSX-R motorcycles because of a serious issue with the drive chain adjuster, which can quickly become damaged once a rider misses a gear when they are upshifting.

The NHTSA recalled 23,073 GSX-R motorcycles in the U.S. because of the drive chain adjuster. However, the agency said that while the problem was located in the Suzuki GSX-R600 model, the recall also affects other models such as the GSX-R750 from the years 2011 to 2014. The recall also included the Suzuki GSX-R1000 motorcycle model made between the years 2009 and 2014.

According to Autoblog, when the rider misses a gear while upshifting, it's common for the following shift to add enough pressure on the drivetrain to move the rear axle on the motorcycle. The left-side chain adjuster can immediately be damaged by this missed gear shifting issue. Additionally, if the drivetrain has enough stress put on it from missing the gear while upshifting, the chain could slip off the bike and leave the motorcycle powerless.

Incidents like this increase the chance for uncontrollable crashes, the source reported. Suzuki dealers in the U.S. are trying to repair the motorcycles by replacing the left-side adjuster with a new and improved motorcycle part, which will be stronger and heat-treated to ensure durability.

"Suzuki will notify owners, and dealers will replace the left-side chain adjuster with an improved part," the Japanese motorcycle company said in its press release. "The recall is expected to begin on October 17, 2014. Owners may contact Suzuki customer service at 1-714-572-1490. Suzuki's numbers for this recall are 2A40, 2A41, 2A42 and 2A43."

The company received 31 field reports from customers about incidents occurring on their GSX-R models before the recalls were implemented.