It's Sand Season! 7 Accessories To Upgrade Your UTV
Chaparral Motorsports
|
October 29, 2014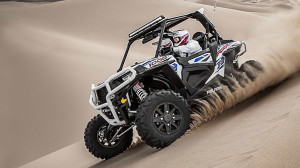 If you live in Southern California, then you're accustomed to not really having seasons. One of the downfalls of living in this sun-soaked land is that we don't get to experience the beautiful collage of oranges, reds, golds and browns associated with autumn leaves. But what we may lack in a rainbow of foliage we make up for with year-round motorsports fun, and when it comes to the Southern California "fall" season, that means it's time to hit the sand.

Southern California deserts are typically way too hot to enjoy during the summer, so when Labor Day finally rolls around people start to get really excited about making fresh track across pristine dunes-you could almost liken it to a snow skier heading out after a winter storm in hopes of hitting fresh powder. From quads to dirt bikes to UTVs, by the time Halloween hits sand season is in full swing with the local dunes and OHV areas scattered with enthusiasts ripping throttles across highland scrub flats and roosting waves of sand over ridgebacks.

With Halloween occurring on a Friday this year, this coming weekend will prove to be a scary good time as you'll be sure to find a parade of sand monsters and desert devils ghoulishly scooting across the terrain and possibly even "flying" through the night sky. For those heading to Glamis, this weekend will be exceptionally action-packed as Polaris will be hosting its Camp RZR West event all weekend promoting and celebrating the success of its highly popular RZR UTV line. Concerts, vehicle demos, giveaways, a Show and Shine competition, a trick or treat costume contest and much more there's something for everyone from wee goblins to old mummies.

If you're going to be packing up your RZR and heading out for the first time this season we've put together a list of some handy parts and accessories for your ride that can make your trip to the dessert a bit more enjoyable.

Harness yourself:
The stock seatbelt that came with your RZR does an adequate job of keeping you inside the machine, but if you want to stay tucked and tight for those times when you're really getting at it or you have a tendency to push your machine to its limits (and beyond) then replacing your original restraints with some aftermarket units like the 4.2 and 5.2 harnesses from PRP are a pretty good idea. Both feature heavy-duty 2-inch straps, sewn in pads for added comfort, a removable sternum strap, easy adjusters, and all black Hardware. The 4.2 has four harnesses (two shoulder and two lap) and a click 'n' lock automotive style buckle system across the lap. The 5.2 has an additional submarine harness at the groin area and a heavy-duty latch securement across the lap.

Keep it cool:
You can get pretty parched running amok through the sand, so be sure to keep all your passengers hydrated with cool fluids with an AO Cooler. Available in a variety of sizes and colors these coolers fit perfectly into the back of your RZR and can be secured in place with their clip-down ends. With their soft sides the coolers are easy to pack when empty (fully collapsible/foldable) and are guaranteed to hold ice for 24 hours in 120-degree temps. The largest size can hold about 36 12oz cans and 10-pounds of ice.

Filler up:
So you've brought along plenty of frosty beverages and stored them safely in your AO Cooler. Great! They'll come in extremely handy when you run out of fuel out in the middle of nowhere. Keeping your RZR hydrated is just as important as keeping yourself hydrated. With the RotoPaX portable fuel cell and the company's convenient mounting system you can ensure you'll always have plenty of go-juice on hand and won't run out of gas at the most inopportune time-like when being chased by a swarm of zombies. [mageProductLink sku="049-451-2101w" title=""]From 1-gallon water packs[/mageProductLink] to 4-gallon fuel packs, tool packs and general storage packs, you can mix and match to mount all your necessities to your roll cage.

Mount up:
You have plenty of space on your roll cage to mount an assortment of accessories and Axia Alloys offers a full line of components to fill all your needs. Made in the USA and beautifully CNC-machined out of billet aluminum, Axia Alloys has mounts to fit a variety of roll cage types and tubing sizes and their accessories cover the gamut from handles to side and rear view mirrors, whip mounts, [mageProductLink sku="097-0146-c" title=""]grab handles[/mageProductLink], and tag/sticker mounts.

Pick Pocket:
No matter if you've got a two-seater or the family wagon RZR, the XP4, you know storage space is at a premium. Take advantage of wasted space with PRP's Door Bags. PRP offer the bags for both front and rear doors, the bags secure on the inside of the door and offer knee protection with padded panels. The zippered pouch ensures all your valuable stay put, even in those rare (we hope they're rare) occasions you find yourself in an inverted position.

Whip that Wheel:
An upgraded steering wheel may not be at the top of your list of components you might need for your UVT, but you'd be amazed how much a new steering wheel can improve the comfort and enjoyment you get from your ride. This can be especially true after a couple seasons of hardcore riding and abuse from sand/dirt, sweat, and white-knuckling the wheel. [mageProductLink sku="399-9306" title=""]Grant[/mageProductLink] offers several different styles of steering wheels with different grip textures and materials for long lasting comfort. In addition, the company also has [mageProductLink sku="399-9318" title=""]adapter kits[/mageProductLink] so you can quickly and easily swap out your stock unit for an upgraded steering wheel.

Light it Up:
Everyone loves to take a midnight cruise, and while riding around guided only by moonlight may sound cool, it's not that safe for you or others out on the dunes and trails. Upgrade your lighting with some high output LED lights. The Totron LED lights by Cree can light your way well into the darkest of nights. From spot lights to full length flood lights, there are plenty of options to choose from. One thing many people often overlook is rear lighting, adding a single or double rear spotlight(s) to your vehicle can help you be seen by others approaching from behind and provide additional lighting in emergency situations. The lights are made of durable construction and mount up to most roll bar or grille assemblies with little to no modifications to your machine.