Kailub Russell Wins Ironman GNCC On KTM 150 SX
Chaparral Motorsports
|
October 27, 2014
[caption id="attachment_34511" align="alignright" width="300"]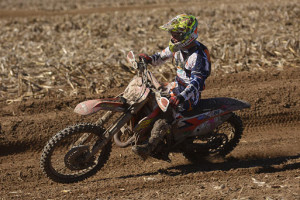 Kailub Russell - Photo: Ken Hill[/caption]

Factory FMF/KTM rider Kailub Russell took the win at the final GNCC in front of the largest crowd of the season aboard his two-stroke KTM 150 SX; a feat most thought could not be done.

Russell earned a 5th place start off the line and quickly moved into a podium position in the first few corners. His teammate, Charlie Mullins, took the early lead followed by Rockstar/KTM support rider Ryan Sipes. The three KTM riders pulled away early and began a battle for the lead position that would last the first two laps.

Russell was able to make a pass going into the third lap to take over the lead. Once in the front position, he maintained his lead and began to pull away from the pack. Meanwhile, Mullins suffered a setback after his wrist became sore around the halfway mark; an injury that has been affecting him since his comeback a few weeks ago.

At the end of the three hour race, Russell took the win with a minute and a half lead over Josh Strang and Sipes who hung on for third. Sipes' podium at Ironman marked his first GNCC podium of his career. Mullins was able to hang on for 11th place.

[caption id="attachment_34510" align="alignleft" width="300"]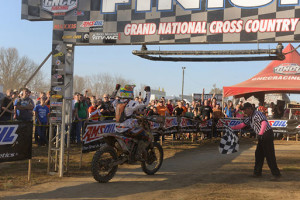 Kailub Russell - Photo: Ken Hill[/caption]

"I want to thank everyone who told me I couldn't win on a 150, because you gave me the motivation to come here and do my best," stated Russell on the podium. "I am so excited to win on this bike and that it has helped raise a lot of money for Rory Mead. Thank you to everyone who participated in the raffle."

Team rider, Steward Baylor, started the race inside the top ten and was running there through most of the race. He worked his way up in the second half to move toward the top five and was able to finish the event with a 5th overall.

GNCC XC2 Pro Lites Champion, Grant Baylor, made his first appearance in the XC1 Pro class aboard the KTM 450 XC-F but got sick partway into the race which caused him to slow down. Despite his illness, he managed to hang on for a 10th place finish overall.

WXC Champion, Kacy Martinez, joined the boys in the afternoon race this week as she started on the Four-Stroke Lites A class and earned a 10th place start. She held consistent lap times through the three-hour race and was able to finish 15th overall in her class.

"It was definitely more tiring racing in the Four-Stroke Lites A class today," stated Martinez. "I had a lot of fun but the track was rough and it got pretty challenging near the end of the day. It was still a great experience and I am glad for the opportunity."

2015 GNCC Series Finale Results
[caption id="attachment_34512" align="alignright" width="300"]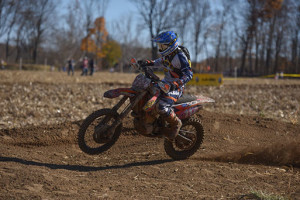 Charlie Mullins - Photo: Ken Hill[/caption]

Overall Results (XC1 Pro and XC2 Pro Lites Combined)


Kailub Russell - KTM

Josh Strang

Ryan Sipes - KTM

Andrew Delong

Steward Baylor - KTM

Jordan Ashburn

Takeshi Koikeda

Paul Whibley

Nick Davis - KTM

Grant Baylor - KTM

Overall Point Standings XC1 Pro Class


Kailub Russell - 348 - 2015 Champion

Josh Strang - 241

Jordan Ashburn - 223

Overall Point Standings XC2 Pro Lites Class


Grant Baylor - 322 - 2015 Champion

Trevor Bollinger - 253

Ricky Russell - 233

Overall Point Standings WXC Class


Kacy Martinez - 180 - 2015 Champion

Becca Sheets - 162

Brooke Cosner - 155

Source: KTM North America