Ducati Announces Its First Ever Desmodromic Variable Timing Engine
Chaparral Motorsports
|
October 26, 2014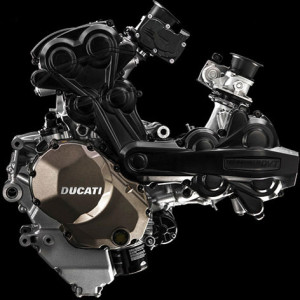 With the EICMA Motorcycle Show around the corner in Milan, Ducati released its newest 1198cc Testastretta engine, which is the first ever motorcycle engine that has variable valve timing with its intake and exhaust camshafts, Motorcycle USA reported.

Ducati explained the Desmodromic Variable Timing (DVT) gives the engine the most power, smoothest delivery and "muscular torque at low rpm," which will limit overall fuel consumption as well, the source reported.

Variable valve timing is not completely new on the market as the Kawasaki Concours 14 has VVT as well. However, the DVT is the first of its kind that can continually adjust its exhaust cam and the intake. The system will allow the engine to have fewer hiccups and run a smoother ride.

Ducati used this technology from its new parent company, Volkswagen, to create the V-twin engine, Auto Blog reported. The German automaker is notorious for using everyone involved with the company for input and design, and Volkswagen didn't let up with its design of the new Ducati DVT engine.

Additionally, Volkswagen recently had Ducati help design the new high-performance XL1, which owns a 190-horsepower engine, has a drastically low curb weight and isn't a gas guzzler like many of the other extreme sports cars, Auto Blog reported.

"[The DVT can be used in a] wide variety of conditions and locations, while always delivering top performance and exceptional user- friendliness, safety and sheer excitement," Ducati stated in a press release.

Easier Power Delivery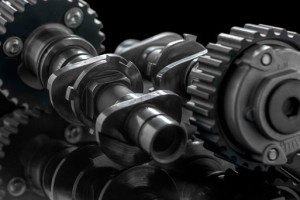 The Testastretta L-Twin variable timing engine has a peak 160-horsepower limit and 100.3-pound-foot torque, Ultimate Motorcycling reported. The engine has 10 additional hp and 10 more pound-feet of torque than its current Multistrada 1198cc engine.

The DVT can achieve a peak power of 9500 rpm, which is also 250 rpm more than the Multistrada as well. However, even though the DVT is more powerful than other models, it actually uses less fuel as well. Ducati explained the engine consumes 8 percent less fuel on average when compared to non-variable timing engines, the source reported.

"[The repositioned fuel injectors] target their spray directly onto the rear of the hot intake valve, instead of the colder surface of the intake port wall," Ducati said in its press release. "The resulting enhanced fuel vaporization improves combustion efficiency and ensures a smoother delivery."