Bike Saddles: Endless Comfort For Those Long Rides
Chaparral Motorsports
|
October 22, 2014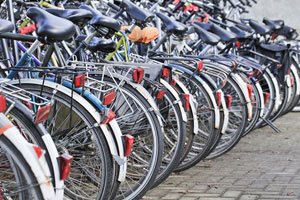 There are few pieces of cycling gear that matter more than a bicycle saddle. Sure an expensive set of tires will help you grip the road, but when it comes to comfort, a good bike seat is what you need.

When it comes to bike saddles, there is a wide variety of options. From leather to gel cushioning, the choices are seemingly endless for the look and overall feel of a bike seat. Depending on your riding style, you'll want a seat that is tailored to your specific needs. Mountain bikes might require a different saddle than a road bike. If you are using your bike for long commutes to work, you might want a cushion. However, if you are competing, a performance seat is the best bet. That's not to say you can't improve the comfort of your current seat.

The height of your seat makes all the difference, in addition to the angle in at which you ride or your general posture when in motion. While a new bike seat can be the ideal solution to a more comfortable ride, it's not the only option. You can make some minor adjustments that will go a long way toward making a saddle and overall cycling experience more enjoyable.

Get More Comfortable
You should always make sure a bike saddle is at the proper height. If a seat is too low, you could be working harder than you have to when pedaling. However, if it's too high, your weight could shift from side to side, and that could lead to injury. To be as efficient as possible on a bike ride, you will want to sit on the saddle and just be able to touch the ground with the tips of your toes. Adjusting the bike usually requires that you unclamp the seatpost and move it up and down accordingly. However, some models do require an Allen wrench to loosen, rather than a simple seatpost clamp.

Another thing you will want to consider is the angle of the saddle. If you are experiencing discomfort, the way your saddle is tilted could be the culprit. Like adjusting the height, make sure the angle of your saddle is correct before tightening.

The primary solution to comfort on a long ride is fixing a bike seat or purchasing a more comfortable one. If you are looking to get endless comfort for a long ride, the answer lies in the bike saddle.

Riding Style Matters
Bike saddles are an essential piece of equipment. However, you may not be aware of just how many options there are when it comes to these products.

An endless amount of choices can make shopping for a saddle tough - that's why it's important to narrow down your decision based on what type of riding you will be doing. Riders who use their bike for racing won't need the same saddle as someone who uses it for getting to work in the morning. The type of riding you'll be doing is the primary factor on which you should base your decision.



Mountain Biking: There are saddles on the market that are specifically designed for mountain biking, as this type of riding requires you to often go from standing to sitting and vice versa. Mountain biking forces you to crouch and maneuver your body in ways you wouldn't on a road bike. Therefore, you need a seat that has padding and is durable. Mountain bike riders tend to have larger seats than a road rider. This ensures they are comfortable in the varied positions this style of riding requires.

Road Racing: A saddle for a road bike needs to be narrow with little padding. This streamlined design is made for the long rides. Whether you are racing or not, a road bike saddle is typically less comfortable than saddles for other riding styles. It's hard and designed to be as light as possible. As these can take some getting used to, those making a switch from a different type of saddle might want to pick one with a little padding.

Commuting: If you are simply using your bike to get around town, rather than for racing or heading down mountains, it's a good idea to have a practical saddle. Commuter bikes are the most cushioned saddles on the market, designed to make a rider as comfortable as possible. Plenty of padding and comfortable outer materials make this the lounge chair of bike seats. They tend to be heavier and often feature springs for additional comfort.

Women's Fit: There are saddles that are specific to women riders. These seats are generally larger and are designed to accommodate the physical differences between men and women, like wider hips. While women riders aren't required by any means to use gender-specific saddles, they can have their advantages when it comes to comfort.