Ducati Reveals Its 2015 Scrambler
Chaparral Motorsports
|
October 9, 2014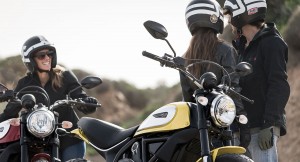 Ducati
recently released the specs and images of their brand new model, the 2015 Scrambler, and one thing is for certain - while it's reminiscent of the company's iconic dirt digger/street cruiser of the '70s with its bench seat, high handlebars, bucket headlight, and a flat-track inspired body lines, this bike is geared towards a modern crowd that desires styling, rideability, affordability, and quality all wrapped up into one clean and simple package.

Attracting A New And Fashionable Crowd
[caption id="attachment_34148" align="alignright" width="300"]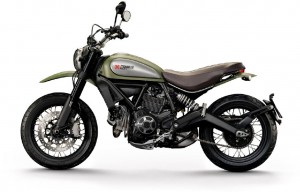 2015 Ducati Scrambler Urban Enduro[/caption]

The new Ducati Scrambler has a 803cc L-twin engine that has been altered from their previous Monster 796 engine. The sleek form and dark colors will certainly make this an attractive bike for anyone looking for an inexpensive, custom-designed ride that is sporty and fun to ride, but exudes classic styling cues.

"'Post-heritage' design gives a contemporary take on the iconic bike built by Ducati back in the '70s," Ducati stated in a press release. "This Scrambler, though, is not a retro bike: It is, rather, intended to be just how the legendary motorcycle would be today if Ducati had never stopped building it."

Available in the US in January, customers will have four different trims to select from, which include the Scrambler Icon ($8,495), Urban Enduro ($9,995), Scrambler Full Throttle ($9,995), and Scrambler Classic ($9,995). The Urban Enduro and Classic are outfitted with spoke wheels and the Icon and Full Throttle feature 10-spoke alloy wheels. All models come with Pirelli Dual Sport tires, a 18-inch front and 17-inch rear. While the bike has many retro specs, Ducati added new touches to Scrambler with a state-of-the-art LED headlight unit, ABS braking, an under seat USB port, and LCD dashboard.

Light Weight Could Factor In Low RPM Fun
[caption id="attachment_34144" align="alignright" width="300"]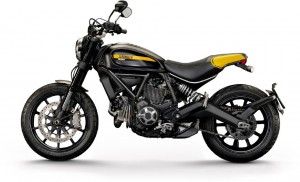 2015 Ducati Scrambler Full Throttle[/caption]

The Scrambler offers 50.2 pound-feet torque at 5,750 (rpm) and 75 horsepower at 8250 RPM, factor in the 375/389-pound dry weight (depending on model) and this makes for some decent power that should entertain hard worn motorcycle riders while delivering smooth and manageable power for 2-wheel newcomers. In addition the 31-inch seat height and ergonomics should offer comfort and inspire confidence for beginning riders and keep long haul fans churning mile-after mile.

Even though the bike will be available for purchase when superbike sales usually dip for the season, the new Ducati Scrambler could take a hold of the majority of new sales once it's released, Cycle World reported.

2015 Ducati Scrambler Image Gallery
(Click for full size images)