2014 AMA EnduroCross Denver Race Results
Chaparral Motorsports
|
October 6, 2014
Colton Haaker Wins Denver EnduroCross
[caption id="attachment_34093" align="alignright" width="300"]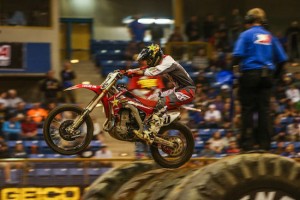 Colton Haaker - Photo: Drew Ruiz[/caption]

Rockstar/Lucas Oil/JCR Honda's Colton Haaker took his second win of the GEICO AMA EnduroCross series in front of an excited crowd in Denver tonight. Haaker's win put a big mix into the points with Factory Red Bull KTM's Taddy Blazusiak and Haaker tied for the lead and Beta/GEICO/Stillwell Performance's Cody Webb only one point back in third.

The night was intense from the beginning as Blazusiak, Webb and Factory KTM FMF Off-Road's Taylor Robert took fast-paced heat race wins. The speed theme of the weekend continued as the Pro Main Event hot laps had Factory Husqvarna's Mike Brown take the afternoon fastest Hot Lap and Webb locked down the Main Event hot lap. Both hot laps generate a single championship point to the winners. Blazusiak had a scary moment when he almost went down hard, over-the-bars, after a tricky tractor tire step-up obstacle in the middle of the course. He recovered without losing much time but had everyone watching on edge.

But the action really got high in the main event. A long, fast start had the top riders coming in hot with Haaker squeezing his Honda 450 out of the first set of turns into the lead and collecting the Nexen Tire $500 Holeshot Award. Blazusiak was in hot pursuit and put the move on early for the first spot and got it before the end of lap one. He would lead until nearly the halfway point when Haaker overtook for the lead. It only took a small mistake by Blazusiak to give enough room for a pass and Haaker made it stick.

Behind the front two, Robert and Webb were in a brutal early race battle. Before the halfway mark, Robert would go down, allowing Brown to get by with Webb still in third. The race settled in to a fast pace as Blazusiak would gain a little on Haaker, only to have Haaker find some speed to keep him at bay. The same would go for Webb. At one point, he actually made a clean pass for second on the inside of Blazusiak but it wouldn't stick and he was forced to chase the two leaders to the end.

[caption id="attachment_34088" align="alignleft" width="300"]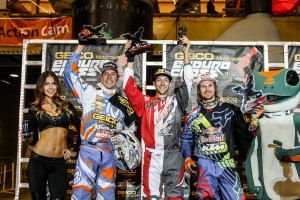 Winner's Podium - Photo: Drew Ruiz[/caption]

The final podium went Haaker, Blazusiak and Webb. Championship points now sit in that order, as well.

Haaker was happy with his second win. "I executed my race just like I planned and prepared to tonight," Haaker said. "I've been working hard and just like any track this one made you ride smooth and hit your marks. It was a little faster than others but we're so close across the board. I didn't push too hard and I have a lot more to give."

Blazusiak was satisfied with second and a share of the points lead. "It's been a good night of racing for us. That close call in the hot laps session slowed me down a lot, actually, and I was slowing down before that step-up in the main. It definitely cost me some time every lap as I focused on making sure the line worked every time. I was out front for quite a few laps, rode well with only one mistake and with that mistake I could have been in a much worse place than second. The pace is really high now so I'm happy with second tonight and look forward to the races being closer together for the next couple months."

Webb kept valuable points in third. "The track was really fast tonight and definitely not my forte' coming from a trials background but I put in a lot of hard work and I think it showed tonight," Webb said. "I came together with another rider twice tonight and it took me out. I never had to work this hard for third. I could reel Taddy in a bit and try to pass but couldn't make it stick so I had to ride to third. I think the top three rode really strong tonight for 12 laps. I felt great but little things didn't go my way."

[caption id="attachment_34089" align="alignright" width="300"]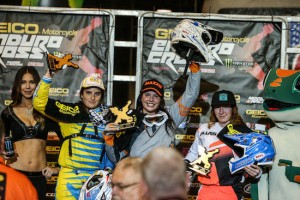 Women's Podium - Photo: Drew Ruiz[/caption]

The Women's class was also an exciting race as defending champ Chantelle Bykerk took her third Denver win-in-a-row. Morgan Tanke came in second and Spain's Sandra Gomez Cantero took third.

The evening also included a host of support classes for amateur, vet and trials competitors. In Open Amateur Nick Thompson took the win over Mitch Carvolth and Trystan Hart. The Vet class went to Derek Raycraft with David Stirm and Jason Gitchel going second and third respectfully. And the Trialscross win went to Emanual Angius from Italy with Michael Salsman and Nathan Brown rounding out the podium.

The next round of the 2014 GEICO AMA EnduroCross Championship will take place inside the Energy Solutions Arena in Salt Lake City, Utah on Saturday, October 11th. Get your tickets now!

Source: EnduroCross

Colton Haaker Takes Home A Big WIN
[caption id="attachment_34092" align="alignright" width="300"]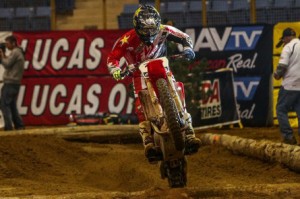 Colton Haaker[/caption]

Colton Haaker takes home a big WIN and puts himself into a 1st place tie for the 2014 Endurocross Championship.
Colton Haaker takes a dominating win at round #5 of the 2014 AMA Endurocross series, aboard his JCR/Honda CRF450R. Colton started strong grabbing the holeshot. At the halfway point of the 12 lap main event Colton secured the lead and control of the race, never looking back.

This is Colton's second win of the nine round series and ties him for 1st place in the Championship. With four rounds remaining, the battle for the EnduroCross Championship will be hotter than ever.

Haaker has the momentum going into next week's round #6 in Salt Lake City, Utah, Saturday October 11, 2014.

"This team has matured into a force to be reckoned with. Colton and Eric are working harder than ever to win each and every race. I am looking forward to the upcoming round in Utah and continuing to race with the Honda winning spirit! Special thanks to Rockstar Energy, Lucas Oil Products, Fly racing, Motion Pro, Galfer brakes and Dunlop tires for supporting our EnduroCross efforts in a big way!" -- Johnny Campbell
Source: JCR/Honda

Taddy Blazusiak Earns 2nd At Denver EnduroCross
[caption id="attachment_34090" align="alignright" width="300"]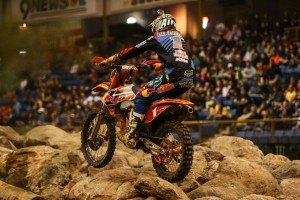 Taddy Blazusiak - Photo: Drew Ruiz[/caption]

Red Bull KTM rider Taddy Blazusiak earned 2nd place after recovering from a crash that took place while he was leading at the fourth round of the AMA EnduroCross Series held at the National Western Event Center in front of a packed crowd. His teammate, FMF/KTM Factory rider Taylor Robert, finished 4th.

Blazusiak was placed in the third heat. He pulled into the lead within the first two turns and went on to take the win by over 15 seconds. Robert, who was placed in heat one, also took a win to give both KTM riders a spot in the main event.

When the gate dropped for the main event, it was Blazusiak who had a great start and moved into the lead within the first few turns. He quickly began to pull away from the pack. Around the halfway point, Blazusiak crashed while leading in the rock section and lost the lead to Colton Haaker. Blazusiak quickly recovered in 2nd place just a bike length ahead of Cody Webb. The two riders battled until the final lap for the runner-up position. Blazusiak was able to hold on and finished 2nd overall.

[caption id="attachment_34094" align="alignleft" width="300"]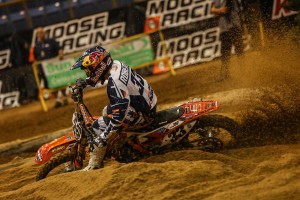 Taylor Robert - Photo: Drew Ruiz[/caption]

Robert started the race in 4th and fell to 5th position throughout most of the race. With a few laps to go, Robert challenged Mike Brown for 4th place. Robert made the pass stick before the final lap to earn a top five finish.

Now four rounds into the series, Blazusiak is tied with Haaker for the points lead while Robert is 4th in the overall standings.



Next Event: Salt Lake City, UT - October 11, 2014

Source: KTM North America

Husqvarna's Mike Brown Fought Hard For Top Five
[caption id="attachment_34100" align="alignright" width="300"]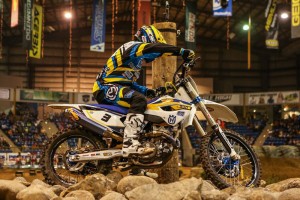 Mike Brown[/caption]

Factory Husqvarna racers were in action across the U.S. this weekend with national events in California, Colorado and Ohio. Jacob Argubright, Mike Brown and Andrew DeLong were all in action, with some wild racing, tough conditions and proud finishes.

Factory Husqvarna's Mike Brown carded a solid fifth at the AMA EnduroCross Championship in Denver, Colorado, launching his bid for the event by setting the hot lap. This secured him the pole position coming into the evening program and allowed him to pick up an extra championship point.

Brown then had his work cut out for him in the heat race when he locked bars with another racer on the start straight and fell in the first corner. He then went to work with FC 350 and fought his way back to third place to transfer straight into the main.

"Brownie" pushed to keep pressure on Webb in the early laps of the main event before settling into fifth place. He gained some ground after Webb and Robert tangled in a corner and advanced to fourth place, but then succumbed to Robert on the last lap.

"The race was good," Brown said. "It's getting better - we're working in the right direction. But I ain't gonna to stop 'til I get on the top."

Source: Husqvarna Motorcycles

Denver Overview And Point Standings
2014 GEICO AMA EnduroCross Denver Image Gallery (Click for full size images)


Overall Results EX Pro Class



































































































































































































| Finish | # | Name | Brand | Points Earned |
| --- | --- | --- | --- | --- |
| 1 | 10 | Colton Haaker | HON | 25 |
| 2 | 1 | Taddy Blazusiak | KTM | 23 |
| 3 | 2 | Cody Webb | BTA | 22 |
| 4 | 33 | Taylor Robert | KTM | 19 |
| 5 | 3 | Mike Brown | HSQ | 16 |
| 6 | 15 | Max Gerston | BTA | 15 |
| 7 | 118 | Cory Graffunder | SHR | 14 |
| 8 | 575 | Nick Thompson | KTM | 13 |
| 9 | 114 | Ty Tremaine | KTM | 12 |
| 10 | 9 | Bobby Prochnau | KTM | 11 |
| 11 | 27 | Wallace Palmer | CHR | 10 |
| 12 | 8 | Destry Abbott | Kaw | 9 |
| 13 | 200 | Eric Rhoten | BTA | 8 |
| 14 | 696 | Noah Kepple | KTM | 7 |
| 14 | 503 | Justin Morgan | HSQ | 7 |
| 15 | 84 | Trystan Hart | KTM | 6 |
| 15 | 158 | Tucker Larrieu | TMS | 6 |
| 16 | 120 | Cooper Abbott | Kaw | 5 |
| 16 | 177 | Mitch Carvolth | KTM | 5 |
| 17 | 335 | Mason Ottersberg | KTM | 4 |
| 17 | 230 | Dustin Hedwall | HON | 4 |
| 18 | 927 | Wyatt Hart | KTM | 3 |
| 18 | 649 | Harrison Oswald | KTM | 3 |
| 19 | 891 | Dalton Dietz | Kaw | 2 |
| 19 | 63 | Stephen Foord | GAS | 2 |
| 20 | 987 | Cody Miller | Kaw | 1 |
Rider Point Standings - EX Pro Class ( Race 5 of 9 )


Colton Haaker - 117

Taddy Blazusiak - 117

Cody Webb - 116

Taylor Robert - 86

Max Gerston - 65

Cory Graffunder - 65

Mike Brown - 58

Geoff Aaron - 56

Bobby Prochnau - 56

Ty Tremaine - 53

Overall Results Women's Class
| Finish | # | Name | Brand | Points Earned |
| --- | --- | --- | --- | --- |
| 1 | 1 | Chantelle Bykerk | KTM | 25 |
| 2 | 3 | Morgan Tanke | KTM | 22 |
| 3 | 93 | Sandra Gomez Cantero | KTM | 20 |
| 4 | 2 | Rachel Gutish | KTM | 18 |
| 5 | 68 | Tarah Gieger | KTM | 16 |
| 6 | 1008 | Nicole Bradford | Kaw | 15 |
| 7 | 11 | Melissa Harten | GAS | 14 |
| 8 | 621 | Rily Ellinger | KTM | 13 |
| 9 | 151 | Lexi Pechout | SHR | 12 |
| 10 | 459 | Brittney Gallegos | Kaw | 11 |
| 11 | 426 | Megan Blackburn | Kaw | 10 |
| 12 | 406 | Veronica Whitesell | KTM | 9 |
| - | 21e | Victora Harcy | GAS | 0 |
| - | 221 | Ashley Lobato | HSQ | 0 |
| - | 15 | Madison Hitch | KTM | 0 |
Rider Point Standings - Womens Class ( Race 5 of 9 )


Morgan Tanke - 81

Chantelle Bykerk - 78

Rachel Gutish - 74

Lexi Pechout - 65

Rily Ellinger - 60

Melissa Harten - 59

Tarah Gieger - 59

Kristie Mckinnon - 35

Kacy Martinez - 25

Shelby Turner - 22

Manufactuerer Cup Point Standings( Race 5 of 9 )


Team KTM - 202

Team Beta - 153

Team Honda - 131

Team Husqvarna - 112

Team Kawasaki - 48

Team Christini - 38

Team Gas Gas - 16

Team Yamaha - 15

Team TM - 13