U.S. Takes Third Place In Motocross Of Nations
Chaparral Motorsports
|
September 29, 2014
[caption id="attachment_33941" align="alignright" width="234"]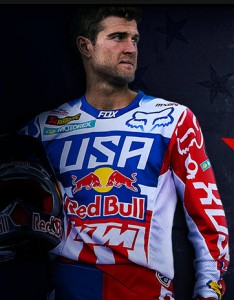 Ryan Dungey at 2014 MXON[/caption]

Though victorious in seven out of the last 10 Motocross of Nations, the U.S. finished in third place this year - behind France and Belgium, according to Dirt Rider Magazine.

The [mageProductLink sku="14185-051-s" title="2014 MX of Nations Limited Edition Jersey"]2014 Motocross of Nations[/mageProductLink], MXoN, was held in Kegums, Latvia. The American team did well despite injuries and early wrecks that plagued their success. Ryan Dungey placed second in the MXGP+MX2 race, with France's Gautier Paulin taking top honors.

Jeremy Martin of the U.S. struggled in both the MXGP+MX2 and the MX2+Open, finishing 11th and 13th, respectively. Eli Tomac, on the other hand, performed well in the MX2+Open and the MXGP+Open by placing sixth and third.

Team France excelled in every race, with a rider finishing first or second in each one. Belgium ran well, taking second place after winning first place in the 2013 MXoN.

MXoN is an annual event that has nations of the world face off for the rights of motocross supremacy. The U.S. and Great Britain were the original favorites for this year's race - and rightly so. Since its inception in 1947, Great Britain has been a major force in the sport, winning 15 of the first 21 events, according to MXGP.com. The U.S. has reigned supreme of late - winning 13 straight in the '80s, and then seven straight since 2005.

The games feature world-class athletes from the dirt biking sport and are hosted by a different city every year. The majority of MXoN competitions have resided in Europe, with Belgium, France and Germany becoming the top competitors in the sport.

MXoN is billed as the Olympics of Motocross, with nations from all over the world competing for the championship. The event is currently sponsored by Monster Energy.