Three Things To Check For Proper Motorcycle Tire Care
Chaparral Motorsports
|
September 28, 2014
Knowing the ins and outs of your bike can make all the difference in keeping it properly maintained. That means you will want to get acquainted with your motorcycle's owner's manual. There it will tell you a lot of what you need to know about keeping your motorcycle tires in good condition.

1) Tire Pressure
An owner's manual is a good place to learn what the manufacturer's suggestion is for the level of tire pressure, or pounds per square inch. Maintaining the proper pressure will ensure the tires last. Not to mention, the experts say there are a number of benefits to keeping your tires properly inflated.

"Checking tire pressure is one of the most important tire-maintenance functions a rider can perform," Steve Bindl, product portfolio manager at Harley Davidson, told UltimateMotorcycling.com. "Properly inflated tires wear longer, and correct pressure promotes better braking, better fuel economy, maximizes traction, and reduces the risk of tire damage or failure."

2) Tread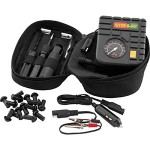 Another important consideration to properly maintaining your tires is the tread. Any signs of balding or potential areas where a tire could pop indicate that the tires should be replaced. This will ensure safe riding, especially in slick conditions.

Taking the time to inspect a tire before a ride could mean all the difference in avoiding a flat, or worse, a crash. Check the tire's sidewall for any breakage or cracking from the rim. Any excessive wear should be repaired or replaced. It's also a good idea to store your bike in a dry and warm place, if possible. Any wear to the tires could be sustained from normal aging, and that means storage areas are an important consideration.

3) Load Capacity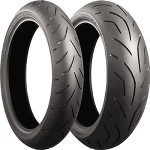 You will also want to consider the weight you are putting on your tires each ride, especially if you are going on a long trip and need to bring a lot with you. Putting too much pressure on tires for long periods of time could cause them to wear faster.