EnduroCross Coming To A City Near You
Chaparral Motorsports
|
September 26, 2014
[caption id="attachment_34018" align="alignright" width="300"]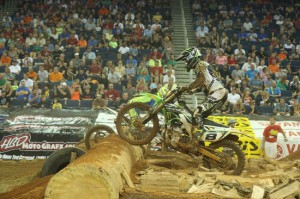 Destry Abbott - Photo: Drew Ruiz[/caption]

Ever wanted to see the best off-road bikers in the world compete on a rugged track full of obstacles - or better yet - learn how to yourself? Your chance might be coming soon to a city near you as the EnduroCross Championship race schedule heats up. While Taddy Blazusiak and Cody Webb are tied for the lead, with Colton Haaker not far behind, the pro racers are not the only ones looking forward to pitting their skills against the Denver track. Many amateurs have signed up for one hour training classes offered by EnduroCross - and the next scheduled one will be in Denver, Colorado, on Oct. 3 - a night before the actual race will be held.

Those looking to get hands-on experience from the premier dirt bikers of our time will be thrilled to meet Destry Abbott - five-time Hare & Hound Champion and face of the sport. The training will be done on the track itself at the National Western Events Center. Other pros will also be coaching and guiding newer bikers on the track.

The outreach by the EnduroCross community further builds the sport's reputation and promotes the growth of dirt bike racing. Rookie drivers with any brand of motorcycle are encouraged to participate as well.

Other similar events have been held at other tracks in the past, with more expected over the next two months - during which EnduroCross will makes future stops in Utah, Washington, Idaho and California through Nov. 22.

The History of EnduroCross
[caption id="attachment_34019" align="alignright" width="300"]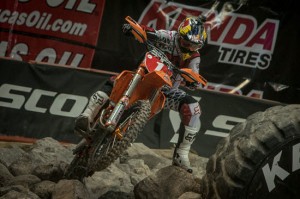 Taddy Blazusiak - 2014 AMA EnduroCross @ Las Vegas[/caption]

EnduroCross is a variation of Supercross and Enduro racing - yet it takes place indoors, with obstacles and hazards, including rocks, water, jumps, logs and other drivers in your way, according to Red Bull. But that's not the only thing in the way. Builders of the track throw in a host of other random objects to make life difficult for the drivers, like massive truck tires, boulders, rocks and pits.

The sport came to the U.S. from Europe in 2004 and has taken off ever since. Some of the top bikers in the world competed in the first events, including Ryan Hughes with Honda and David Knight with KTM, according to the EnduroCross website. In 2006, the championship series held its first ever indoor race at night.

By 2008 there were six events across the country, with cash prizes increasing every year. EnduroCross is now sponsored by GEICO and partners with Monster Energy, Lucas Oil and the American Motorcyclist Association.

During the events you'll notice the drivers wearing top-of-the-line helmets, jerseys, vests and other dirt bike apparel. Chaparral Racing is a leading brand in the racing industry, providing everything from off-road tires to bike jackets.