Keanu Reeves' Motorcycle Company Debuts First Bike
Chaparral Motorsports
|
September 23, 2014
Keanu Reeves has been a long-time fan of riding motorcycles, so much so that he has started his own motorcycle company. Reeves teamed up with custom motorcycle builder and L.A. County Chop Rods owner, Gard Hollinger, to create Arch Motorcycle Company. In its latest announcement, Arch has started taking orders for its debut bike, the KRGT-1.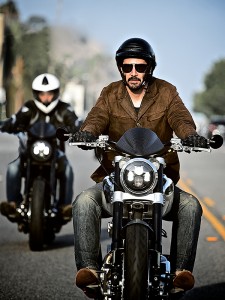 According to Fox News, Reeves has owned a wide array of motorcycles, from a Suzuki GS11000E to a 1984 Harley Shovelhead, and he rides just about every day. In fact, the Matrix actor has owned a number of bikes, but has only had two automobiles.

The KRGT-1
So what is so great about the KRGT-1? A lot of things.

Comprised of a host of proprietary components, the debut bike features a 124 cubic-inch V-twin S&S twin cam engine that puts out 122 horsepower and 122 lb-ft of torque. Backing the powerplant is a Baker Drivetrain six-speed transmission outfitted with a custom compact high torque mainshaft. The right-side drive setup is completed with a Arch proprietary Bandit Machine Works dry belt primary with a compact clutch basket and a 530 O-ring motorcycle chain final drive. Carbon fiber motorcycle wheels and an aluminum frame are the primary reasons why this bike only weighs 538 lbs. LED lighting is featured in the front and rear of this futuristic looking bike.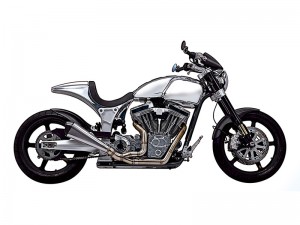 "An Arch provides strength, connection and passage - strength that comes from meticulous design and engineering - connection between modern and classic, style and performance, custom and production - passage from canyons to cities, down freeways to destinations bound only by the rider's desire," reads the company's website. "Production of the KRGT-1 will be limited, making ownership a coveted experience."

A very time consuming process to build, the two-piece, CNC-machined, billet aluminum gas tank takes more than 66 hours to create while the swingarm requires 17 hours of machining, so each bike will be built to order.

Hollinger and Reeves began their relationship when Hollinger began doing work on one of the actor's bikes. However, the two would eventually release a prototype of the KRGT-1 in 2011, start their company in 2013 and release their first bike in September.

The KRTG-1 is a highly sought-after bike, and it comes at a steep price. The retail price on the bike is $78,000 and one can be reserved for $12,000.