'Easy Rider' Chopper To Be Sold At Auction
Chaparral Motorsports
|
September 19, 2014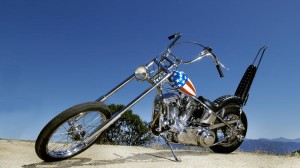 We all remember the Captain America Harley-Davidson that Peter Fonda rode in the 1969 film Easy Rider. Well, now fans will have their chance to own that very bike, as it is slated to be auctioned on October 18, in Calabasas, California.

An iconic bike of the 1960s, the chopper is expected to sell for between $1 and 1.2 million. The current owner, Micheal Eisenberg, used to co-own a motorcycle-themed restaurant with Fonda and Easy Rider co-star Dennis Hopper. However, he bought the bike after Dan Haggerty of the television show "Grizzly Adams", who was in charge of the bike during the Easy Rider's filming, parted ways with it.

Haggerty told The Associated Press that three replicas of the bike were created for the movie but only one made it out.

"Three of the motorcycles were stolen, even before the movie was released, which was a sign of the overwhelming power that these motorcycles had," said Haggerty. "They were never recovered."

Haggerty went on to tell the news source that Hopper let him keep the bike after the show was over. He would eventually give it to the National Motorcycle Museum in Anamosa, Iowa. He said getting rid of the bike was like watching a child get married or move away to start their own life.

Last year the museum decided to sell the bike, and Eisenberg jumped on the opportunity.

"I always wanted to own it," he told The Associated Press. "But once it sunk in that I actually had it, then I realized how important it was. The public needs to see it. It's that iconic. It needs to be on a podium."

Eisenburg said a significant amount of the proceeds from the bike will be donated to the American Humane Association, an organization Fonda was highly involved in.