Can-Am Boosts The Side-by-Side World: The New Turbo Powered Maverick
Chaparral Motorsports
|
September 17, 2014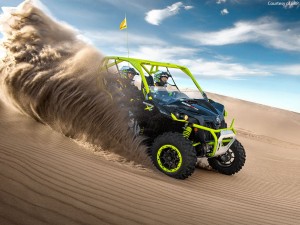 The 2015 Can-Am side-by-side lineup just got big boost - a turbo boost that is. The powersports manufacturer recently announced that its new two seater Maverick X ds and four seater Maverick Max X ds models will be available with a factory installed turbochargers mated to the already potent Rotax 1000R engine. This is the first time in the UTV industry a machine has been offered from the manufacturer with a turbocharger.

This boost in performance will kick the output of the 1000R engine from 101 horsepower to a whopping 121-horspeower and industry-leading torque, 40-percent more than its closest competitor according to Can-Am. Performance throughout the powerband is optimized via the turbo' s electronically controlled wastegate which automatically adjusts boost pressure for optimal performance in any condition and even maintains full performance at altitudes up to 5,000-ft. Additionally, an air-to-air intercooler outfitted with a built-in fan keeps cooled air flowing to the engine even in hot temp conditions. A large Donaldson air box has been positioned close to the engine for maximal airflow to meet the Turbo's demand for clean air. Internally, Can-Am added new low pressure forged pistons to the 1000R engine to ensure long-lasting performance, while new high capacity injectors offer better fuel delivery, providing an optimal air/fuel mixture to improve performance.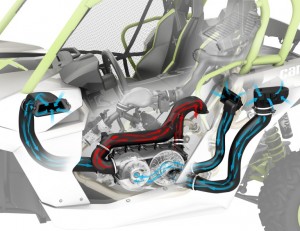 In order to harness and proficiently deliver the increased horsepower output to the wheels, the CVT drivetrain on the turbo equipped model was addressed and features a completely redesigned driven pulley with a new Quick Response System (QRS). In addition, an improved drive pulley allows better power transfer and faster engagement time. The new design reduces friction for longer belt life and improves cooling. The CVT ventilation has been improved by modifying the inlets and outlets and by adapting the design of the impellers, resulting in 68 percent more cold air flowing through the pulleys.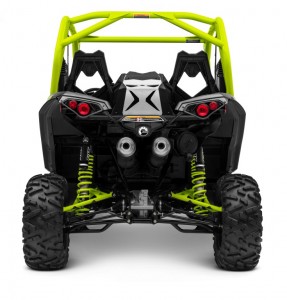 Other significant features of the Maverick X ds include a new rear frame section providing for a longer wheelbase (pushed out to 88 inches). The longer footprint will help keep the UTV steady at high speeds while still providing excellent cornering and a tight turning radius. Other refinements to improve handling and the performance of the high-powered Maverick include 16-inches of travel in the rear thanks to redesigned Torsional Trailing Arms and a compact five-link suspension setup, equipped with exclusive Fox 2.5 Podium RC2 shocks. Fully adjustable, the front and rear shocks can be tuned for Dual Speed Compression (DSC), rebound, and have dual rate springs with infinite preload allowing users to fine tune the system for any driving style, terrain or course.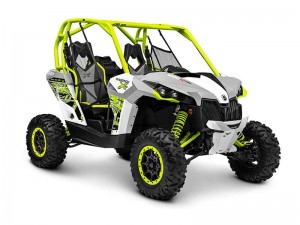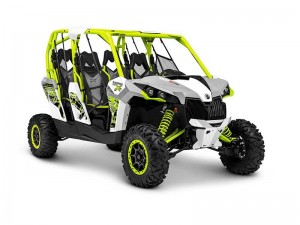 UTV fans should definitely be thrilled about this new model from Can-Am, the myriad improvements and the fact that a turbo is now available straight-from-the-factory ought to get the rest of the competitors looking to jump in the turbo game. The automotive industry has been offering factory spec vehicles outfitted with turbochargers for years in an effort to minimize engine displacement while optimizing performance. However, with this announcement from Can-Am as well as the much awaited reveal of Kawasaki's new supercharged Ninja H2, we could be entering a new era in the powersports industry, one in which the less expensive 300cc machines and their larger displacement brethren take on a whole new light in the performance realm. Very exciting times!!