Roger Hayden Takes AMA Pro SuperBike Race Win After Penalty
Chaparral Motorsports
|
September 16, 2014
[caption id="attachment_33873" align="alignright" width="300"]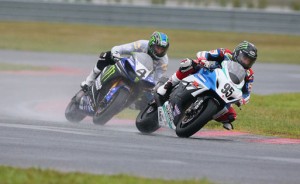 Roger Hayden vs Josh Hayes - Photo: Brian J Nelson[/caption]

It was Josh Hayes who crossed the finish line first in Race 2 at the AMA Pro SuperBike this past weekend. While Roger Hayden took the holeshot, it wouldn't be enough to hold off his teammate Hayes. Hayden would finish the race in the second, followed by Martin Cardenas in third.

It only took Hayes a few turns before he took the lead off Hayden. And while Cameron Beaubier managed to take the No. 1 spot in the sixth lap, Hayes managed to regain the top position two laps later. Beaubier lost control of his bike and had to leave the competition early. From this point on, Hayes managed to keep the lead until the checkered flag was waved. While Hayes didn't see much competition for first place in the later laps of the race, Hayden was in a battle of his own with Cardenas, passing him in lap 13.

A Twist After The Race
While Hayes appeared to win the race this past Saturday, he had passed under a yellow flag early in the race. This penalty was assessed after the race was over, giving Hayden the win.

"It's not really the way I'd like to win them but I do remember at that point in the race the waving yellow when he came by me in Turn 1," Hayden said. "I rode hard enough and good enough to win so I feel good for me and team. We didn't want to let Yamaha sweep the whole series this year so we're excited about that. Hopefully we'll get one without any controversy tomorrow."

Following Cardenas, Bernat Martinez came in fourth and David Anthony came in fifth.