New Cat On The Prowl: Arctic Cat Introduces The New Wildcat Sport For 2015
Chaparral Motorsports
|
September 8, 2014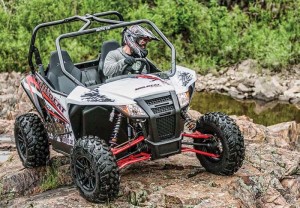 It can often be tough for the middle child, getting lost in the fold of the benchmark achievements of the eldest and the codling of the youngest. Chances are however, Arctic Cat's new Wildcat Sport will have no problem standing out and digging out a favorable niche for itself amongst UTV enthusiasts. Filling a void left between the 64-inch wide Wildcat and the recently introduced, 50-inch Wildcat Trail, the new two-seater 60-inch wide Sport model could satisfy those Goldilocks fans out there who want something that sits more in the middle of the spectrum, you know the one that's "just right."

Offered in three trim levels: Wildcat Sport, Wildcat Sport XT, and Wildcat Sport Limited EPS all three models feature the 60-hp, 700 parallel twin engine that was introduced with the Wildcat Trail. Managed by EFI, power from the four-valves-per cylinder, liquid cooled engine is transferred via a Team Rapid Response clutch, and selectable electronic 2- or 4-wheel drive with front differential lock allows users to quickly and easily optimize the drive based on terrain.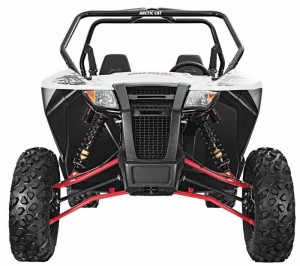 The 60-inch wide chassis for the Wildcat Sport model falls in line lengthwise with its narrower brother, the Trail, at a length of 110.5-inches, and comes in 17.5-inches shorter than its elder sibling, the original Wildcat. Compound these stout dimensions with a dropped seat height that puts the rider and passenger 3-inches lower than its competitor and you get one very well balanced machine. To help smooth out the bumps and keep the 26-inch Carlisle Trail Pro tires in unison with the terrain, the sport and XT come with JRi ECX-1 piggyback gas shocks that feature 2.5-inch reservoirs and offer full compression adjustability. The shocks are linked to double A-arms front and rear and rear sway bars allowing for 12.2 inches of travel up front and 12.6 inches of travel at the back. Even with a reduced seat height the Wildcat Sport family can still manage to get up, over, and through rugged terrain with its 13-inches of ground clearance.

Suspension for the Limited model is upgraded with Elka Stage 5 aluminum piggyback gas shocks with Dual-Speed Compression and rebound adjustability to allow users to precisely dial in suspension preferences to achieve a smoother and more predictable ride.

Other highlights across the board for all three models include: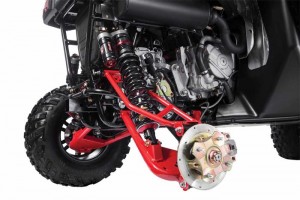 New dual-piston caliper hydraulic front brakes

Easy-hinge doors with automotive-style handles and latching for easy vehicle entry and exit

New fully variable tilt steering mechanism offers greater overall range, infinite adjustability and increased room for driver entry and exit

300-pound rear cargo box capacity

1,500-pound towing capacity

2-inch rear receiver hitch

Additional features for each model include:
Wildcat Sport


Color options: Lime Green or Red

Wildcat Sport XT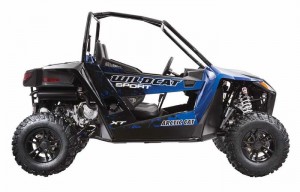 12-inch, machined, cast-aluminum wheels

Automotive-style paint

Color-matched suspension arms

Color options: Viper Blue or Vibrant Red Metallic

Wildcat Sport Limited EPS


Variable assist Electronic Power Steering (EPS)

Full aluminum doors

Under hood storage box

Automotive-style paint

Color-matched suspension arms

Color options: White Metallic or Matte Black

2015 Arctic Cat Side-by-Side lineup
The addition of the Sport model into Wildcat family now offers potential buyers a full line of 16 UTVs to choose from ranging from the family wagon four seater, the Wildcat 4X, to the rugged work horse cat, the Prowler 700HDX XT EPS.






Performance: Wildcat




Wildcat 4X Limited EPS (MSRP $23,699)






Color options: Matte Black, Matte White





Wildcat 4X EPS (MSRP $20,999)






Color options: Viper Blue Paint, White Metallic Paint





Wildcat X Limited EPS (MSRP $20,699)






Color options: Matte White Paint, Matte Black Paint





Wildcat X EPS (MSRP $18,799)






Color options: Team Arctic Green Paint, Viper Blue Paint, White Metallic Paint





Wildcat EPS (MSRP $16,999)






Color options: Metallic Black Paint








Sport: Wildcat Sport




Wildcat Sport Limited EPS (MSRP $15,699)






Color options: White Metallic Paint, Matte Black Paint





Wildcat Sport XT (MSRP $13,999)






Color options: Viper Blue Paint, Vibrant Red Metallic Paint





Wildcat Sport (MSRP $13,399)






Color options: Lime Green, Red








Trail: Wildcat Trail




Wildcat Trail Limited EPS (MSRP $13,799)






Color options: Vibrant Red Paint, White Metallic Paint





Wildcat Trail XT (MSRP $12,899)






Color options: Team Arctic Green Paint, Vibrant Red Paint





Wildcat Trail (MSRP $11,899)






Color options: Lime Green, Red








Recreation: Prowler XT




Prowler 1000 XT EPS (MSRP $14,999)






Color options: Black, Red, Orange





Prowler 700 XT EPS (MSRP $13,949)






Color options: Black, Red, True Timber Camo





Prowler 550 XT (MSRP $11,299)








Utility: Prowler HDX




Prowler 700 HDX XT EPS (MSRP $13,699/$13,999 camo)






Color options: Vibrant Red Metallic Paint, True Timber Camo, Emerald Green Metallic Paint





Prowler 500 HDX (MSRP $10,999)