Chaparral Pro Works Program
Chaparral Motorsports
|
September 5, 2014
Every dirt bike rider, dreams of owning a bike prepped to pro-level standards. While Chaparral Motorsports can't help much in the way of getting your riding skills equal to that of the pros, with its new venture, Chaparral Pro Works, we can put you in the seat of a factory-level race bike (or darn near close to it) decked out with top of the line aftermarket components. It takes very special know how to carefully make the minute changes and amass the right selection of parts that can turn a stocker from mild mannered into a high-performance, dirt-eating machine. Between Chaparral and its Pro Works department head, industry veteran and luminary, Larry Brooks, the two have decades of racing experience and knowledge to pull off such a feat.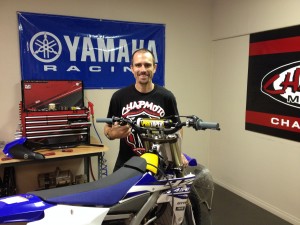 Backed by six championships (Chaparral and Larry have three Supercross together and Larry has two Supercross and one Outdoors on with other teams), the Chaparral/Brooks team has proven to be a winning combination. Seeing an opportunity to deliver its fans and customers the ultimate riding experience, Chaparral will be selling bikes carefully prepped by Larry. With a very successful background as a racer, test rider, and team manager, Larry has a very unique perspective on how to dial in a dirt bike so that it will provide a really good feel for the rider and ensure handling and performance characteristics well above stock grade.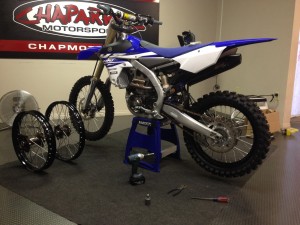 With each bike he works on, Larry will focus his attention on the external components, from making minor mods and adjustments like resetting the position of the motor millimeters off its factory location for better weight distribution, to upgrading the braking for better control and heat dissipation. Internally, the heart of the bike will remain unchanged, however, with Larry's extensive research and knowledge he will utilize bolt-on components and a few secrets he's learned over the years to help deliver more air and optimize the performance of the engine so that it will yield a smoother, more manageable power band.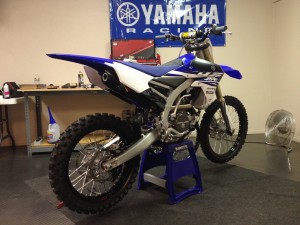 The first bike to enter the Chaparral Pro Works Program will be a 2015 Yamaha YZ450F. From there the possibilities are limitless as to the breadth of dirt bike manufacturers, models, and compilation of Chaparral's extensive inventory of top line parts and accessories that Larry will incorporate into each build.

In addition to offering customers race-ready motorcycles right off the showroom floor, Chaparral will also document each bike build by producing highly detailed technical videos in which Larry will explain the who, what, why, and how for each mod he makes. The videos will be a mix of step-by-step how-to installs and informational product overviews. By offering a collection of videos with each build, enthusiasts who may not be in the market for a brand new, factory-prepped style bike, can either build up their own bike piece-by-piece at home, or get a better understanding as to how certain parts or mods may affect their bike.