Fox V4 Helmet Keeps A Head Safe And A Rider Looking Good
Chaparral Motorsports
|
August 28, 2014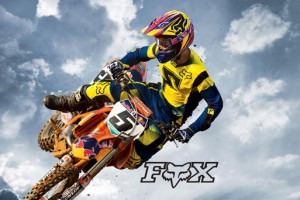 Fox Racing
is a leading name in extreme sports and their [mageProductLink sku="11602-016-s" title="Fox Racing V4 Race Helmet"]V4 motocross helmet[/mageProductLink] is a testament to that reputation.

Featuring the latest and greatest technology and everything you'd expect out of a Fox Racing product, this helmet is ideal for any motorcycle rider looking for comfort, performance and of course safety.

"Fox built its business by developing clothing for high intensity, physically demanding motorsport of motocross," reads the Fox Racing website. "Through sponsoring and working closely with the best riders in the history of the sport - riders such as Ricky Carmichael, James Stewart, Damon Bradshaw, Rick Johnson, Mark Barnett, Doug Henry, Jeremy McGrath and Steve Lamson - our company has researched and developed race clothing that provides riders with maximum protection and performance and freedom of movement."

V4 Helmet - The Pinnacle of Design
[caption id="attachment_33539" align="alignright" width="300"][mageProductLink sku="13410-255-xs" title=""]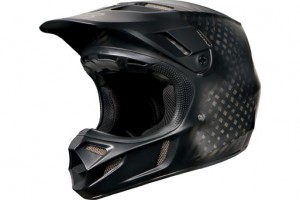 [/mageProductLink] [mageProductLink sku="13410-255-xs" title="Fox Racing V4 Matte Carbon Helmet"]Fox Racing V4 Matte Carbon Helmet[/mageProductLink][/caption]

At the height of this research is the V4 helmet. Made with a carbon-fiber shell and dual-layer EPS liner, the full-face helmet provides what Fox Racing refers to as "total coverage." Riders are given peace of mind knowing they are protecting their head with the V4 Racing Helmet, while looking great doing it. With such an innovative design, it begs the question: How did Fox Racing get so good at designing helmets.

"Through the guidance and feedback of Fox's championship-winning athletes, the company continues to lead the charge by utilizing the best technology and design talent available to enhance and optimize the quality, comfort and performance of all of its products," reads the website. "It is through lessons learned through relationships with the best athletes in the world that Fox will continue to create and offer the finest lines of apparel and clothing available today."

Other Features
[caption id="attachment_33565" align="alignright" width="300"][mageProductLink sku="12236-001-xs" title=""]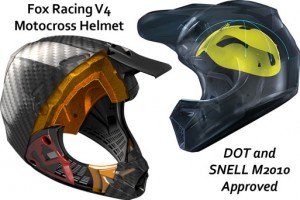 [/mageProductLink] Fox Racing V4 Helmet - MIPS Cutaway[/caption]

In addition to a lightweight construction with a carbon-fiber design, every aspect of the V4 Helmet was meticulously crafted.

This product features unmatched airflow, with 16 intake scoops and eight exhaust. Not only will its lighter carbon-fiber design keep a rider cooler, but so will this thoughtful ventilation. The inside of the helmet is made from Dri Lex Comfort liner, which does a great job wicking any moisture away.

In addition to all this ventilation and comfort, all Fox Racing V4 motocross helmets come with the MIPS protection system. Now you can be confident that not only will your helmet keep you looking and feeling cool, but it will stand up and protect you from the rigors of riding all-out.

Fox Racing notes that the V4 helmet exceeds Snell 2010 and DOT standards. In addition, this product is available for just about any sized rider. Featuring four shell and EPS sizes, this helmet will be a perfect fit for riders of all ages.

Fox Racing V4 MIPS Helmet Video
http://www.youtube.com/watch?v=KV-e66uJqq4