Hormel Motorcycle To Cross Country Running On Bacon Grease
Chaparral Motorsports
|
August 18, 2014
[caption id="attachment_33320" align="alignright" width="300"]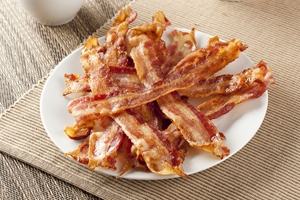 Bacon bike runs on grease.[/caption]

You might be familiar with the phrase, 'bacon makes everything better,' but does that really apply to motorcycles? Sure, it's great on a BLT or as an accompaniment with some eggs, but motorcycles? According to Hormel, absolutely.

Imagine cooking your breakfast and using the grease to then power your vehicle? Well, imagine no more.

The Minnesota-based food company recently announced that it has built a motorcycle that runs entirely on bacon grease. Hormel designed the bike as a part of a marketing campaign for the International Bacon Film Festival in San Diego. According to event organizers, a team of 12 individuals will travel from Austin, Minnesota, to San Diego, with a sole rider, who will be on the bacon bike. The team will film their excursion and debut the project, known as 'Driven by Bacon,' at the film festival.

"We are working with a bacon lover who's going to be riding the bike starting a cross country trip where we'll be going from Austin, Minnesota to San Diego, California," brand manager for Hormel Black Label Bacon Nick Schweitzer, told ABC affiliate KAAL-TV.

Schweitzer added that the fuel contains no hazardous waste material, so it's safe for the environment.

The Bike
The motorcycle that runs on bacon grease is a feat of engineering. The bike is a customized EVA Track T800CDI diesel-powered motorcycle. The grease costs approximately $3.50 a gallon. However, the bike gets between 75 and 100 miles to the gallon. And best of all, the fumes from the exhaust smell like bacon.

"We actually had the grease from our Rochelle, Illinois, plant so it is all 100 percent Black Label," Schweitzer told the news source.

Even if there were a tanker spill in the ocean, the bacon grease would be a tasty, harmless food for fish, project organizers added.