2014 AMA Pro Motocross Indiana Race Results
Chaparral Motorsports
|
August 18, 2014
Jeremy Martin Secures First Career 250MX Title At Indiana
[caption id="attachment_33345" align="alignright" width="300"]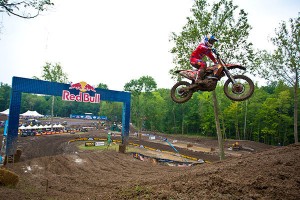 Ken Roczen - Photo: Matt Rice[/caption]

The 2014 Lucas Oil Pro Motocross Championship, sanctioned by AMA Pro Racing, entered the penultimate round of its 12-race championship series on Saturday with the inaugural running of the Thor Indiana National from Crawfordsville, Indiana. In what could be considered the most unpredictable conditions of the season, Saturday's racing action came away with very little surprises, including the crowning of the first National Champion of 2014 with Yamalube/Star Racing/Yamaha's Jeremy Martin clinching the 250 Class title one round early. In the 450 Class, Red Bull KTM's Ken Roczen emerged victorious with a 1-2 performance to further extend his points lead over teammate Ryan Dungey as the series heads into the final round next week.

With natural rolling hills and a flowing layout, the brand new Ironman Raceway track was quickly deemed one of the most favorable tracks on the Lucas Oil Pro Motocross circuit, that is until the rain began to fall Saturday morning. Track conditions went from being perfect, to less than ideal, in just a matter of hours.

Roczen put himself into a favorable position right away by grabbing the MotoSport.com Holeshot Award in the first 450 Class moto. Team Honda Muscle Milk's Trey Canard tucked in behind Roczen off the start, where he kept himself within striking distance early in the moto.

Dungey experienced an issue off the start that caused him to get hung up just before the first turn, where he began around fifth on the opening lap. Roczen capitalized on the clear track ahead, especially with the muddy track conditions in the first moto, and put a gap on Canard and the rest of the field. However, Dungey was bound and determined to close the gap on his teammate early on and the Minnesota native eventually charged past Canard, who went down on the third lap, to take over second.

[caption id="attachment_33343" align="alignleft" width="300"]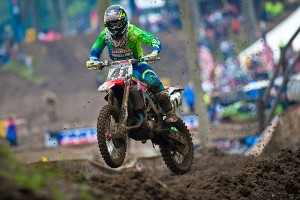 Trey Canard - Photo: Matt Rice[/caption]

Dungey maintained second place in Moto 1, with Canard finishing in third. GEICO Honda's Eli Tomac, who claimed the Oakley Bomb Fastest Qualifier Award, made a late pass on Monster Energy Kawasaki's Brett Metcalfe to capture fourth. Metcalfe rounded out the top five, with BTO Sports/KTM's Matt Goerke behind him in sixth.

In Moto Two, Team Honda Muscle Milk's Trey Canard grabbed the MotoSport.com Holeshot and pulled away from the rest of the field to earn his second win in the last three motos. Roczen jumped into the second place position on the opening lap, but the 450 Class points leader wasn't able to match the pace of a hard-charging Canard.

Rockstar Energy Racing/KTM's Ryan Sipes put himself into podium contention early on with a top-three holeshot in the second moto. Despite a crash late in the race, Sipes was able to tap into his newfound cross-country skills to maintain a solid and consistent pace. BTO Sports/KTM's Andrew Short maintained a top five running throughout the entire moto, engaging in battle with Sipes for the final podium position. In the end, Sipes prevailed to capture third in the moto, with Short in fourth and Toyota/JGRMX/Yamaha's Josh Grant rounding out the top five.

Dungey once again suffered from a bad start in the second moto, checking in just outside the top ten on the opening lap. The Red Bull KTM rider wasn't able to make up much ground, finishing a disappointing ninth place in the second moto. Dungey's 2-9 moto scores were good enough to capture third overall for the day, where he lost thirteen points in the championship standings.

[caption id="attachment_33342" align="alignright" width="300"]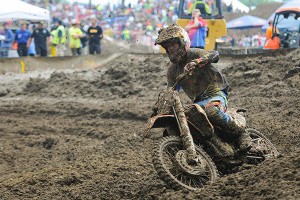 Ryan Dungey - Photo: Amy Schaaf[/caption]

"The second moto, that's where the downfall was," Dungey said. "It was tough in those conditions to come from behind, but no excuses though. I just got caught up in a little bit of mud, which isn't ideal at this point in the championship. I lost some points but I'm taking it race by race and all I can do is the best I can every time the gate drops."

Canard's Moto 2 victory marks his second win in the last three motos, as well as the his second career moto win in the 450 Class. Canard's 3-1 moto scores earned the Oklahoma native second overall for the day, just three points away from his first overall win.

"I'm definitely more comfortable these last two weeks," Canard said. "Obviously last week helped but in general I've just had more fun at the races the last two weeks."

Roczen's win helped the German rookie extend the 450 Class points lead over Dungey, bringing his championship lead to twenty points with one round to go.

[caption id="attachment_33327" align="alignleft" width="300"]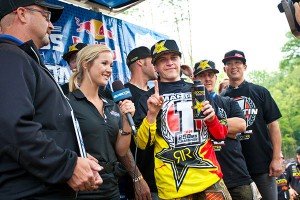 Jeremy Martin - Photo: Matt Rice[/caption]

"I really enjoy when it rains, it takes the edge off because most of the races it's sunny and everyone is going for it," Roczen said. "I think the track was overall super cool, like the layout and the entire venue. I think if it would have been dry this could be my new favorite track."

Canard sits third in the championship standings, 76 points behind, with Monster Energy Kawasaki's Brett Metcalfe fourth (-190) and Tomac jumping up all the way to fifth (-213) despite missing the first four rounds of the season with injury.

Heading into moto one, Yamalube/Star Racing Yamaha's Jeremy Martin needed only nine points to claim his first career 250 Class Championship. The Minnesota native got off to a good start in the first moto and carried his momentum to a second place finish, which is good enough to clinch the title one round early.

"To be able to have the number one plate, I've been thinking of how good it would feel to hear Kevin [Crowther] from the AMA to be passing on the number one plate to me and this is the greatest moment of my life," Martin said after receiving the AMA #1 Plate and his first 250 Class title.

[caption id="attachment_33334" align="alignright" width="300"]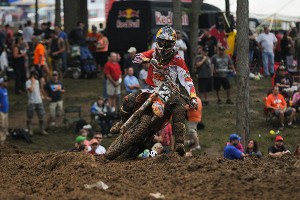 Marvin Musquin - Photo: Amy Schaaf[/caption]

TLD/Lucas Oil/Honda's Jessy Nelson had a breakout ride in the first moto of the 250 Class, beginning with a commanding MotoSport.com Holeshot. With Martin close in tow, Nelson set a blistering pace out front early on. The KTM trio of Joey Savatgy (Rockstar Energy Racing/KTM), Marvin Musquin (Red Bull KTM) and Jason Anderson (Rockstar Energy KTM) filled out the top five early on.

Nelson eventually stretched his lead to over seven seconds by the end of the moto en route to his first career moto win. Martin captured second to claim his first career title, with Musquin, Savatgy and Anderson rounding out the top five.

Nelson grabbed the MotoSport.com Holeshot once again in Moto 2 but unlike the first moto, the young gun wasn't able to maintain the lead for too long. Rockstar Energy Racing KTM duo Joey Savatgy and Jason Anderson got off to a good start - with Savatgy holding the lead for a few laps after passing Nelson - but the Frenchmen Marvin Musquin and Christophe Pourcel came quickly charging.

It wasn't long before Musquin made his way past Savatgy and into the lead, with Valli Motorsports Yamaha's Pourcel close behind. Pourcel kept the pressure on Musquin for the lead but the Red Bull KTM rider held on to secure the win, with Pourcel in second and Savatgy rounding out the podium.

[caption id="attachment_33331" align="alignleft" width="300"]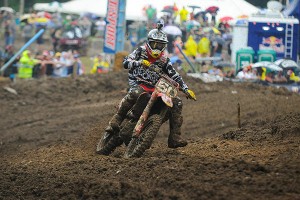 Jessy Nelson - Photo: Amy Schaaf[/caption]

Nelson continued to fall back, eventually finishing eighth in the second moto, giving the California native third overall for the day with 1-8 moto scores. Savatgy put forth a consistent ride with 4-3 moto scores and second overall for the day.

Jeremy Martin left the inaugural Indiana National with his first ever 250 Class Championship in hand, while also scoring Yamaha its first 250 Class Championship since Jeff Emig's title in 1992. However, it was Musquin who secured the overall win with moto scores of 3-1, despite a muddy day of racing in Indiana.

"I think my technique worked pretty good today," Musquin said. "I've been in the U.S. for a couple years now and I've never really raced in the mud here. I was just trying to be smooth and smart but when you're on the track it's so easy to make a mistake, it's tough but that's part of the racing."

The 2014 Lucas Oil Pro Motocross Championship concludes next Saturday, August 23, with the 12th and final round of the season at the second annual Utah National. Action for the Utah National begins at 3 p.m. ET.

2014 AMA Pro Motocross Indiana Highlights
http://www.youtube.com/watch?v=GJsvwwECA6E

Source: Pro Motocross

Ken Roczen Wins Ironman Motocross National And Retains Red Plate
[caption id="attachment_33344" align="alignright" width="300"]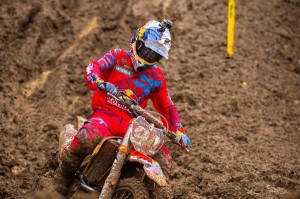 Ken Roczen - Photo: Simon Cudby[/caption]

Red Bull KTM Factory rider Ken Roczen took the overall win at the first-ever Lucas Oil Pro Championship Motocross race held at the Ironman race course, the eleventh stop of the 450MX Championship. His teammate, and biggest competitor, Ryan Dungey took 3rd overall for the day allowing Roczen to extend his championship point lead.

The Ironman course was greeted with heavy rain for the morning practice sessions which resulted in varied lap times for all riders. Ken Roczen managed to turn the 3rd fastest time of the morning while Ryan Dungey had the 12th fastest qualifying time.

On his KTM 450 SX-F Roczen selected a solid gate and pulled a large holeshot in the first moto. Dungey had a decent jump but was pushed off the track and re-entered in 15th position. By the end of the first lap Dungey had moved into 9th place and continued to pick off riders. On lap three Dungey was already up to 3rd position approximately 15 seconds behind Trey Canard. A few laps later, Dungey was able to move into the runner-up position and began trying to catch Roczen.

The German rider knew he needed to take a win at this race to strengthen his lead and he continued to charge out front not allowing Dungey to gain time. When the checkered flag flew, Roczen captured the moto win with a 17 second lead over Dungey.

[caption id="attachment_33340" align="alignleft" width="300"]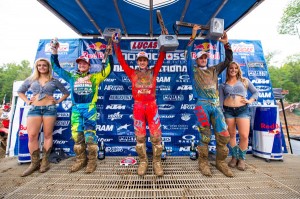 450MX Podium - Photo: Simon Cudby[/caption]

"It feels great to get a win here," stated Roczen on the podium. "I thought this track looked really good when it was dry but it was also a lot of fun wet. This might be my new favorite track."

In the second moto Roczen earned another great start and came around 2nd behind Canard. Dungey encountered issues off the start once more and was 17th around the first few corners. A few struggles throughout the moto caused Dungey to discard his goggles in the beginning of the race which caused a problem later as he moved through the pack with poor vision. Dungey was able to climb back to 9th by the moto end while Roczen rode a mistake-free race to finish 2nd. Dungey's 2-9 finish earned him 3rd overall for the day while Roczen's results gave him the overall win and extended his point lead heading to the final round.

"I'm really happy to gain some points toward the championship today," said Roczen. "I haven't lost the red plate since the second race of the series and I don't plan on losing it now."

Next Round: August 23, 2014 - Tooele, UT

Source: KTM North America

Marvin Musquin Takes Victory At Ironman Motocross National
[caption id="attachment_33333" align="alignright" width="300"]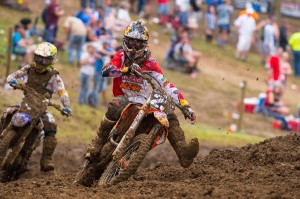 Marvin Musquin - Photo: Simon Cudby[/caption]

Red Bull KTM Factory rider Marvin Musquin earned the overall win at the Ironman Motocross National, the eleventh round of the Lucas Oil Pro Motocross 250MX Championship Series.

Despite getting stuck in a large mud hole in the morning practice session, Marvin Musquin held a positive attitude and was looking forward to the first mud race of the season. "The mud definitely makes the course challenging but it is very exciting too," stated Musquin before the first moto.

From a 15th place gate pick the first moto, Musquin pulled a decent start and was 4th around the first corner. He moved into 3rd a lap later when the rider in that position crashed. Once in podium position he maintained his pace and was able to finish the race in that spot.

[caption id="attachment_33329" align="alignleft" width="300"]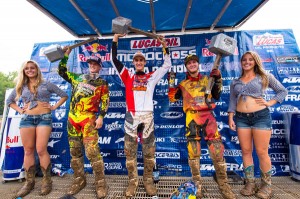 250MX Podium - Photo: Simon Cudby[/caption]

"It was really slick the first moto and the lappers definitely made it challenging," stated Musquin. "I am happy to finish with a podium result and hope the rain holds off for the second moto."

On his KTM 250 SX-F Musquin got his wish and the moto was slightly less wet the second moto where he earned another top five start. He gained a position early on when a rider in front of him went down and then he made a pass on Christophe Pourcel to move into 3rd place. Soon Musquin, Pourcel and the 2nd place Rockstar KTM ride of Joey Savatgy began to pressure Jessy Nelson for the lead. They each eventually moved around Nelson maintaining a tight battle for the overall win. It was not until two laps remained that Musquin was able to make a pass on Savatgy to take the lead. Pourcel did not back down and challenged Musquin the entire last lap. The two French riders were within a bike length of each other when Musquin crossed the finish line to take the win.

Musquin's 3-1 finishes earned him the overall for the day and a place in the record books as the first 250MX rider to win at the first-ever Ironman Motocross National.

Next Round: August 23, 2014 - Tooele, UT

Source: KTM North America

Joey Savatgy And Ryan Sipes Weather The Indiana Storm
[caption id="attachment_33332" align="alignright" width="300"]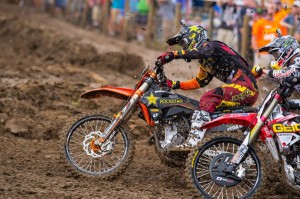 Joey Savatgy - Photo: Simon Cudby[/caption]

Rockstar Energy Racing headed to Indiana for round 11 of the pro motocross series and the first ever stop at Ironman Raceway. The general consensus around the pits was the track was great as well as the facility itself and general aesthetic appearance. Some could even be heard saying that it might be their favorite national track. Then mother nature stepped in. Early Saturday morning the heavens opened up, unleashing a torrential downpour that would last into practice and create a complete quagmire. Bikes were getting stuck in mud so deep that they could not be pulled from the depths without the aid of equipment. The team handled the extreme conditions with exemplary breakout out performances in both classes.

Joey Savatgy has really been finding his speed as of late with top 10 finishes in six consecutive motos coming in to Indiana. Coupling his speed and consistency with good starts, he set his sights on a higher goal of getting into the top 5. After a very water soaked first practice where Joey barely got any time on the track, his second time out was a complete debacle. Before he even got a lap in, he found himself amongst a crowd of bikes that we're completely sunk. Savatgy was unable to record a time at all. The worst part is the track was much faster in the latter practice. If that wasn't bad enough, with almost no track time, he was quite unsure of the layout of the circuit at all.

In moto one Joey rocketed out of the gate with what appeared to be a sure holeshot. Then the very unpredictable start straight slowed his momentum as his line got deeper and deeper. He was still able to get a decent start and rode what was then the best moto of his career. That was until moto 2. The young rider started very near the front and had some heat behind him. At about the halfway point he moved into the lead and held it almost until the 2 lap card came out when he succumbed to Marvin Musquin. Had Savatgy been able to hold him off, it would have meant an overall victory. However; 2nd place is nothing to be upset about and can definitely be considered and extraordinary performance.

Joey Savatgy:
"It was really cool! Both motos I had good starts. The first moto I should have had the holeshot but I just got caught up in some mud and got squeaked out. Overall it was good. Both motos were solid. I went out for first practice and had one fast lap and two laps total but I qualified 8th. I went out for second practice and didn't do any laps cause I got stuck and ended up qualifying 17th overall. Racing was good though. I knew with the mud, starts were going to be really important. I've been working on the mental side of things knowing that I need to believe in myself again in order to get back up on the box like I did today. I need to know that I can run with those guys. 4-3 on the day for 2nd overall. I will take that."
[caption id="attachment_33326" align="alignleft" width="300"]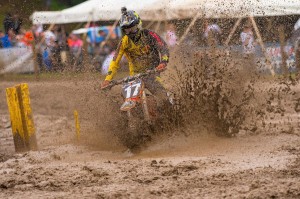 Jason Anderson - Photo: Simon Cudby[/caption]

Jason Anderson's practice went much better than Savatgy's as he was able to actually complete several laps and earn a much higher qualifying position. He was also able to put two good starts together and by the end of moto 1, he finished just behind his teammate for a solid 5th place position. The second moto started even better but quickly went downhill as he was railing an outside line in a berm and his front wheel simply plunged into the muck bringing him to a complete stop.

The incident happened so early in the race that he was passed by the majority of the field. Anderson was then not only forced to deal with the mud, but also the erratic riding of the others in front of him also negotiating the slick surface. In an attempt to move forward, Jason went down several times. After all was said and done though, somehow he miraculously still finished inside the top 10.

Jason Anderson:
"Today was really tough. I had a lot of fun riding in the mud but things just didn't go my way. My starts were pretty good in both motos but I just made mistakes. In the second moto I was near the lead and then got my front tire stuck in a mud hole. I made a few more errors as the race progressed but still managed to get 10th in that moto. Next weekend is my last ever race on a 250 so I want to go out on a really positive note."
[caption id="attachment_33338" align="alignright" width="300"]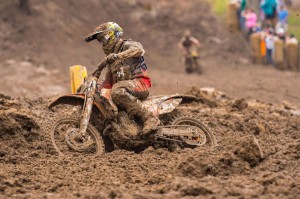 Ryan Sipes - Photo: Simon Cudby[/caption]

Much like Joey, Ryan Sipes had a career day. He has been contending the GNCC series for much of the year and has seen his fare share of mud, ruts and adverse conditions in the process. Everyone knew that he was one of the most prepared riders on the track when it comes to riding in an outright mess. He did not disappoint the local fans as Ryan hails from nearby Flaherty, KY, just a short 3 and half hour drive away.

In the first moto, he was running in an impressive 4th place when the thick, sticky mud clogged his goggles and he couldn't see. He tried to wipe them off with his hand and went down in the next corner in the process. He strived to pick his bike up and it took a considerable amount of time. To make matters worse he was also forced to enter the mechanics area for another set goggles. He was able to make his way all the way back to 10th by race's end. By this result, it was clear that Sipes had potential to run near the front in moto 2.

As the pack exited the first turn, he once again successfully put himself in a good position. He executed the tough terrain for the entire 30 minutes plus two laps to an incredible 3rd place finish. With the way the math worked out, his two results were good enough to garner him 4th overall just one spot off the podium.

Ryan Sipes:
"It was a good weekend. The track was a muddy mess but I had fun! The first moto I went down and had to get backup goggles but I still felt that I rode good and I knew that I could be up there if I got another good start. I did that and made some passes at the beginning. I took one big digger out there but I was still able to pull off a 3rd. 10-3 for 4th overall, I'm not mad at that."
With only one round remaining in the 2014 season, the squad will head to Tooele, Utah, just a short distance outside of Salt Lake City. Savatgy will come in with a new found confidence and try to repeat his stellar achievement. Anderson will be finishing out his 250 class career before moving up to the premiere 450 class and will be looking for a win. Sipes will shoot for another top 5 and then will be heading back to the woods to contest the four remaining rounds of the GNCC series.

Source: Rockstar Energy

Troy Lee Designs Score First National Motocross Win in Indiana Mud
[caption id="attachment_33330" align="alignright" width="300"]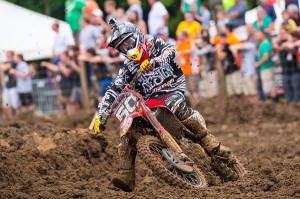 Jessy Nelson - Photo: Simon Cudby[/caption]

As if the playing field wasn't leveled enough at the brand new motocross facility in Crawfordsville, Indiana, the skies opened up before the first practice and turned a pristine course into a soupy mess. Mud is the great equalizer and as riders sloshed their way to the gate for the opening moto, it was anyone's guess who would win.

TLD's Jessy Nelson has been staying down in Florida, committed to improving his craft and riding with the best in the business. You might not think that a guy from Northern California would be an amazing mud rider, but when Jessy flew around the first turn in the lead, he looked very comfortable. He opened a gap up quickly and shades of Colorado sprung to mind. Could he hang on or would he falter and give up the lead? Nelson wasn't about to let this one slip away and splashed his way to his, and the team's, first ever Lucas Oil Pro Motocross win.

Behind him, his teammates were doing their best to fight through the muck. Cole Seely didn't get the best start and he worsened his situation by crashing on the first lap. Cole put in an awesome ride to come from nearly last to finish tenth in the moto. Shane McElrath just couldn't get off the line, and while a start is always important, it is exponentially more critical in the mud. McElrath posted a fifteenth in the first moto.

Moto two had everyone wondering if Nelson's first moto run was a fluke, and a second moto holeshot would prove that it wasn't. Nelson put his head down and started taking off once again, leading the race for the first twenty minutes. This time, however, Jessy hit a snag and washed out in a turn. He was up quickly but the pack was on him. While he fought to stay in the front, he would crash again and drop all the way to eighth at the finish. Despite the hiccups in the second moto, his 1-8 scores would earn him his first podium finish with third overall.

[caption id="attachment_33324" align="alignleft" width="300"]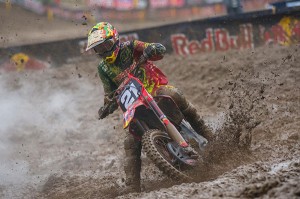 Cole Seely - Photo: Simon Cudby[/caption]

Seely had a good start in the second moto and was in a good position when he tangled with another rider and went down on the backside of a blind jump. For safety purposes he was forced to wait for the entire field to pass before returning to his bike. He made a great charge through the pack again to finish thirteenth for twelfth overall. Shane started slowly once again but put in solid laps for eleventh in the moto and thirteenth overall.

The Troy Lee Designs / Lucas Oil / MAVTV / Honda team would like to congratulate Jessy Nelson on a career best performance and encourage him to continue the trend at the series finale in Utah next weekend. In the meantime, the crew will spend the next several days washing mud from every nook and cranny on their bikes, equipment and person. If you happen to be within driving distance to Salt Lake City, make plans to get yourself to the final national motocross of the year next Saturday and watch the TLD squad lay it all on the line one more time in 2014.

TLD would like to thank all of our team sponsors: Lucas Oil, American Honda, PPG, Red Bull, Adidas, Oakley, Seaspan, Fender®, Pro Tork, MavTV, Method Race Wheels, GoPro, Fasthouse, Pixelmags, Horizon Hobby, FMF Racing, Dunlop, VP Racing Fuels, Showa, Alpinestars, ODI, Pacific Collision Centers, New Era, Specialized, Sram, Renthal, Twin Air, Braking, McQueen Racing, Cyrca, Sol Republic, Hinson, Shock Doctor, ARC, Carillo, Sports Care Center, Samco, Xtrig, VQ Orthocare, Vortex, Kryptonight, Kasey Kahne, Dirt Star, Moto Tassinari, DID, Dirt Star, N-Style.

The TLD riders wore the 2015 GP Air Galaxy Black/Yellow gear and 2015 GP Ouija Black gear at Indiana MX. See more of these gear sets and the 2015 Moto Helmets online and at your local TLD retailer.

Source: Troy Lee Designs

Monster Energy Kawasaki Looks To Clean Up Following Muddy Indiana National
[caption id="attachment_33335" align="alignright" width="300"]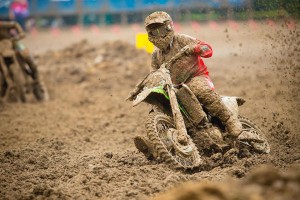 Brett Metcalfe[/caption]

The penultimate round of the Lucas Oil Motocross Championships saw challenging conditions as a deluge of rain hit the track Saturday morning making for a muddy mess for both motos and both classes. Monster Energy/Pro Circuit/Kawasaki's Dean Wilson went 8-6 for sixth overall while Blake Baggett put in an impressive ride in the second moto, finishing just off the podium with a 14-4 finish for tenth overall. In only his second professional race Chris Alldredge finished 16-12 for 14th overall. In the450MX class Monster Energy Kawasaki's Brett Metcalfe got a good start in the first moto and finished fifth and in the second moto he got another good start but a late fall saw him finish 13th for 12th overall. Jake Weimer found trouble in both motos and finished 37th overall. TwoTwo Motorsports Kawasaki rider Chad Reed had his best finish of the season with sixth overall.

[caption id="attachment_33325" align="alignleft" width="300"]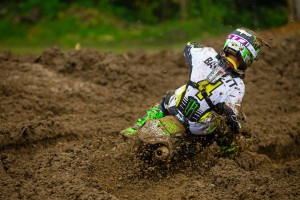 Blake Baggett[/caption]

Racing To The Finish
In the first moto, Baggett was in position to make one of his patented moves through the field before the conditions took him down. In the second moto Baggett made his usual charge finishing strong and nearly grabbing a podium finish.

"Today was difficult out on the track," said Baggett. "The track was really slick underneath the mud. So I was riding from spots with traction while trying to stay up. I was riding hard and pushing to the checkered flag. I wasn't sure what position I was in, I knew I wanted to pass as many people as I could before the finish."

[caption id="attachment_33328" align="alignright" width="300"]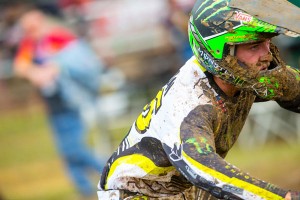 Dean Wilson[/caption]

Solid Day
With the challenging conditions, Wilson put in a solid day of riding to finish sixth overall. In both motos, the Scotsman was able to get a mid-pack start and rode strong to get to the finish line. With all of the mud and slop on the tight track it was tough to set up a pass, but Wilson was able to slowly move forward and salvage the top-10 finish.

"It was really difficult out there today," said Wilson. "I went out to the track on Friday to see it for the first time and it was mint. I wish we could have raced without all of the mud, but it was the same track for everyone. I have one more race to get back on the top of the podium and that is where I want to be at Utah."

[caption id="attachment_33322" align="alignleft" width="300"]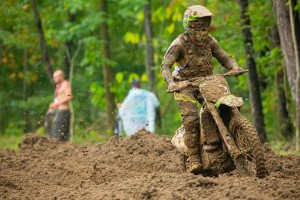 Chris Alldredge[/caption]

Learning Curve
Mother Nature threw her best at all of the riders, including Alldredge, and the rookie showed he was up for the task. As a Pacific Northwest native, Alldredge knows a thing or two about muddy conditions, but the heavy amount of rain in such a short period on Saturday morning put even him behind the eight ball. After good starts in both motos, Alldredge starting working his way forward, but small mistakes turned into costly penalties and he wasn't able to get the finishes he was looking for.

"It is great to be a part of the Monster Energy/Pro Circuit/Kawasaki team," said Alldredge. "These guys work very hard to make sure the bike is perfect for me and I wish I could have gotten better results this weekend. These weren't the most difficult conditions I've ever raced in, but when you add in the depth of talent out here it was definitely very hard. I'm ready to get to Utah next week and challenge for a podium."

[caption id="attachment_33336" align="alignright" width="300"]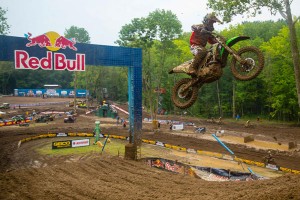 Brett Metcalfe[/caption]

On The Cusp
In the 450MX class, Metcalfe was looking strong for a podium finish in both motos before late race problems saw him fall back. In the first moto, Metty was able to hold strong and get a top-five finish as the track was at its most difficult. In the second moto, he was part of a pack of riders all battling for position when he had a small bobble that sent him to the ground.He was able to get up and push forward but could only get to 14thplace.

"That may have been the gnarliest track I've ever raced on,"said Metcalfe. "I think if the conditions would have been better it could have been a pretty good race and a great track. It looked like there was a lot off low, but with all of the mud we were just searching for traction anywhere we could find it."

Finale
Next Saturday, the Lucas Oil Pro Motocross Championship closes out its season at Miller Motorsports Park. After it's debut last season, the Utah round is one the riders have been looking forward to since the start of the season.

Source: Kawasaki Racing

Indiana Overview And Point Standings
2014 AMA Pro Motocross Indiana Image Gallery (Click for full size images)


450MX Class Moto 1 Results - Race Time: 36:31.539














































































































































































































































































































































| Pos. | # | Rider | Bike | Interval | Best Time |
| --- | --- | --- | --- | --- | --- |
| 1 | 94 | Ken Roczen | KTM 450 SX-F Factory Edition | 12 Laps | 2:56.005 |
| 2 | 5 | Ryan Dungey | KTM 450 SX-F Factory Edition | +47.657 | 2:58.966 |
| 3 | 41 | Trey Canard | Honda CRF450R | +51.133 | 2:58.731 |
| 4 | 3 | Eli Tomac | Honda CRF450R | +1:07.987 | 3:00.575 |
| 5 | 24 | Brett Metcalfe | Kawasaki KX450F | +1:58.027 | 3:03.965 |
| 6 | 44 | Matthew Goerke | KTM 450 SX-F Factory Edition | +2:08.931 | 3:07.287 |
| 7 | 22 | Chad Reed | Kawasaki KX450F | +2:23.722 | 3:00.857 |
| 8 | 29 | Andrew Short | KTM 450 SX-F Factory Edition | +2:53.430 | 3:11.923 |
| 9 | 80 | Fredrik Noren | Honda CRF450R | +3:09.977 | 3:06.885 |
| 10 | 39 | Ryan Sipes | KTM 450 SX-F | 11 Laps | 3:09.712 |
| 11 | 40 | Weston Peick | Suzuki RM-Z450 | +18.731 | 3:06.679 |
| 12 | 33 | Josh Grant | Yamaha YZ450F | +23.007 | 3:09.811 |
| 13 | 48 | Ben Lamay | Yamaha YZ450F | +24.794 | 3:16.481 |
| 14 | 224 | Heath Harrison | Kawasaki KX450F | +26.074 | 3:14.560 |
| 15 | 92 | Kellian Rusk | Yamaha YZ450F | +1:02.095 | 3:15.248 |
| 16 | 219 | Shane Sewell | KTM 450 SX-F | +1:26.270 | 3:21.784 |
| 17 | 131 | Noah McConahy | Honda CRF450R | +1:47.008 | 3:18.016 |
| 18 | 606 | Ronnie Stewart | Suzuki RM-Z450 | +1:56.767 | 3:24.588 |
| 19 | 570 | Cody Van Buskirk | KTM 450 SX-F | +2:18.314 | 3:25.918 |
| 20 | 693 | Tucker Saye | Suzuki RM-Z450 | +2:47.878 | 3:25.512 |
| 21 | 526 | Colton Aeck | Suzuki RM-Z450 | 10 Laps | 3:22.333 |
| 22 | 196 | Trevor Whitmarsh | Yamaha YZ450F | +32.309 | 3:32.491 |
| 23 | 546 | Tylor Skodras | Honda CRF450R | +1:14.396 | 3:31.425 |
| 24 | 193 | Chris Proscelle | Honda CRF450R | +1:32.307 | 3:25.069 |
| 25 | 749 | Gavin Kadlec | KTM 450 SX-F Factory Edition | +2:10.074 | 3:46.519 |
| 26 | 993 | Austin Wagner | Honda CRF450R | 9 Laps | 3:13.148 |
| 27 | 847 | Jacob Blomfield | KTM 450 SX-F | +3:09.671 | 3:35.824 |
| 28 | 531 | Todd Krieg | KTM 450 SX-F | +5:27.053 | 3:26.541 |
| 29 | 796 | Michael Bidus | Suzuki RM-Z450 | +8:30.455 | 3:36.163 |
| 30 | 62 | Mitchell Oldenburg | Honda CRF450R | 8 Laps | 3:04.857 |
| 31 | 77 | Jimmy Albertson | KTM 450 SX-F | +2:27.898 | 3:20.374 |
| 32 | 844 | Dylan Narel | Suzuki RM-Z450 | +14:31.442 | 3:38.983 |
| 33 | 314 | Alex Ray | Honda CRF450R | 6 Laps | 3:39.768 |
| 34 | 285 | Tony Archer | Kawasaki KX450F | 5 Laps | 3:23.936 |
| 35 | 12 | Jacob Weimer | Kawasaki KX450F | 4 Laps | 3:16.426 |
| 36 | 943 | Nate Kohnke | Honda CRF450R | +5:09.850 | 4:17.841 |
| 37 | 918 | Michael Akaydin | Honda CRF450R | 2 Laps | 3:56.625 |
| 38 | 861 | Eric Montreuil | Yamaha YZ450F | +03.612 | 3:49.245 |
| 39 | 703 | Justin Rando | Yamaha YZ450F | +27.321 | 3:53.392 |
| 40 | 10 | Justin Brayton | Yamaha YZ450F | DNF | |
450MX Class Moto 2 Results - Race Time: 38:56.132
| Pos. | # | Rider | Bike | Interval | Best Time |
| --- | --- | --- | --- | --- | --- |
| 1 | 41 | Trey Canard | Honda CRF450R | 13 Laps | 2:55.119 |
| 2 | 94 | Ken Roczen | KTM 450 SX-F Factory Edition | +23.750 | 2:58.056 |
| 3 | 39 | Ryan Sipes | KTM 450 SX-F | +34.585 | 2:59.603 |
| 4 | 29 | Andrew Short | KTM 450 SX-F Factory Edition | +45.014 | 3:00.048 |
| 5 | 33 | Josh Grant | Yamaha YZ450F | +58.947 | 3:00.250 |
| 6 | 22 | Chad Reed | Kawasaki KX450F | +1:04.077 | 3:00.081 |
| 7 | 40 | Weston Peick | Suzuki RM-Z450 | +1:13.398 | 3:00.587 |
| 8 | 80 | Fredrik Noren | Honda CRF450R | +1:16.310 | 3:01.144 |
| 9 | 5 | Ryan Dungey | KTM 450 SX-F Factory Edition | +1:30.808 | 3:01.414 |
| 10 | 3 | Eli Tomac | Honda CRF450R | +2:02.745 | 2:57.068 |
| 11 | 44 | Matthew Goerke | KTM 450 SX-F Factory Edition | +2:22.685 | 3:03.369 |
| 12 | 48 | Ben Lamay | Yamaha YZ450F | 12 Laps | 3:14.346 |
| 13 | 24 | Brett Metcalfe | Kawasaki KX450F | +39.032 | 3:01.515 |
| 14 | 92 | Kellian Rusk | Yamaha YZ450F | +43.814 | 3:13.650 |
| 15 | 193 | Chris Proscelle | Honda CRF450R | +1:20.348 | 3:17.347 |
| 16 | 219 | Shane Sewell | KTM 450 SX-F | +1:22.230 | 3:17.441 |
| 17 | 531 | Todd Krieg | KTM 450 SX-F | +2:41.316 | 3:20.785 |
| 18 | 693 | Tucker Saye | Suzuki RM-Z450 | +2:47.965 | 3:20.785 |
| 19 | 606 | Ronnie Stewart | Suzuki RM-Z450 | 11 Laps | 3:14.766 |
| 20 | 224 | Heath Harrison | Kawasaki KX450F | +25.135 | 3:14.702 |
| 21 | 570 | Cody Van Buskirk | KTM 450 SX-F | +2:29.937 | 3:24.236 |
| 22 | 285 | Tony Archer | Kawasaki KX450F | +2:55.152 | 3:25.210 |
| 23 | 526 | Colton Aeck | Suzuki RM-Z450 | +3:22.427 | 3:23.412 |
| 24 | 796 | Michael Bidus | Suzuki RM-Z450 | +4:08.373 | 3:32.671 |
| 25 | 314 | Alex Ray | Honda CRF450R | +4:15.274 | 3:32.625 |
| 26 | 749 | Gavin Kadlec | KTM 450 SX-F Factory Edition | +4:25.338 | 3:27.988 |
| 27 | 943 | Nate Kohnke | Honda CRF450R | +4:29.985 | 3:32.875 |
| 28 | 918 | Michael Akaydin | Honda CRF450R | 10 Laps | 3:42.361 |
| 29 | 993 | Austin Wagner | Honda CRF450R | +1:54.524 | 3:26.924 |
| 30 | 844 | Dylan Narel | Suzuki RM-Z450 | +2:59.208 | 4:00.987 |
| 31 | 861 | Eric Montreuil | Yamaha YZ450F | 7 Laps | 3:43.778 |
| 32 | 546 | Tylor Skodras | Honda CRF450R | +2:12.475 | 3:53.454 |
| 33 | 77 | Jimmy Albertson | KTM 450 SX-F | 5 Laps | 3:15.117 |
| 34 | 196 | Trevor Whitmarsh | Yamaha YZ450F | 4 Laps | 3:34.766 |
| 35 | 131 | Noah McConahy | Honda CRF450R | 3 Laps | 3:18.003 |
| 36 | 847 | Jacob Blomfield | KTM 450 SX-F | +29:15.679 | 4:11.361 |
| 37 | 703 | Justin Rando | Yamaha YZ450F | 2 Laps | 4:08.902 |
| 38 | 12 | Jacob Weimer | Kawasaki KX450F | DNF | |
| 39 | 62 | Mitchell Oldenburg | Honda CRF450R | DNS | |
| 40 | 10 | Justin Brayton | Yamaha YZ450F | DNS | |
Overall Results - 450MX Class
| Pos. | # | Rider | Bike | M1 | M2 | Points |
| --- | --- | --- | --- | --- | --- | --- |
| 1 | 94 | Ken Roczen | KTM 450 SX-F Factory Edition | 1 | 2 | 47 |
| 2 | 41 | Trey Canard | Honda CRF450R | 3 | 1 | 45 |
| 3 | 5 | Ryan Dungey | KTM 450 SX-F Factory Edition | 2 | 9 | 34 |
| 4 | 39 | Ryan Sipes | KTM 450 SX-F | 10 | 3 | 31 |
| 5 | 29 | Andrew Short | KTM 450 SX-F Factory Edition | 8 | 4 | 31 |
| 6 | 22 | Chad Reed | Kawasaki KX450F | 7 | 6 | 29 |
| 7 | 3 | Eli Tomac | Honda CRF450R | 4 | 10 | 29 |
| 8 | 33 | Josh Grant | Yamaha YZ450F | 12 | 5 | 25 |
| 9 | 80 | Fredrik Noren | Honda CRF450R | 9 | 8 | 25 |
| 10 | 44 | Matthew Goerke | KTM 450 SX-F Factory Edition | 6 | 11 | 25 |
| 11 | 40 | Weston Peick | Suzuki RM-Z450 | 11 | 7 | 24 |
| 12 | 24 | Brett Metcalfe | Kawasaki KX450F | 5 | 13 | 24 |
| 13 | 48 | Ben Lamay | Yamaha YZ450F | 13 | 12 | 17 |
| 14 | 92 | Kellian Rusk | Yamaha YZ450F | 15 | 14 | 13 |
| 15 | 219 | Shane Sewell | KTM 450 SX-F | 16 | 16 | 10 |
| 16 | 224 | Heath Harrison | Kawasaki KX450F | 14 | 20 | 8 |
| 17 | 193 | Chris Proscelle | Honda CRF450R | 24 | 15 | 6 |
| 18 | 606 | Ronnie Stewart | Suzuki RM-Z450 | 18 | 19 | 5 |
| 19 | 531 | Todd Krieg | KTM 450 SX-F | 28 | 17 | 4 |
| 20 | 693 | Tucker Saye | Suzuki RM-Z450 | 20 | 18 | 4 |
| 21 | 131 | Noah McConahy | Honda CRF450R | 17 | 35 | 4 |
| 22 | 570 | Cody Van Buskirk | KTM 450 SX-F | 19 | 21 | 2 |
Rider Point Standings - 450MX Class ( Race 22 of 24 )


Ken Roczen - 494

Ryan Dungey - 474

Trey Canard - 418

Brett Metcalfe - 304

Eli Tomac - 281

Andrew Short - 278

Weston Peick - 268

Josh Grant - 243

James Stewart - 226

Chad Reed - 185

Manufacturer Cup Point Standings - 450MX Class ( Race 22 of 24 )


KTM - 524

Honda - 458

Suzuki - 348

Kawasaki - 319

Yamaha - 315

250MX Class Moto 1 Results - Race Time: 36:51.564
| Pos. | # | Rider | Bike | Interval | Best Time |
| --- | --- | --- | --- | --- | --- |
| 1 | 50 | Jessy Nelson | Honda CRF250R | 12 Laps | 2:59.509 |
| 2 | 19 | Jeremy Martin | Yamaha YZ250F | +07.809 | 2:58.569 |
| 3 | 25 | Marvin Musquin | KTM 250 SX-F | +15.268 | 2:59.720 |
| 4 | 43 | Joseph Savatgy | KTM 250 SX-F | +33.903 | 3:02.937 |
| 5 | 17 | Jason Anderson | KTM 250 SX-F | +40.045 | 3:01.083 |
| 6 | 37 | Cooper Webb | Yamaha YZ250F | +58.934 | 3:03.906 |
| 7 | 55 | Alex Martin | Yamaha YZ250F | +1:36.328 | 3:06.486 |
| 8 | 15 | Dean Wilson | Kawasaki KX250F | +1:39.986 | 3:05.719 |
| 9 | 377 | Christophe Pourcel | Yamaha YZ250F | +1:50.314 | 3:04.442 |
| 10 | 21 | Cole Seely | Honda CRF250R | +2:52.702 | 3:08.709 |
| 11 | 425 | Nick Gaines | Kawasaki KX250F | +3:13.524 | 3:13.803 |
| 12 | 32 | Justin Bogle | Honda CRF450R | 11 Laps | 3:10.323 |
| 13 | 142 | Cole Martinez | Kawasaki KX250F | +04.229 | 3:10.666 |
| 14 | 4 | Blake Baggett | Kawasaki KX250F | +06.099 | 3:11.088 |
| 15 | 87 | Shane McElrath | Honda CRF250R | +08.461 | 3:10.252 |
| 16 | 188 | Christopher Alldredge | Kawasaki KX250F | +35.264 | 3:11.863 |
| 17 | 202 | Mike Stender | Honda CRF250R | +41.911 | 3:16.790 |
| 18 | 371 | Dakota Alix | KTM 250 SX-F | +1:16.529 | 3:18.360 |
| 19 | 56 | James Decotis | Honda CRF250R | +1:36.683 | 3:24.172 |
| 20 | 449 | Dakota Kessler | Honda CRF250R | +1:43.025 | 3:22.229 |
| 21 | 30 | Kyle Cunningham | Honda CRF250R | +2:42.275 | 3:20.062 |
| 22 | 83 | Dakota Tedder | Kawasaki KX250F | +3:00.203 | 3:25.261 |
| 23 | 353 | Kody Kamm | Honda CRF250R | +3:23.818 | 3:25.325 |
| 24 | 509 | Alexander Nagy | Suzuki RM-Z250 | 10 Laps | 3:34.298 |
| 25 | 874 | Zack Williams | Honda CRF250R | +35.668 | 3:29.196 |
| 26 | 479 | James Coen | Honda CRF250R | +1:48.239 | 3:35.775 |
| 27 | 71 | Zachary Bell | Honda CRF250R | 9 Laps | 3:02.735 |
| 28 | 343 | Luke Renzland | Yamaha YZ250F | 8 Laps | 3:24.680 |
| 29 | 421 | Vann Martin | Honda CRF250R | +5:00.228 | 3:37.739 |
| 30 | 16 | Zach Osborne | Honda CRF250R | 6 Laps | 3:10.038 |
| 31 | 358 | Warren Nelson | Suzuki RM-Z250 | +3:16.259 | 3:35.786 |
| 32 | 621 | RJ Hampshire | Honda CRF250R | 5 Laps | 3:17.358 |
| 33 | 410 | Jace Owen | Honda CRF250R | +4:24.635 | 3:30.086 |
| 34 | 683 | Brandon Riehm | Kawasaki KX250F | +12:12.893 | 3:44.498 |
| 35 | 826 | Matthew Burkeen | KTM 250 SX-F | 4 Laps | 3:28.102 |
| 36 | 812 | Luke Vonlinger | Honda CRF250R | +5:38.637 | 3:37.575 |
| 37 | 99 | Justin Starling | Honda CRF250R | 3 Laps | 3:37.395 |
| 38 | 253 | John Short | Yamaha YZ250F | +10:53.603 | 3:34.522 |
| 39 | 70 | Brady Kiesel | Honda CRF250R | 2 Laps | 3:30.823 |
| 40 | 78 | Matthew Lemoine | Kawasaki KX250F | DNF | |
250MX Class Moto 2 Results - Race Time: 38:28.842
| Pos. | # | Rider | Bike | Interval | Best Time |
| --- | --- | --- | --- | --- | --- |
| 1 | 25 | Marvin Musquin | KTM 250 SX-F | 13 Laps | 2:56.043 |
| 2 | 377 | Christophe Pourcel | Yamaha YZ250F | +00.606 | 2:53.345 |
| 3 | 43 | Joseph Savatgy | KTM 250 SX-F | +10.024 | 2:56.382 |
| 4 | 4 | Blake Baggett | Kawasaki KX250F | +14.079 | 2:53.023 |
| 5 | 37 | Cooper Webb | Yamaha YZ250F | +39.462 | 2:55.169 |
| 6 | 15 | Dean Wilson | Kawasaki KX250F | +42.535 | 2:56.379 |
| 7 | 55 | Alex Martin | Yamaha YZ250F | +43.855 | 2:55.458 |
| 8 | 50 | Jessy Nelson | Honda CRF250R | +1:44.816 | 2:56.421 |
| 9 | 32 | Justin Bogle | Honda CRF450R | +1:50.733 | 2:59.830 |
| 10 | 17 | Jason Anderson | KTM 250 SX-F | +2:10.071 | 2:55.920 |
| 11 | 87 | Shane McElrath | Honda CRF250R | +2:11.548 | 3:00.357 |
| 12 | 188 | Christopher Alldredge | Kawasaki KX250F | +2:24.629 | 2:59.924 |
| 13 | 21 | Cole Seely | Honda CRF250R | +2:31.493 | 3:02.277 |
| 14 | 71 | Zachary Bell | Honda CRF250R | +2:43.779 | 3:00.069 |
| 15 | 19 | Jeremy Martin | Yamaha YZ250F | +2:56.738 | 2:54.584 |
| 16 | 410 | Jace Owen | Honda CRF250R | 12 Laps | 3:09.698 |
| 17 | 353 | Kody Kamm | Honda CRF250R | +47.909 | 3:11.966 |
| 18 | 874 | Zack Williams | Honda CRF250R | +51.711 | 3:12.939 |
| 19 | 202 | Mike Stender | Honda CRF250R | +1:03.934 | 3:09.875 |
| 20 | 449 | Dakota Kessler | Honda CRF250R | +1:09.146 | 3:12.844 |
| 21 | 812 | Luke Vonlinger | Honda CRF250R | +1:49.266 | 3:18.310 |
| 22 | 479 | James Coen | Honda CRF250R | +2:11.742 | 3:21.583 |
| 23 | 509 | Alexander Nagy | Suzuki RM-Z250 | +2:33.775 | 3:19.355 |
| 24 | 253 | John Short | Yamaha YZ250F | 11 Laps | 3:10.919 |
| 25 | 683 | Brandon Riehm | Kawasaki KX250F | +29.043 | 3:29.347 |
| 26 | 358 | Warren Nelson | Suzuki RM-Z250 | +2:36.564 | 3:29.533 |
| 27 | 421 | Vann Martin | Honda CRF250R | 10 Laps | 3:30.933 |
| 28 | 56 | James Decotis | Honda CRF250R | +05.446 | 3:12.036 |
| 29 | 343 | Luke Renzland | Yamaha YZ250F | 8 Laps | 3:09.126 |
| 30 | 425 | Nick Gaines | Kawasaki KX250F | +11:11.518 | 3:01.888 |
| 31 | 142 | Cole Martinez | Kawasaki KX250F | 7 Laps | 3:06.936 |
| 32 | 99 | Justin Starling | Honda CRF250R | +21.973 | 3:09.050 |
| 33 | 83 | Dakota Tedder | Kawasaki KX250F | +1:42.628 | 3:18.411 |
| 34 | 371 | Dakota Alix | KTM 250 SX-F | +2:04.395 | 3:12.969 |
| 35 | 16 | Zach Osborne | Honda CRF250R | 5 Laps | 3:03.604 |
| 36 | 621 | RJ Hampshire | Honda CRF250R | +26.496 | 3:08.369 |
| 37 | 78 | Matthew Lemoine | Kawasaki KX250F | 2 Laps | 3:30.894 |
| 38 | 70 | Brady Kiesel | Honda CRF250R | +47.765 | 3:55.385 |
| 39 | 30 | Kyle Cunningham | Honda CRF250R | DNS | |
| 40 | 826 | Matthew Burkeen | KTM 250 SX-F | DNS | |
Overall Results - 250MX Class
| Pos. | # | Rider | Bike | M1 | M2 | Points |
| --- | --- | --- | --- | --- | --- | --- |
| 1 | 25 | Marvin Musquin | KTM 250 SX-F | 3 | 1 | 45 |
| 2 | 43 | Joseph Savatgy | KTM 250 SX-F | 4 | 3 | 38 |
| 3 | 50 | Jessy Nelson | Honda CRF250R | 1 | 8 | 38 |
| 4 | 377 | Christophe Pourcel | Yamaha YZ250F | 9 | 2 | 34 |
| 5 | 37 | Cooper Webb | Yamaha YZ250F | 6 | 5 | 31 |
| 6 | 15 | Dean Wilson | Kawasaki KX250F | 8 | 6 | 28 |
| 7 | 55 | Alex Martin | Yamaha YZ250F | 7 | 7 | 28 |
| 8 | 19 | Jeremy Martin | Yamaha YZ250F | 2 | 15 | 28 |
| 9 | 17 | Jason Anderson | KTM 250 SX-F | 5 | 10 | 27 |
| 10 | 4 | Blake Baggett | Kawasaki KX250F | 14 | 4 | 25 |
| 11 | 32 | Justin Bogle | Honda CRF450R | 12 | 9 | 21 |
| 12 | 21 | Cole Seely | Honda CRF250R | 10 | 13 | 19 |
| 13 | 87 | Shane McElrath | Honda CRF250R | 15 | 11 | 16 |
| 14 | 188 | Christopher Alldredge | Kawasaki KX250F | 16 | 12 | 14 |
| 15 | 425 | Nick Gaines | Kawasaki KX250F | 11 | 30 | 10 |
| 16 | 142 | Cole Martinez | Kawasaki KX250F | 13 | 31 | 8 |
| 17 | 71 | Zachary Bell | Honda CRF250R | 27 | 14 | 7 |
| 18 | 202 | Mike Stender | Honda CRF250R | 17 | 19 | 6 |
| 19 | 410 | Jace Owen | Honda CRF250R | 33 | 16 | 5 |
| 20 | 353 | Kody Kamm | Honda CRF250R | 23 | 17 | 4 |
| 21 | 874 | Zack Williams | Honda CRF250R | 25 | 18 | 3 |
| 22 | 371 | Dakota Alix | KTM 250 SX-F | 18 | 34 | 3 |
| 23 | 449 | Dakota Kessler | Honda CRF250R | 20 | 20 | 2 |
| 24 | 56 | James Decotis | Honda CRF250R | 19 | 28 | 2 |
Rider Point Standings - 250MX Class ( Race 22 of 24 )


Jeremy Martin - 450 / 2014 Champion

Blake Baggett - 381

Cooper Webb - 379

Marvin Musquin - 374

Christophe Pourcel - 355

Justin Bogle - 331

Jason Anderson - 270

Cole Seely - 244

Jessy Nelson - 238

Dean Wilson - 204

Manufacturer Cup Point Standings - 250MX Class ( Race 22 of 24 )


Yamaha - 512

Kawasaki - 428

KTM - 421

Honda - 393

Suzuki - 10