2014 AMA Pro Motocross Washougal Race Results
Chaparral Motorsports
|
July 28, 2014
Ryan Dungey Dominates At Washougal, Tightens Championship Fight
[caption id="attachment_33204" align="alignright" width="300"]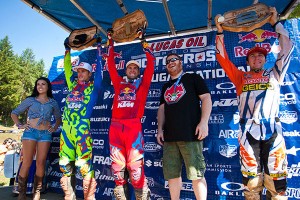 450MX Podium - Photo: Matt Rice[/caption]

The Lucas Oil Pro Motocross Championship, sanctioned by AMA Pro Racing, returned to the west coast on Saturday afternoon with its annual visit to the Pacific Northwest and Washougal MX Park for the Motosport.com Washougal National, presented by Peterson CAT. For the second time in the last three rounds, Red Bull KTM's Ryan Dungey topped the 450 Class, posting his first 1-1 sweep of the season for his third overall victory of 2014 and gaining significant ground in the championship standings. In the 250 Class, Red Bull KTM's Marvin Musquin duplicated the efforts of his premier class teammate, earning the first 1-1 sweep of his career en route to his first win of the season.

Toyota/Yamaha/N-FAB/JGRMX's Justin Brayton was first out of the turn in the opening 450 Class moto, securing the Motosport.com Holeshot Award just ahead of Dungey. The KTM rider wasted little time in making his move on Brayton and took over control of the lead on the opening lap while his closest rivals, Red Bull KTM teammate Ken Roczen and GEICO Honda's Eli Tomac, battled from behind. With a clear track ahead of him, Dungey was able to consistently pull away but the battle behind him proved to be the highlight of the moto.

[caption id="attachment_33200" align="alignleft" width="300"]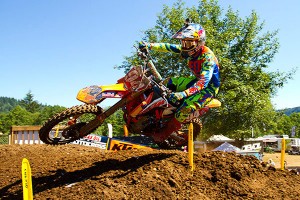 Ken Roczen - Photo: Chris Ortiz[/caption]

Roczen was able to pass Team Honda Muscle Milk's Trey Canard for second on Lap 4 and looked to settle into the position, but Tomac was on a charge through the field following an 11th-place start. The Honda rookie and winner at the previous round methodically moved his way forward and had Roczen in his sights after taking over third on Lap 5. In the ensuing laps Tomac steadily closed the gap on his fellow rookie and after about five laps of pursuit, made the move for the runner-up spot on Lap 10.

Out front, Dungey took the moto win by nearly 14 seconds with Tomac second and Roczen third. Canard followed in fourth while Monster Energy Kawasaki's Brett Metcalfe rounded out the top five.

Brayton once again put himself at the forefront of the field at the start of Moto 2, sweeping the afternoon's Motosport.com Holeshot Awards. Metcalfe and BTO Sports KTM's Andrew Short rounded out the top three off the start, with Dungey in fourth. Tomac slotted in a few spots behind Dungey in about seventh, while Roczen was forced to battle his way from a start outside the top 10.

[caption id="attachment_33199" align="alignright" width="300"]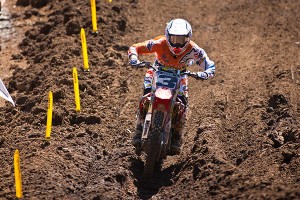 Eli Tomac - Photo: Matt Rice[/caption]

As he did in the first moto, Dungey seized the opportunity on the opening lap and jumped from fourth to first in one corner, immediately pulling away. Tomac wasted little time following Dungey through, moving into the top three, picking off multiple riders to secure second by Lap 2. While the lead duo checked out, Roczen was doing his part by fighting his way into a podium position. While he had to do battle with Metcalfe over the course of several laps for third, Roczen eventually made the pass stick and asserted himself in the final podium spot.

The top three stayed the same through to the finish, with Dungey crossing the line over eight seconds ahead of Tomac. Roczen was a distant third.

"Today was just about coming in and not worrying about the championship. There's a lot of racing left [this season]," said Dungey, who won for the fourth time in five tries in the 450 Class at Washougal. "We just tried to put out our best effort and we did that. We got great starts and Eli [Tomac] kept us honest in that second moto, but I just really tried to put the hammer down and extend the gap. Fortunately we did that. I love it here [at Washougal] and this just feels awesome."

[caption id="attachment_33203" align="alignleft" width="300"]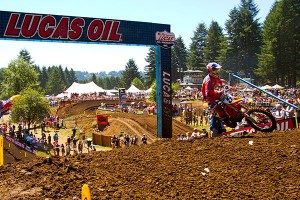 Ryan Dungey - Photo: Chris Ortiz[/caption]

Dungey's win was a landmark one, marking the 30th of his 450 Class career and his 37th combined victory (including the 250 Class) in the Lucas Oil Pro Motocross Championship. Tomac followed in second (2-2) with Roczen completing the podium in third (3-3). Metcalfe posted a season-best finish in fourth (5-4), while Short rounded out the top five (6-5).

"You always want to be up front, but it was another weekend of work for us," said Roczen. "It'll be good to have an off weekend and recharge the batteries. Ryan [Dungey] rode really well today and congrats to him. I'll take some time to regroup and get some rest in. I really want to keep that red plate [as the points leader]. All that matters is who's on top in the end, and we aren't there just yet."

With 10 points in Dungey's favor on Saturday, Roczen's lead in the 450 Class standings now sits at 14 points. Canard sits third, 77 points behind.

[caption id="attachment_33188" align="alignright" width="300"]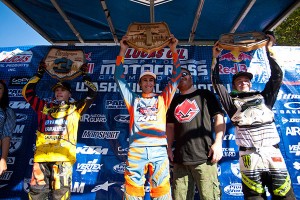 250MX Podium - Photo: Matt Rice[/caption]

In the 250 Class, Valli Motorsports Yamaha's Christophe Pourcel led the field into the first turn in Moto 1, claiming the Motosport.com Holeshot Award ahead of Yamalube/Star Racing Yamaha's Jeremy Martin. The French rider fended off the current championship points leader for a brief period, but Martin soon made his way around and set a solid pace. Behind them, Red Bull KTM's Marvin Musquin took advantage of a third-place start to challenge the two Yamahas ahead of him. He passed his fellow Frenchman Pourcel on Lap 1 and went to work on Martin for three laps before ultimately moving into first. Once out front, Musquin pulled away and was never threatened.

While Musquin established his dominance, the battle behind him turned into a captivating five-rider battle between Pourcel and Martin, in addition to Monster Energy/Pro Circuit/Kawasaki's Blake Baggett, Rockstar Energy Racing's Jason Anderson and Yamalube/Star Racing Yamaha's Cooper Webb. A mistake forced Martin to drop from second to fifth, putting the battle for second between Pourcel and Baggett. Eventually Baggett made the pass on Pourcel, but gave the position back just one lap later.

[caption id="attachment_33180" align="alignleft" width="300"]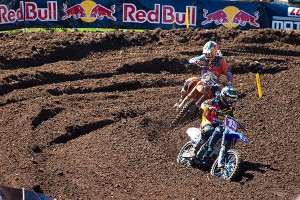 Jeremy Martin & Marvin Musquin - Photo: Matt Rice[/caption]

Anderson began to put pressure on Baggett for third but suffered a big crash and dropped deep into the field. That allowed Webb to assume the position after passing his teammate and soon all four riders were separated by just over a second. As he looked to close in again on Pourcel, Baggett went down and fell to fifth, while the Star Yamaha teammates of Webb and Martin swapped third on multiple occasions.

In the end, Musquin cruised to his first moto win of the season by over eight seconds ahead of Pourcel while a late pass by Webb with two laps to go awarded him third over Martin. Baggett soldiered home to finish fifth.

Pourcel raced to his fourth straight Motosport.com Holeshot Award in the final moto, with GEICO Honda's Justin Bogle on his rear fender. Bogle took advantage of the strong start to pass Pourcel on the opening lap and assume control of the moto. Behind them, Musquin and Baggett also were looking to make the most of their strong starts, while Martin and Webb jockeyed for position deeper in the field.

[caption id="attachment_33177" align="alignright" width="300"]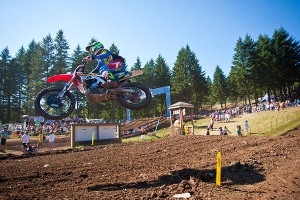 Justin Bogle - Photo: Matt Rice[/caption]

While Bogle maintained a strong pace out front, Musquin made the move on Pourcel for second and set his sights on the lead. Pourcel continued to lose positions and eventually dropped out of contention up front. Bogle was impressive in his defense of the position and was able to keep Musquin at bay for the majority of the moto. However, on Lap 10 the Frenchman made his move and easily pulled away once out front. Bogle then fell into the clutches of Baggett, who rebounded from his misfortune in the opening moto to put himself in podium contention. Baggett methodically wore Bogle down and the Honda rider soon tipped over to put Baggett into second. Bogle quickly recovered to hold on to third, but then had to fight off Martin for the position in the final stages of the moto.

[caption id="attachment_33187" align="alignleft" width="300"]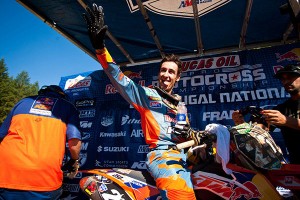 Marvin Musquin - Photo: Matt Rice[/caption]

Musquin maintained his lead on Baggett through to the finish, while Bogle was able to hold on for third. The victory was Musquin's first since the fourth round of the 2013 season and comes off his best finish of the season a week ago. He now has four career wins in the 250 Class.

"I'm so glad, that was a perfect day. I was fastest qualifying and got both moto wins," said Musquin. "It was my first time in American going 1-1 [in motos]. My teammate Ryan [Dungey] went 1-1 and I wanted to join him. I found an outside line that helped me make passes all day and I'm really happy to know I got some good starts and was able to make the passes I needed to get into the lead."

Baggett's runner-up effort in the final moto helped him finish second overall (5-2), while Martin (4-4) edged out his teammate Webb (3-5) for third, needing a tiebreaker to finish on the podium. Bogle completed the top five (7-3).

[caption id="attachment_33179" align="alignright" width="300"]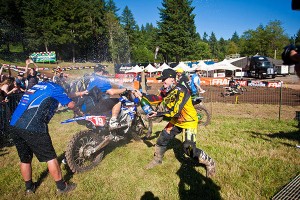 Jeremy Martin - Photo: Matt Rice[/caption]

"I'm pumped," exclaimed Martin. "Last year I went 29-12 at Washougal and this year I went 4-4, so I'm super, super happy. I was able to get some good starts, find some good lines and get into a rhythm."

Martin retained control of his lead in the 250 Class standings, with a 43-point lead over Webb. Baggett sits third, 54 points back.

The 2014 Lucas Oil Pro Motocross Championship will take a week off before returning to action on Saturday, August 9, with the 10th round of the season from Unadilla in New Berlin, N.Y. Action for the Red Bull Unadilla National begins at 1 p.m. ET.

Source: Pro Motocross

Ryan Dungey Earns Clean Moto Sweep To Take Victory At Washougal
[caption id="attachment_33202" align="alignright" width="300"]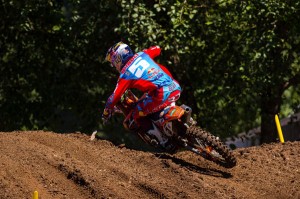 Ryan Dungey - Photo: Simon Cudby[/caption]

Red Bull KTM Factory rider Ryan Dungey earned both moto wins at the ninth round of the Lucas Oil Pro Motocross National Series in the 450MX class to claim the overall victory alongside his teammate Marvin Musquin who earned the same result in the 250MX class creating a historic moment for the KTM brand.

Fresh off a podium finish at his hometown race in Millville, MN the weekend before Ryan Dungey was ready to show his speed once more as the rider's lined up for the morning qualifying sessions at Washougal MX Park. After two sessions, it was Dungey who topped the leaderboard with a time almost one second faster than the next closest rider. His top time earned him first gate pick for the main event. His teammate and series points leader, Ken Roczen, earned the 4th fastest time for a decent gate pick at the start of moto one.

[caption id="attachment_33201" align="alignleft" width="199"]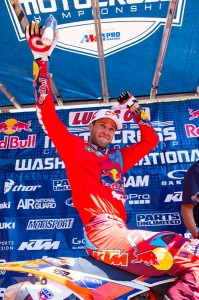 Ryan Dungey - Photo: Simon Cudby[/caption]

Dungey had a great start off the line and quickly moved into the lead by the end of the first lap on the KTM 450 SX-F. Dungey led every moto of the sixteen lap race to take the overall win. Meanwhile, Roczen started around 10th place off the line and steadily worked his way up to 3rd place by the end of the race.

"I felt good out there," stated Roczen. "But my thumb started to swell at the end of the moto. I'm not sure what from but it definitely hindered my performance."

In the second moto, Dungey earned another great start and once again found himself in the lead before the completion of lap one. He again led every lap to take the win by eight seconds.

"I think I just got to a point after last week where I just got sick of not riding to my full potential this season," commented Dungey. "To work so hard and not win really hurts so I came into this weekend wanting to ride my best and I think that is what I did. Everything just clicked today and I am happy to have made up ten points on Kenny toward the championship."

Roczen also repeated his first moto result and earned another 3rd place finish in the second moto. His 3-3 scores earned him 3rd overall for the day.

[caption id="attachment_33196" align="alignright" width="300"]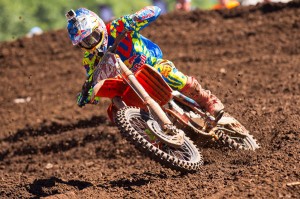 Ken Roczen - Photo: Simon Cudby[/caption]

"I was just a bit off my game today," said Roczen after the final moto. "We have an off-weekend coming up so I will use that to recover and come back stronger at Unadilla."

The Red Bull KTM teammates remain 1st and 2nd in the overall point standings. With three rounds remaining, Roczen now leads by 14 points over Dungey.

Next Round: New Berlin, NY - August 9, 2014 (Unadilla)

Source: KTM North America

Eli Tomac Extends Podium Streak At Washougal MX
[caption id="attachment_33197" align="alignright" width="300"]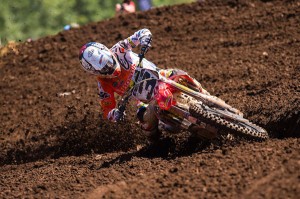 Eli Tomac - Photo: Simon Cudby[/caption]

GEICO Honda star Eli Tomac extended his streak of overall podium finishes to five races Saturday with a runner-up result at Washougal MX Park. Tomac was second to winner Ryan Dungey in both motos.

"Ol' Dungey just had a little bit extra on me today," Tomac said. "Good for him, but of course after going 1-1 last week in Millville (Minn.) we wanted to be on the top step again. I'm sure not complaining about another podium finish, especially here at Washougal because this track is a real test."

Tomac turned in a spectacular ride in Moto 1 after a slow start left him in 16th place. He was up to 10th just a single lap later and began picking off his rivals one by one from there. Unfortunately for the Cortez, Colo., native, by the time he passed Ken Roczen for second he simply ran out of laps to reel in Dungey.

[caption id="attachment_33198" align="alignleft" width="199"]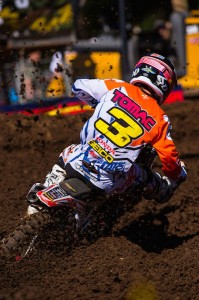 Eli Tomac - Photo: Simon Cudby[/caption]

In Moto 2, Tomac got a much better launch and slotted into second place almost right away. He and Dungey gapped the field from there, and although Tomac closed up and looked ready to challenge for the lead at one point, a slight bobble caused him to drop back a few more seconds. He just rode it out from there.

"I probably used up a little extra energy in the first moto trying to catch up," Tomac said. "The bike just spun like crazy at the start and I was way back by the first turn. It's hard to pass here and I had to get after it to get that second-place finish.

"I almost did have a chance on Dungey in Moto 2 but I slid out a little in this one section with probably like 10 minutes to go and he pulled away. That was my last real chance to challenge him. Still, to put this GEICO Honda on the podium in the five outdoor races I've run is really cool. I just wish I hadn't missed the start of the season."

Teammate Christian Craig of Plymouth, Minn., had his best finish of the MX season, finishing 10th and 12th in the two motos for an overall ranking of 10th place.

[caption id="attachment_33191" align="alignright" width="300"]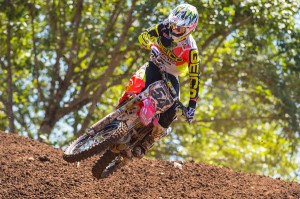 Christian Craig - Photo: Simon Cudby[/caption]

"That was the goal for the weekend, to finish in the top 10, so I'm really happy," said Craig, who joined the team four races ago. "Both motos were kind of the same for me. The field sort of shook out after the first lap and everyone just kind of rode it out from that point. There weren't many places to pass, and as the day went along the ruts got even deeper and that made it even tougher.

"I can't thank GEICO, Honda, Muscle Milk, Alias, and Factory Connection enough for giving me this chance. I'm having so much fun. I was retired for a little while but this sport is in my blood, and to be able to ride equipment like this is so rewarding. I'm having the time of my life right now."

Reigning 250SX East champion Justin Bogle continued his attack on the Motocross front-runners with an overall fifth-place finish at Saturday's Washougal National, highlighted by a third-place result in Moto 2.

[caption id="attachment_33176" align="alignleft" width="300"]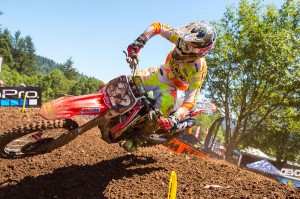 Justin Bogle - Photo: Simon Cudby[/caption]

"I came in here pretty wounded from a hard get-off last weekend and I wasn't able to ride at all during the week, so to climb the podium at the end of the day is actually a pretty good result for me," Bogle said. "My back and side are still limiting what I can do, so I'm really happy we have a week off before the next race."

Bogle got as high as sixth place in Moto 1 but a mid-race crash set him back a few positions before he rallied to finish in seventh place. He then led for nine laps in Moto 2 before another fall allowed two riders past him.

"Two motos, two get-offs, that can't happen if I want to stay up front, especially when you're already banged up," said Bogle, of Cushing, Okla. "I'll continue to work with my trainer and try to get back to 100 percent before Unadilla."

[caption id="attachment_33170" align="alignright" width="199"]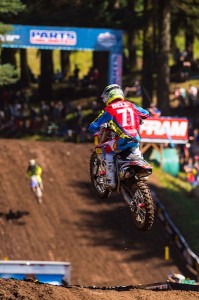 Zach Bell - Photo: Simon Cudby[/caption]

Stablemates Zach Bell, who posted 10th- and 11th-place finishes for 11th overall, and Matt Bisceglia (13th and 12th for 13th overall) also represented the vaunted GEICO Honda team with respectable rides on a hotter-than-average day in the Great Northwest.

"This was a pretty solid day for me," said Bell, who hails from Cairo, Ga. "I'm trying to improve every race, every moto. The main goal coming into Washougal was to put myself in the mix with the top-level guys and I was able to do that for five or six laps, so that was good. There's still more I want to do.

"Staying on the bike and keeping my body as injury-free as possible remains a top priority for me. I need to be in these races to have a chance."

Bisceglia, a native of nearby Tualatin, Ore., was hoping to have a breakout race at the track he competed at as a boy but things just didn't go his way.

[caption id="attachment_33169" align="alignleft" width="300"]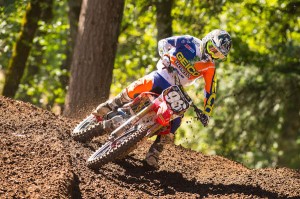 Matt Bisceglia - Photo: Simon Cudby[/caption]

"I'm in a slump," Bisceglia said. "There's no way around it. I'm in a slump and I don't know why. I'm riding a lot during the week, my fitness is there, but I just can't get results. This happened to me before at the amateur level and I know it'll end at some point. I also know the only thing you can do is keep after it.

"We have a weekend off before heading across the country to Unadilla. Maybe things will start to fall into place there. I know I need to be patient, but it's hard because as a rider all you want to do is win."

The tour takes a weekend off before heading to the Unadilla National, Aug. 9, in New Berlin, N.Y.

Source: GEICO Honda

Marvin Musquin Dominates Washougal Motocross National
[caption id="attachment_33185" align="alignright" width="300"]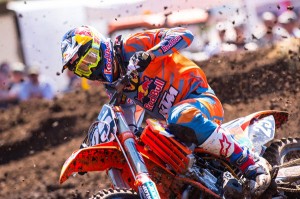 Marvin Musquin - Photo: Simon Cudby[/caption]

Red Bull KTM Factory rider Marvin Musquin swept both motos of the ninth round of the Lucas Oil Pro Motocross 250MX Championship Series held at Washougal Motocross Park to take a dominating overall win; his first of the season.

Marvin Musquin impressed the crowd from the start of the day earning the fastest qualifying time. His qualifying time earned him first gate pick for the main event and gave him the confidence he needed heading to the start of the first moto.

Musquin earned a decent jump off the line on his KTM 250 SX-F and worked his way into the lead by the end of the fifth lap. Once out front, he pulled away from the pack and went on to win his first moto of the year by eight seconds over the second place rider.

[caption id="attachment_33186" align="alignleft" width="199"]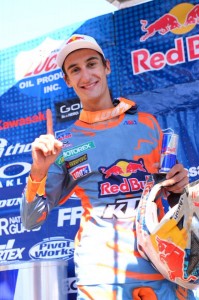 Marvin Musquin - Photo: Simon Cudby[/caption]

"It was tough starting out the season nursing an injury but I have been getting stronger every weekend and it showed today," stated Musquin. "I'm starting to hit my stride at this point in the season and I am really excited for my progress."

Excited from the first moto win, Musquin was determined to repeat his success in moto two. He earned another good start and moved his way into the runner-up position by the fourth lap. He continued to charge forward and pressure the leader. By the tenth lap he was able to move around the lead ride and take over the top spot. He led the remaining laps to sweep both motos and take the overall for the day.

"I'm so happy to help KTM earn this milestone of winning all motos today (referring to the success of his Red Bull/KTM teammate Ryan Dungey also taking two moto wins)," stated Musquin. "This is the best motocross race in the history of our team and I'm so proud to be a part of it."

Next Round: New Berlin, NY - Unadilla - August 9, 2014

Source: KTM North America

Blake Baggett Rides To Runner-up Finish At Washougal
[caption id="attachment_33183" align="alignright" width="300"]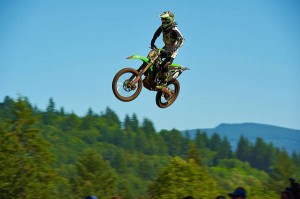 Blake Baggett - Photo: Jacob Khan[/caption]

In nearly perfect conditions Saturday, on a tree-lined hillside in Washougal, Washington, Blake Baggett rode to a second-place finish for the Monster Energy/Pro Circuit/Kawasaki team with a 5-2 result. His stable mate Dean Wilson rode in the top 10 all day finishing with 8-6 moto results which placed him seventh overall. In the 450MX class Monster Energy Kawasaki's Brett Metcalfe put in two good rides, finishing 5-4, which matched a season best fourth overall for the Australian rider.

[caption id="attachment_33184" align="alignleft" width="300"]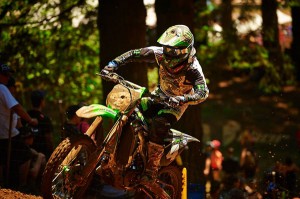 Blake Baggett - Photo: Jacob Khan[/caption]

Never Give Up
As the motocross season is entering the home stretch, Baggett knows he has a lot of work in front of him to earn a second national championship. At Washougal he rode consistently in both motos hovering around a podium finish. A tip over in the first moto saw Baggett drop from third to fifth, but a great start in the second moto, as well as some hard charging, saw him finish in the runner-up spot and gave him enough points to earn second overall on the day.

"After last weekend I knew I had to get back out here and get as many points as possible," said Baggett. "This championship is not over and anything can happen, so I'm going to keep working to put myself in position to get the championship if I can."

[caption id="attachment_33194" align="alignright" width="300"]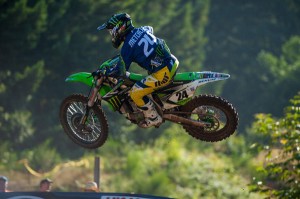 Brett Metcalfe[/caption]

Steady Metty
Metcalfe put together his best ride of the summer since the opening round at Hangtown, getting good starts in both motos and running a fast pace throughout the afternoon. In the first moto, the Australian rider crossed the line in seventh on the first lap and methodically worked his way up to a fifth place finish on his Kawasaki KX450F. In the second moto, Metty got an even better start, as he was third after the first corner. He pushed hard throughout the whole moto and earned a fourth place finish to match his best overall finish of the season.

"I felt good during the race," said Metcalfe. "I really like this track and it is a lot of fun to ride. The dirt was in good shape during the motos after all the rain this week. It got a little rough but we kept adjusting the bike to make it better."

[caption id="attachment_33174" align="alignleft" width="300"]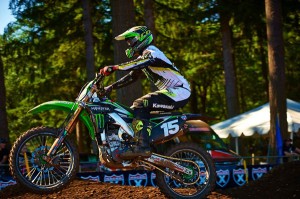 Dean Wilson - Photo: Jacob Khan[/caption]

Working
Wilson came into Washougal looking to regain his podium form but, after getting mired in the pack at the start of both motos he was only able to move up to eighth and sixth respectively.

"This wasn't the race we were looking for," said Wilson. "I know I'm faster than how I rode and we have a great team here at Monster Energy/Pro Circuit/Kawasaki so I'm going to keep putting in the work to get the results we want."

[caption id="attachment_33166" align="alignright" width="300"]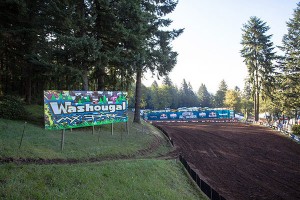 Photo: George Crosland[/caption]

Hometown Heroes
The Pacific Northwest is considered the home track for Ryan Villopoto, Jake Weimer and Justin Hill but unfortunately injuries kept the trio from racing this weekend. While Villopoto continues to rehab from his knee surgery, Weimer is still trying to build strength after getting hit earlier this year. Hill is still fighting problems in his forearm and will take advantage of the upcoming off weekend.

[caption id="attachment_33182" align="alignleft" width="300"]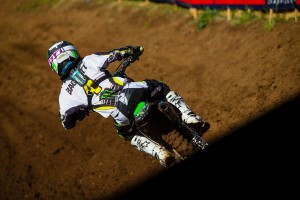 Blake Baggett[/caption]

Gravity Cavity
The motocross series takes a well-earned weekend off before heading to New York and the iconic Unadilla motocross track. It is still a busy week for Monster Energy Kawasaki as Team Green has set up Greenville at the AMA Amateur National Motocross Championships at Loretta Lynn's.

Source: Kawasaki Racing

Yamaha Washougal MX Race Reports
[caption id="attachment_33181" align="alignright" width="300"]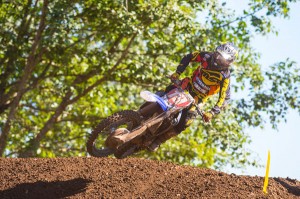 Jeremy Martin - Photo: Simon Cudby[/caption]

Yamalube/Star Racing/Yamaha's Jeremy Martin earned yet another 2014 AMA 250 Motocross podium with 4-4 finishes at Washougal, Wash. on Saturday, July 26. The solid result under tough conditions helps the Yamaha YZ250F rider maintain the red-background points leader's plate that he has held for the entire season, but more importantly it edges him closer to a potential first career AMA Motocross championship.

Consistent riding during a challenging day even helped him gain a small additional points gap over Star Racing/Yamaha's Cooper Webb, his closest rival in the standings. Meanwhile fellow bLU cRU riders, Valli/Yamaha's Christophe Pourcel and Cycletrader.com/Rock River/Yamaha's Alex Martin, finished eighth and 12th overall, respectively.

[caption id="attachment_33173" align="alignleft" width="300"]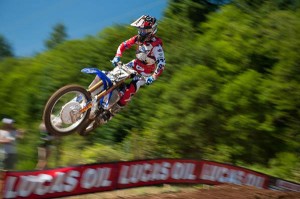 Christophe Pourcel - Photo: Steve Cox[/caption]

Pourcel and Martin started the first moto first and second, with Martin taking over the lead on the opening lap. Martin then led the first four laps before rival Marvin Musquin got past on lap five. Pourcel likewise re-passed Martin on lap six and a charging Webb also went by on lap 11, relegating the points leader to fourth - but also putting three new YZ250Fs into the top four for the moto.

In race two, Pourcel once again pulled the holeshot with rivals Justin Bogle and Musquin soon taking control, and Pourcel eventually fading back to 15th. For his part, Martin started outside the top five and rode strongly all race long to claim fourth at the flag. But it was Webb who really charged the moto, starting well outside the top 10 and steadily moving forward to finish behind Martin in fifth.

After a two-week break, the last three events of the year begin at the famed Unadilla track in New York on Aug. 9.

Source: Yamaha Motorsports

[caption id="attachment_33192" align="alignright" width="300"]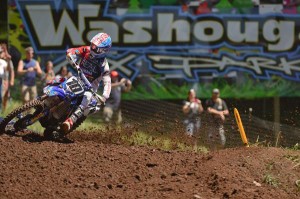 Justin Brayton - Photo: Steve Cox[/caption]

Washougal MX Park in Washougal, Wash. was host to the ninth of 12 rounds of the 2014 Lucas Oil AMA Pro Motocross Championship Series. MAVTV aired the first moto live, and the second moto was broadcast live on the NBC Sports Network.

After setting the fastest time in the first practice, Josh Grant crashed in the second session and was advised by the Asterisk Mobile Medical staff that he should not race as a precaution. Justin Brayton gated perfectly in moto one pulling the holeshot and leading the 40 rider field. Early lap shuffling found Brayton in seventh position, which he held nearly the entire race. However, with just two laps to go he relinquished the spot finishing eighth.

[caption id="attachment_33189" align="alignleft" width="300"]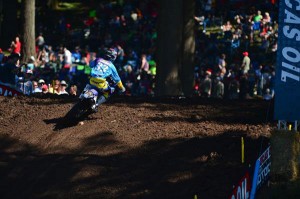 Josh Grant - Photo: Steve Cox[/caption]

Brayton's Yamaha YZ450F again bested the field to claim the start of moto two. He settled into eighth by lap four and held the position to the checkers. His eight - eight moto finishes gave him ninth overall for the day.

After a weekend off, Unadilla Sports Valley in New Berlin, N.Y. will host round 10 of the series on Aug. 9. Grant is expected to be on the gate, and Phillip Nicoletti will join Grant and Brayton for the Unadilla event. MAVTV will broadcast the first moto live at 1:00 p.m. (EST), and NBC will air the second moto live at 3:00 p.m. (EST). There will also be a mid-season update show on the NBC Sports Network at 11:00 p.m. (EST) Aug. 7.

Source: JGRMX

Joey Savatgy Continues To Improve At Washougal
[caption id="attachment_33175" align="alignright" width="300"]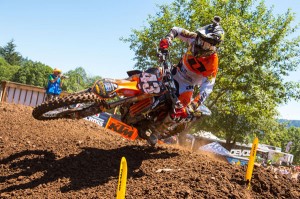 Joey Savatgy - Photo: Simon Cudby[/caption]

Round 9 of the 2014 Outdoor Motocross Nationals was held at Washougal MX Park in Washougal, WA. In the days leading up to the event, the area received some pretty heavy rainfall. The track crew did an amazing job and the result was some of the best conditions for professional racing seen at the track in recent memory. It was very rutty and rough continuing with what seems to be the theme this year.

Joey Savatgy handled the conditions very well showing that his marked improvement and top ten finish from a week ago was not a fluke. He simply rode incredible in qualifying practice. Joey surprised everybody when he managed to put in the 3rd best qualifying time in the 2nd practice which was also the faster session for everybody. In both motos Savatgy put together commendable performances. Good starts and mostly consistent laps throughout. The goal for the past several weeks was to just improve and try to put his KTM into the top ten. After the past couple weeks however, if he just limits his little mistakes, he will be vying for the top 5 for the last 6 motos of the season.

Joey Savatgy
"Day was good. I qualified really good and for once I'm learning. Both motos were pretty good though. 1st moto I got a good start but then made a few mistakes the first couple laps and some guys got around me but I ended up 6th that moto. The 2nd moto, had another decent start and I made some passes. I was on [Dean] Wilson for a while but I tweaked my ankle a bit towards the end of the moto and he got away. All in all, good day."


[caption id="attachment_33167" align="alignleft" width="300"]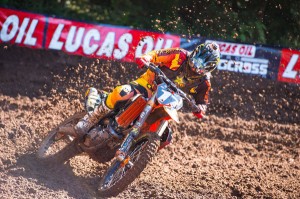 Jason Anderson - Photo: Simon Cudby[/caption]

Jason Anderson was quite simply flying in the 1st 250 moto of the day. He was moving past his toughest competition and making his way forward to another moto podium finish. A place where he has become a regular as of late. Then as he was closing in on 2nd place, the rough track reached up and bit him. In an extremely fast section, he landed off a jump and hit a rut or bump that he did not see. The result was Anderson swapping and slamming straight into the ground with tremendous force. Luckily he was eventually able to get up and ride back to the pits. He decided with the team that it would be wise for him to skip moto 2 and just heal up and be ready for the next round.

Jason Anderson
"The first moto was going real well and I worked my way into the top 3 and was catching [Blake] Bagget. I ended up going down really hard and I'm pretty beat up. We decided it would be best that I sit out the second moto and just go home and focus on Unadilla."


[caption id="attachment_33190" align="alignright" width="300"]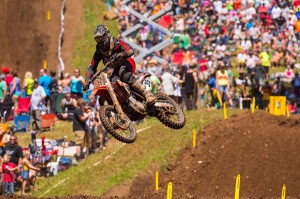 Ryan Sipes - Photo: Simon Cudby[/caption]

Ryan Sipes also opened eyes with his qualifying position. He put in a lap time good enough for 5th place in the 2nd practice and 6th overall. That's pretty much where his day stopped going so well however. In the first moto, he got a bad start, then basically never really got going. He engaged in battles with other riders and it prevented him from just moving past them and making his way forward. After the moto, he went back to the truck and got himself fired up for moto 2. Then as the 30 second board went up, he could be seen waving his arms on the line for his mechanic. Something was wrong with the bike and he was unable to even start the 2nd go around.

Ryan Sipes
"Washougal was up and down a little bit for me. I had good qualifying and I felt really strong on the bike. The first moto I just didn't really get a good start and never settled into my pace. I kind of got stuck in everybody's pace around me never really moved very far forward. I was kind of bummed about that and I wanted to make it right for the second moto but we had a bit of an issue with the bike. I'm healthy though and ready to roll for Unadilla."
The Rockstar Energy Racing squad will now have a weekend off before heading all the way back to the opposite coast to New York. Savatgy will just want to keep doing what he's been doing and focus on the top 5. Anderson will use the weekend off to recuperate after his big crash and his goal will still be to win his first ever outdoor overall. Sipes will head home to Kentucky to train and be ready to shoot for his first top ten overall this season.

Source: Rockstar Energy

Troy Lee Designs Top Ten In Washington
[caption id="attachment_33172" align="alignright" width="300"]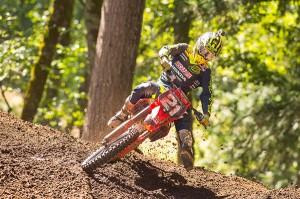 Cole Seely - Photo: Simon Cudby[/caption]

The Lucas Oil Pro Motocross Nationals stopped in Washougal, Washington last Saturday for what is unequivocally the most scenic venue on the series. With a backdrop of majestic fir trees, mountains and the Washougal River, the world's fastest racers went head-to-head for points and cash. The Troy Lee Designs riders, who were debuting brand new 2015 Troy Lee Designs SE and GP gear, rode waves of good and bad throughout the day but came out with top ten finishes when it was all said and done.

The TLD / MAVTV / Honda team's sole 450 rider, Malcolm Stewart, is still sidelined recuperating from a dehydration issue. That means that for the second week in a row, the 250cc riders would be representing Troy Lee Designs.

In the opening moto, Cole Seely was sitting inside the top ten, poised to make a run at the leaders. As Seely dropped down the big hill and entered a tricky left-hand turn, he lost his front end and lost a big group of riders. The setback didn't discourage Cole though and he logged top-five lap times to move his way back into ninth at the end, despite tipping over once again.

[caption id="attachment_33171" align="alignleft" width="300"]
Jessy Nelson - Photo: Simon Cudby[/caption]

Jessy Nelson started the moto just outside the top ten and rode a steady, consistent race that put him in eleventh at the end of the moto. Shane McElrath was great off the line all day and rode inside the top ten early only to lose the pace as the race wore on. After returning from injury last weekend, Shane is still playing catch-up with his fitness and race craft. Shane drifted to fifteenth by the end of moto one.

The second moto blasted off and Seely crossed the finish line in twelfth spot. Once again, unfortunately, Cole hit the deck and let a large group of riders go by. His work was cut out for him at that point and he pushed the entire race to find ninth again at the finish for ninth overall on the day. Jessy was hoping to find some of the early season magic he has shown but he didn't get the best of starts and would find himself in a battle the entire race for tenth spot. Nelson would hold on to the position and score tenth overall with 11-10 scores. Shane again rocketed off the line and ran inside the top ten early on. Running the leaders speed isn't a problem for Shane right now; running that pace for 35 minutes plus two laps is another story. McElrath fought valiantly but slid back once again late in the moto to thirteenth spot for fourteenth overall.

[caption id="attachment_33168" align="alignright" width="300"]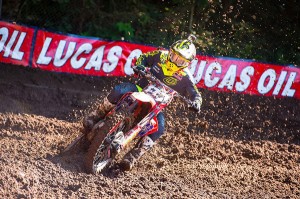 Shane McElrath - Photo: Simon Cudby[/caption]

With a weekend off coming up, the team will catch their breath, regroup, and make a sprint to the finish in the last three rounds. Unadilla, Indiana and Utah await the riders and for the Troy Lee Designs camp, there is nothing to lose and everything to gain. Look for all of the riders to come out swinging when the series returns to New York in two weeks.

TLD would like to thank all of our team sponsors: Lucas Oil, American Honda, PPG, Red Bull, Adidas, Oakley, Seaspan, Fender®, Pro Tork, MavTV, Method Race Wheels, GoPro, Fasthouse, Pixelmags, Horizon Hobby, FMF Racing, Dunlop, VP Racing Fuels, Showa, Alpinestars, ODI, Pacific Collision Centers, New Era, Specialized, Sram, Renthal, Twin Air, Braking, McQueen Racing, Cyrca, Sol Republic, Hinson, Shock Doctor, ARC, Carillo, Sports Care Center, Samco, Xtrig, VQ Orthocare, Vortex, Kryptonight, Kasey Kahne, Dirt Star, Moto Tassinari, DID, Dirt Star, N-Style.

The TLD riders wore the 2015 SE Corse Gray/Yellow gear and 2015 GP Verse Navy/Red gear at Washougal MX. See more of these gear sets and the 2015 Moto Helmets online and at your local online superstore.

Source: Troy Lee Designs

Washougal Overview And Point Standings
2014 AMA Pro Motocross Washougal Image Gallery (Click for full size images)


450MX Class Moto 1 Results - Race Time: 35:27.914














































































































































































































































































































































| Pos. | # | Rider | Bike | Interval | Best Time |
| --- | --- | --- | --- | --- | --- |
| 1 | 5 | Ryan Dungey | KTM 450 SX-F Factory Edition | 16 Laps | 2:12.040 |
| 2 | 3 | Eli Tomac | Honda CRF450R | +13.760 | 2:13.218 |
| 3 | 94 | Ken Roczen | KTM 450 SX-F Factory Edition | +25.837 | 2:13.213 |
| 4 | 41 | Trey Canard | Honda CRF450R | +58.005 | 2:14.662 |
| 5 | 24 | Brett Metcalfe | Kawasaki KX450F | +59.597 | 2:16.140 |
| 6 | 29 | Andrew Short | KTM 450 SX-F Factory Edition | +1:06.500 | 2:16.412 |
| 7 | 40 | Weston Peick | Suzuki RM-Z450 | +1:10.117 | 2:16.417 |
| 8 | 10 | Justin Brayton | Yamaha YZ450F | +1:11.604 | 2:16.425 |
| 9 | 80 | Fredrik Noren | Honda CRF450R | +1:14.258 | 2:17.165 |
| 10 | 54 | Christian Craig | Honda CRF450R | +1:32.242 | 2:17.427 |
| 11 | 22 | Chad Reed | Kawasaki KX450F | +1:36.610 | 2:17.733 |
| 12 | 44 | Matthew Goerke | KTM 450 SX-F Factory Edition | +1:48.489 | 2:19.547 |
| 13 | 48 | Ben Lamay | Yamaha YZ450F | +1:49.600 | 2:19.756 |
| 14 | 39 | Ryan Sipes | KTM 450 SX-F | +1:53.502 | 2:20.197 |
| 15 | 130 | Tommy Hahn | Kawasaki KX450F | +1:54.224 | 2:18.652 |
| 16 | 331 | Tommy Weeck | Honda CRF450R | +2:10.022 | 2:19.219 |
| 17 | 95 | Evgeny Mikhaylov | KTM 450 SX-F | +2:27.400 | 2:20.186 |
| 18 | 211 | Tevin Tapia | Suzuki RM-Z450 | 15 Laps | 2:20.477 |
| 19 | 77 | Jimmy Albertson | KTM 450 SX-F | +01.967 | 2:22.635 |
| 20 | 207 | Sean Collier | KTM 450 SX-F Factory Edition | +15.229 | 2:20.887 |
| 21 | 224 | Heath Harrison | Kawasaki KX450F | +27.442 | 2:22.878 |
| 22 | 168 | Tucker Hibbert | Honda CRF450R | +53.304 | 2:24.518 |
| 23 | 92 | Kellian Rusk | Yamaha YZ450F | +55.501 | 2:19.480 |
| 24 | 950 | Nathen LaPorte | Yamaha YZ450F | +1:30.916 | 2:25.749 |
| 25 | 606 | Ronnie Stewart | Suzuki RM-Z450 | +1:37.516 | 2:26.206 |
| 26 | 140 | Johnny Moore | Honda CRF450R | +1:39.582 | 2:27.853 |
| 27 | 722 | Adam Enticknap | Honda CRF450R | +1:47.120 | 2:26.434 |
| 28 | 481 | Sergey Astaykin | KTM 450 SX-F | +1:48.348 | 2:25.766 |
| 29 | 329 | Chad Gores | Honda CRF450R | +1:54.717 | 2:26.797 |
| 30 | 235 | Tyler Enticknap | Honda CRF450R | +1:57.455 | 2:25.255 |
| 31 | 534 | Travis Freistat | Kawasaki KX450F | +2:07.982 | 2:28.108 |
| 32 | 526 | Colton Aeck | Suzuki RM-Z450 | 14 Laps | 2:25.728 |
| 33 | 869 | Robert Lind | Yamaha YZ450F | +13.396 | 2:28.291 |
| 34 | 476 | Colin Jurin | Kawasaki KX450F | +23.896 | 2:25.033 |
| 35 | 222 | Chris Howell | Yamaha YZ450F | +1:12.873 | 2:25.553 |
| 36 | 654 | Garrett Christoffersen | Suzuki RM-Z450 | 13 Laps | 2:31.949 |
| 37 | 452 | Sean Hackley | KTM 450 SX-F | 10 Laps | 2:24.080 |
| 38 | 181 | Dustin Pipes | Suzuki RM-Z450 | 5 Laps | 2:25.580 |
| 39 | 143 | Mike Horban | KTM 450 SX-F | DNF | |
| 40 | 977 | Paul Coates | Yamaha YZ450F | DNS | |
450MX Class Moto 2 Results - Race Time: 36:08.013
| Pos. | # | Rider | Bike | Interval | Best Time |
| --- | --- | --- | --- | --- | --- |
| 1 | 5 | Ryan Dungey | KTM 450 SX-F Factory Edition | 16 Laps | 2:15.253 |
| 2 | 3 | Eli Tomac | Honda CRF450R | +08.525 | 2:14.881 |
| 3 | 94 | Ken Roczen | KTM 450 SX-F Factory Edition | +1:04.653 | 2:17.338 |
| 4 | 24 | Brett Metcalfe | Kawasaki KX450F | +1:12.221 | 2:20.029 |
| 5 | 29 | Andrew Short | KTM 450 SX-F Factory Edition | +1:22.097 | 2:20.696 |
| 6 | 40 | Weston Peick | Suzuki RM-Z450 | +1:29.308 | 2:20.094 |
| 7 | 80 | Fredrik Noren | Honda CRF450R | +1:35.005 | 2:20.288 |
| 8 | 10 | Justin Brayton | Yamaha YZ450F | +1:47.682 | 2:21.746 |
| 9 | 331 | Tommy Weeck | Honda CRF450R | +1:49.531 | 2:22.270 |
| 10 | 130 | Tommy Hahn | Kawasaki KX450F | +1:53.523 | 2:22.990 |
| 11 | 41 | Trey Canard | Honda CRF450R | +1:53.581 | 2:20.227 |
| 12 | 54 | Christian Craig | Honda CRF450R | +2:07.853 | 2:22.678 |
| 13 | 48 | Ben Lamay | Yamaha YZ450F | +2:13.213 | 2:23.692 |
| 14 | 92 | Kellian Rusk | Yamaha YZ450F | +2:22.566 | 2:23.738 |
| 15 | 77 | Jimmy Albertson | KTM 450 SX-F | 15 Laps | 2:24.751 |
| 16 | 95 | Evgeny Mikhaylov | KTM 450 SX-F | +06.307 | 2:24.930 |
| 17 | 44 | Matthew Goerke | KTM 450 SX-F Factory Edition | +15.097 | 2:23.220 |
| 18 | 977 | Paul Coates | Yamaha YZ450F | +38.185 | 2:25.056 |
| 19 | 168 | Tucker Hibbert | Honda CRF450R | +1:05.664 | 2:27.056 |
| 20 | 211 | Tevin Tapia | Suzuki RM-Z450 | +1:14.335 | 2:26.621 |
| 21 | 207 | Sean Collier | KTM 450 SX-F Factory Edition | +1:26.381 | 2:26.508 |
| 22 | 224 | Heath Harrison | Kawasaki KX450F | +1:40.310 | 2:30.610 |
| 23 | 235 | Tyler Enticknap | Honda CRF450R | +1:45.977 | 2:28.097 |
| 24 | 950 | Nathen LaPorte | Yamaha YZ450F | +1:47.092 | 2:30.823 |
| 25 | 526 | Colton Aeck | Suzuki RM-Z450 | +1:51.804 | 2:31.511 |
| 26 | 722 | Adam Enticknap | Honda CRF450R | +1:53.052 | 2:31.633 |
| 27 | 140 | Johnny Moore | Honda CRF450R | +2:21.649 | 2:33.012 |
| 28 | 222 | Chris Howell | Yamaha YZ450F | +2:34.486 | 2:31.674 |
| 29 | 476 | Colin Jurin | Kawasaki KX450F | 14 Laps | 2:29.586 |
| 30 | 606 | Ronnie Stewart | Suzuki RM-Z450 | +20.634 | 2:31.069 |
| 31 | 869 | Robert Lind | Yamaha YZ450F | 12 Laps | 2:39.085 |
| 32 | 143 | Mike Horban | KTM 450 SX-F | 7 Laps | 2:30.878 |
| 33 | 534 | Travis Freistat | Kawasaki KX450F | +47.396 | 2:33.617 |
| 34 | 654 | Garrett Christoffersen | Suzuki RM-Z450 | +2:31.727 | 2:36.113 |
| 35 | 22 | Chad Reed | Kawasaki KX450F | 6 Laps | 2:20.467 |
| 36 | 181 | Dustin Pipes | Suzuki RM-Z450 | +2:29.525 | 2:31.914 |
| 37 | 481 | Sergey Astaykin | KTM 450 SX-F | 4 Laps | 2:32.826 |
| 38 | 329 | Chad Gores | Honda CRF450R | 2 Laps | 2:44.975 |
| 39 | 39 | Ryan Sipes | KTM 450 SX-F | DNS | |
| 40 | 452 | Sean Hackley | KTM 450 SX-F | DNS | |
Overall Results - 450MX Class
| Pos. | # | Rider | Bike | M1 | M2 | Points |
| --- | --- | --- | --- | --- | --- | --- |
| 1 | 5 | Ryan Dungey | KTM 450 SX-F Factory Edition | 1 | 1 | 50 |
| 2 | 3 | Eli Tomac | Honda CRF450R | 2 | 2 | 44 |
| 3 | 94 | Ken Roczen | KTM 450 SX-F Factory Edition | 3 | 3 | 40 |
| 4 | 24 | Brett Metcalfe | Kawasaki KX450F | 5 | 4 | 34 |
| 5 | 29 | Andrew Short | KTM 450 SX-F Factory Edition | 6 | 5 | 31 |
| 6 | 40 | Weston Peick | Suzuki RM-Z450 | 7 | 6 | 29 |
| 7 | 41 | Trey Canard | Honda CRF450R | 4 | 11 | 28 |
| 8 | 80 | Fredrik Noren | Honda CRF450R | 9 | 7 | 26 |
| 9 | 10 | Justin Brayton | Yamaha YZ450F | 8 | 8 | 26 |
| 10 | 54 | Christian Craig | Honda CRF450R | 10 | 12 | 20 |
| 11 | 331 | Tommy Weeck | Honda CRF450R | 16 | 9 | 17 |
| 12 | 130 | Tommy Hahn | Kawasaki KX450F | 15 | 10 | 17 |
| 13 | 48 | Ben Lamay | Yamaha YZ450F | 13 | 13 | 16 |
| 14 | 44 | Matthew Goerke | KTM 450 SX-F Factory Edition | 12 | 17 | 13 |
| 15 | 22 | Chad Reed | Kawasaki KX450F | 11 | 35 | 10 |
| 16 | 95 | Evgeny Mikhaylov | KTM 450 SX-F | 17 | 16 | 9 |
| 17 | 77 | Jimmy Albertson | KTM 450 SX-F | 19 | 15 | 8 |
| 18 | 92 | Kellian Rusk | Yamaha YZ450F | 23 | 14 | 7 |
| 19 | 39 | Ryan Sipes | KTM 450 SX-F | 14 | 39 | 7 |
| 20 | 211 | Tevin Tapia | Suzuki RM-Z450 | 18 | 20 | 4 |
| 21 | 977 | Paul Coates | Yamaha YZ450F | 40 | 18 | 3 |
| 22 | 168 | Tucker Hibbert | Honda CRF450R | 22 | 19 | 2 |
| 23 | 207 | Sean Collier | KTM 450 SX-F Factory Edition | 20 | 21 | 1 |
Rider Point Standings - 450MX Class ( Race 18 of 24 )


Ken Roczen - 407

Ryan Dungey - 393

Trey Canard - 330

Brett Metcalfe - 256

James Stewart - 226

Josh Grant - 218

Andrew Short - 218

Weston Peick - 217

Eli Tomac - 212

Chad Reed - 156

Manufacturer Cup Point Standings - 450MX Class ( Race 18 of 24 )


KTM - 430

Honda - 368

Suzuki - 297

Kawasaki - 263

Yamaha - 261

250MX Class Moto 1 Results - Race Time: 36:37.779
Pos.
#
Rider
Bike
Interval
Best Time
1
25
Marvin Musquin
KTM 250 SX-F
16 Laps
2:16.522
2
377
Christophe Pourcel
Yamaha YZ250F
+08.300
2:17.972
3
37
Cooper Webb
Yamaha YZ250F
+10.597
2:17.393
4
19
Jeremy Martin
Yamaha YZ250F
+13.769
2:18.775
5
4
Blake Baggett
Kawasaki KX250F
+28.656
2:17.369
6
43
Joseph Savatgy
KTM 250 SX-F
+34.601
2:19.342
7
32
Justin Bogle
Honda CRF250R
+38.477
2:18.072
8
15
Dean Wilson
Kawasaki KX250F
+45.036
2:19.610
9
21
Cole Seely
Honda CRF250R
+58.241
2:19.762
10
71
Zachary Bell
Honda CRF250R
+1:12.318
2:20.662
11
50
Jessy Nelson
Honda CRF250R
+1:22.511
2:21.648
12
47
Kyle Peters
Honda CRF250