AMA Announces Full Roster Of US Team Members Contesting 2014 ISDE
Chaparral Motorsports
|
July 24, 2014
[caption id="attachment_33147" align="alignright" width="300"]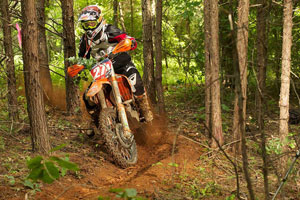 Grant Baylor - Photo: Shan Moore[/caption]

The American Motorcyclist Association has announced the full contingent of U.S. riders who will compete at the 88th International Six Days Enduro, Nov. 3-8, in San Juan, Argentina.

Joining the previously announced World Trophy Team of Mike Brown, Thad Duvall, Charlie Mullins, Zach Osborne, Taylor Robert and Kailub Russell is a full roster of 31 gold-medal hopefuls on the Junior Trophy Team, the Women's Trophy Team and six club teams.

"The U.S. teams will arrive in Argentina ready to race for a world title," said U.S. ISDE Team Manager Antti Kallonen, who also directs the KTM off-road racing teams in North American competition. "All riders will be focused, determined and prepared for this prestigious event."

The Junior Trophy Team fields four riders younger than 23 years old. It includes factory FMF/KTM rider Steward Baylor from Belton, S.C.; his brother Grant Baylor, backed by KTM, also from Belton; Trevor Bollinger, backed by Honda, from Morganton, N.C.; and Justin Jones, backed by KTM, from Norco, Calif.

[caption id="attachment_33146" align="alignleft" width="200"]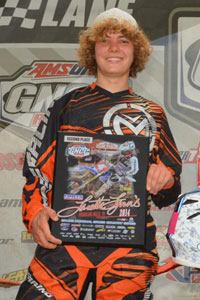 Sarah Baldwin - Photo: Ken Hill[/caption]

The Women's Trophy Team fields three female riders. It includes Sarah Baldwin from Suffolk, Va.; Rachel Gutish from Terre Haute, Ind.; and Mandi Mastin from Whitehouse, Ohio. All women team riders are backed by KTM.

The Wellard Team will once again field one of the strongest club teams at the ISDE. It includes national-caliber riders Chris Bach, backed by JCR Honda, from Crown Point, Ind.; Andrew Delong, a member of the factory Husqvarna Off-Road Team, from Morgantown, Pa.; and Gary Sutherlin, backed by KTM, from Hesperia, Calif.

The U.S. ISDE team has designated a Senior Team of veterans from the club team members. This year, the Senior Team includes Team Elizabeth Scott riders Jeff Fredette from Beecher, Ill.; Paul Krause from Irvine, Calif.; and Brian Storrie from Providence Village, Texas.

Team Beta USA is also expected to excel at the event. It includes riders Nicholas Burson from Ridgecrest, Calif.; Cory Buttrick from Logan, Ohio; and Justin Sode from Zanesville, Ohio.

[caption id="attachment_33150" align="alignright" width="300"]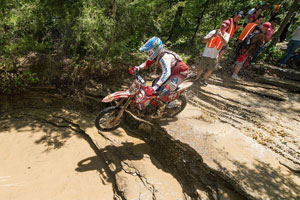 Cory Buttrick - Photo: Shan Moore[/caption]

In addition, U.S. riders also will compete on Team GoFasters.com (Travis Coy, Alex Dorsey and Joshua Knight); Team Missouri Mudders (A.J. Lehr, Kyle McDonal and Cody Schafer); and Team Tony Agonis (Benjamin Kelley, John Kelley and Michael Pillar).

Riders at the ISDE compete in one of three displacement classes: the E1 class, which features 100cc to 125cc two-stroke and 175cc to 250cc four-stroke motorcycles; the E2 class, which features 175cc to 250cc two-stroke and 290cc to 450cc four-stroke motorcycles; and the E3 class, which features 290cc to 500cc two-stroke and 475cc to 650cc four-stroke motorcycles.

The AMA's ISDE effort would be impossible without the significant support of numerous companies. In addition to riders' individual manufacturer and product sponsors, direct team sponsors include Wellard, Arai, Worldwide Material Handling Products, Spectro, Motion Pro, Radiant Global Logistics and Moose Racing.

For more information about the U.S. ISDE effort, visit www.americanmotorcyclist.com/racing/internationalcompetition/isde.

About the American Motorcyclist Association
Founded in 1924, the AMA is a not-for-profit member-based association whose mission is to promote the motorcycle lifestyle and protect the future of motorcycling. As the world's largest motorcycling rights and event sanctioning organization, the AMA advocates for riders' interests at all levels of government and sanctions thousands of competition and recreational events every year. The AMA also provides money-saving discounts on products and services for its members. Through the AMA Motorcycle Hall of Fame in Pickerington, Ohio, the AMA honors the heroes and heritage of motorcycling. For more information, visit www.americanmotorcyclist.com.