I Spy: Is A New 2015 Harley-Davidson Road Glide On The Way?
Chaparral Motorsports
|
July 17, 2014
[caption id="attachment_33087" align="alignright" width="300"]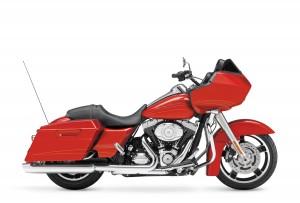 The last time the Road Glide was in the Harley line up was in 2013, with three iterations: Road Glide Custom (seen here), Road Glide Ultra, and 110th Anniversary Edition CVO Road Glide Custom[/caption]

In what seems to be a very rare occasion by Harley-Davidson, spy photos have snuck out of what we can only speculate to be a new 2015 Road Glide model (see images here on motorcycle.com), that if not part of the 2015 OE lineup will probably be released as a mid-year model (Harley has been all about mid-year models for the past couple years). Many Harley enthusiasts were shocked to learn that the Road Glide, with its distinct shark nose fairing, would be completely out of the 2014 lineup, but die-hard fans new it wouldn't be long before their beloved bagger was back on the road.

If this truly is the new Road Glide, it appears to have more of a scowl with the bodylines on the frame-mounted fairing having a slightly more downward pitched angle than the previous model-probably in an effort to reduce motorcycle helmet buffeting and make for a more comfortable and less noisy ride for a wider range of rider. The more aggressive stance of the fairing is a rather interesting feature seeing as how many custom builders would often rework the angel of the Shark Nose fairing and draw it back a bit so that the bodylines sat more upright to flow better with the rest of the bike. Also highly noticeable on this new fairing is the broad oval vent across the top. Similar to the redesigned bat wing fairing, found on the 2014 Touring models, with the scooped vent, this new Road Glide fairing would assumingly provide adjustable air flow directly to the rider.

Word on the street, and as seen in these pictures, is the lighting within the new fairing will be comprised of dual Daymaker LED motorcycle headlights. And more than likely a new 2015 Road Glide will have the same crowd sourced, Project Rushmore enhancements found on the 2014 Road King, Street Glide, Street Glide Special, Electra Glide, Ultra Classic, Ultra Limited, Tri Glide Ultra, CVO Ultra Limited and CVO Road King.

Some of the Project Rushmore accoutrements include:

Control: Project RUSHMORE bikes pass faster, stop quicker and see farther at night, thus inspiring rider confidence. Each model features the new Twin-Cooled™ High Output Twin Cam 103™ or the High Output Twin Cam 103™ powertrains, Reflex™ Linked Brakes with ABS (Anti-Lock Braking System), and Daymaker™ LED and Dual Halogen lighting.

Infotainment: New color-screen Boom! - Box infotainment systems feature the first original-equipment voice recognition and touchscreen for music, GPS navigation and phone in motorcycling, with quality audio, [mageProductLink sku="321-71-9064" title=""]Bluetooth®[/mageProductLink] connectivity, text-to-speech technology, plus support for intercom and CB communications in a single module.

Feel: Splitstream venting, which reduces head buffeting by 20 percent, to best-in-class ride for passengers with wider and deeper seats and new back and arm rests.

Style: The form and the function of many components are improved - a reshaped Tour-Pak® and saddlebags with convenient One-Touch latches, sleeker fenders, lighter cast aluminum wheels and intuitive hand control switches.

We are definitely excited about the idea of the Road Glide returning as it was sort of the step child of the Harley touring family for many years. Many people didn't like the look or function of the frame-mounted fairing (they were used to watching the fairing and headlights move with the handlebars as they turned). It wasn't until the last couple years that the Road Glide really began to gain popularity with rise of the bagger customization trend. The batwing is old, stale, and boring. The shark nose is youthful, aggressive, and more aerodynamic. More than likely when a new Road Glide does roll onto the sales floor again it will be an instant hit.